NCAAB
3 Reasons Why Virginia Is A Great Bet To Win The ACC Tournament
The Cavaliers have the fourth-best odds to win the tournament, per DraftKings
By Sloan Piva - Mar 7, 2020, 4:45pm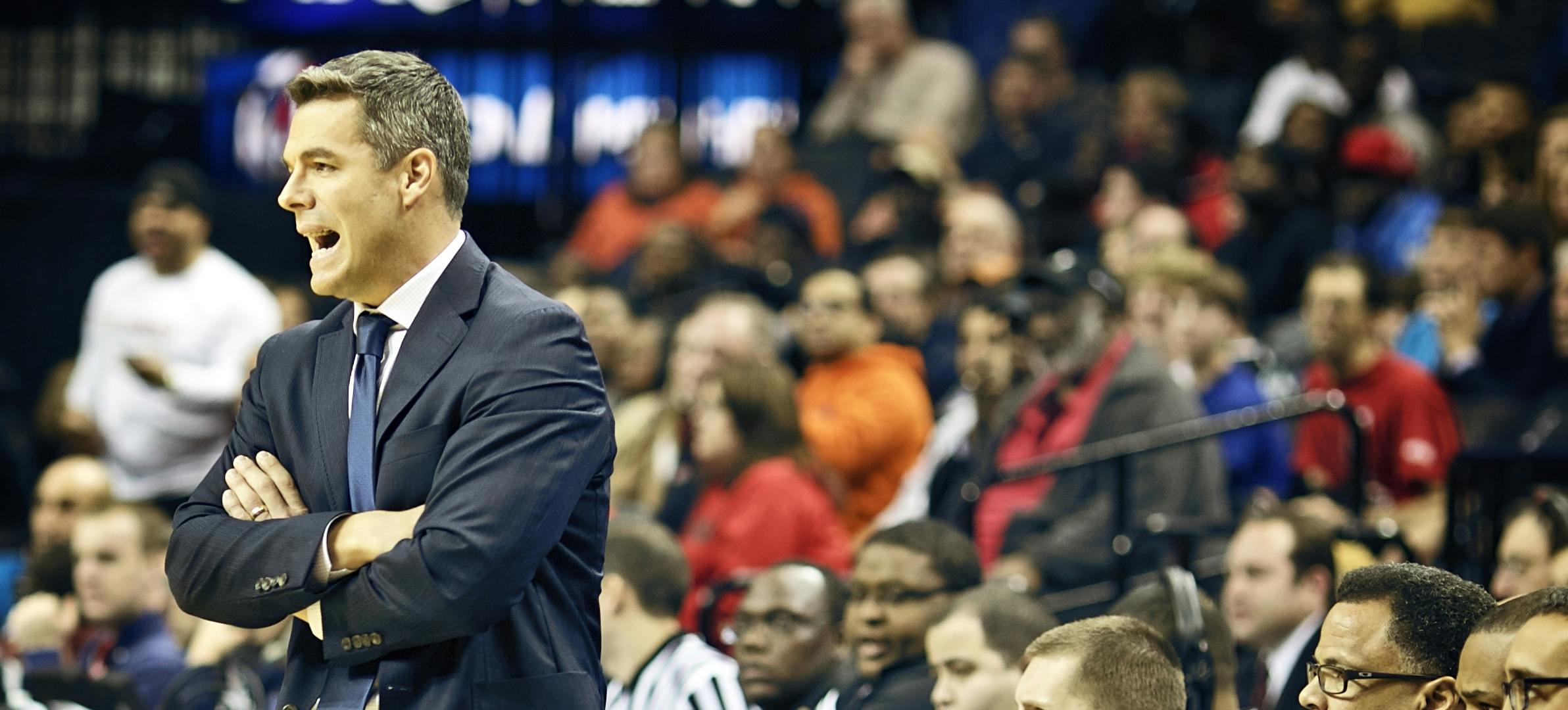 At +700 on DraftKings, the barely-ranked Virginia Cavaliers appear to be a dark horse to win the ACC Tournament, coming in behind the Florida State Seminoles (+200), Duke Blue Devils (+225) and Louisville Cardinals (+325). 
In a year when the ACC (and even the nation) seems to be wide open, Virginia has heated up at the right time, winning seven in a row and 10 of its last 11. Big wins over conference foes Florida State (No. 7) and Duke (No. 12) highlight their stretch run. A showdown with Louisville Saturday looms large.
Coach Tony Bennett is hoping for back-to-back NCAA Championships, and an ACC title would be a good place to start. Conference tournament winners have gone on to win 12 of the past 22 national titles, and five of the last 11 March Madness champs hailed from the ACC. Bennett has the experience to bring Wahoo Nation their third conference tourney championship in his decade-long tenure, and fourth in the school's history.
Defense remains imperative for UVA, who somehow surrender less points per game (52.3) than last year's historic season (56.1). But a recent surge in three-point shooting has pushed them from good to great. After a horrid start of the season from deep, they have been torrid as of late. But only two teams average less points offensively than their 57 per game, the worst in school history. Talk about volatile!
Mamadi Diakite is their star, but team basketball remains the catalyst for their success. They are disciplined and poised, and lead the conference in nearly every defensive metric.
It may seem ludicrous to consider a defending NCAA Champion team a 'dark horse' to win their Conference Championship. But after a heinous start to the 2019-20 season offensively, the recently-surging Virginia Cavaliers might not yield better odds (+700) between now and the ACC tournament. 
They may average less points per game than 348 of 351 teams in the NCAA, but they are, in all actuality, the most likely to seize the conference tourney title. Let's take a look at why they have what it takes.
1. They're Clicking At The Right Time
This has been an interesting year for college basketball. At a time in which a half-dozen teams have occupied the AP No. 1 spot, and the prospects on mock NBA drafts continue to underwhelm, it just seems like the Big Dance is wide open. And with Duke teetering up and down all season, and North Carolina downright bad, the ACC is there for the taking for a streaking squad.
Virginia really seems like the best bet to take it. They are starting to click offensively, led by alpha senior big man Mamadi Diakite, Mighty Mouse-like super-sophomore point guard Kihei Clark, and breakout sharpshooting freshman Thomas Woldetensae. They have won 10 of their last 11 games, including their last seven. Most notably, they took down conference foes Florida State (No. 7) and Duke (No. 12), who still rank above Virginia's position at No. 22 on the AP rankings.
If UVA continues its hot streak against Louisville Saturday, they might be skyrocketing up the polls, and +700 to win the ACC Tournament could become ancient history.
2. Tony Bennett And His Defense Continue To Make History
Bennett oozes confidence on the sidelines, and he instills a permanent sense of team unity and trust. But paramount to his success has been his immaculate focus on the fundamentals of defense. Virginia ranks among the tops in the nation in defensive rating and defensive efficiency year in and year out, and this year serves as a highlight.
They give up 52.3 points per game, easily tops in the nation and nearly four points better than their championship season last year (56.1). Opponents are shooting 36.9 percent against them, second-worst in the nation, and they allow fewer free throw attempts (and makes) than any other team. Teams don't score, assist, or rebound against this stifling Cavaliers squad, and Bennett has his fingerprints all over these successes.
Simply put, Bennett proved that he has the chops to coach in big moments and take down the whole thing. With his offense working better as of late, a +700 for a conference tournament is insulting to this future Hall of Famer and his gritty team.

3. They Can Shoot All Of A Sudden
Woldetensae has led the way with 51 three-pointers on 36.7 percent shooting on the season. He's hit at least six treys in a game three times, and averages a robust 88.9 percent from the free throw line. 
But after its recent surge, Virginia now has four players at 35.3 percent or better from beyond the arc.
One of those players is Diakite, a 6'9" big man from Guinea. An emerging star from March Madness 2019, Diakite has picked up where he left off last season. He plays a strong inside-out game—he put on a good amount of bulk in the off-season to help him bang down low, but also developed his long-range shot. He's poised to make noise in tournament time once again.
Fellow returnee Kihei Clark has not seemed to bulk up, but it has not mattered. The point guard still drives and dishes with the best of them, and works off screens to pop for a quick three or hit the diver—usually Diakite—for a high-percentage deuce.
While the beginning of the season looked like 2019-20 was going to be a textbook Championship hangover, this team has rallied to improve at the best possible time. On paper, they might not look that scary, but there's no doubt that Virginia is once again a team no opponent wants to get matched up with—in the small bracket in the conference tourney or the field of 68 for the Big Dance.