NCAAB
3 Reasons Why Kentucky Is A Great Bet To Win The SEC Tournament
The Wildcats are the favorites and should be
By Nick Ballistreri - Mar 9, 2020, 12:08am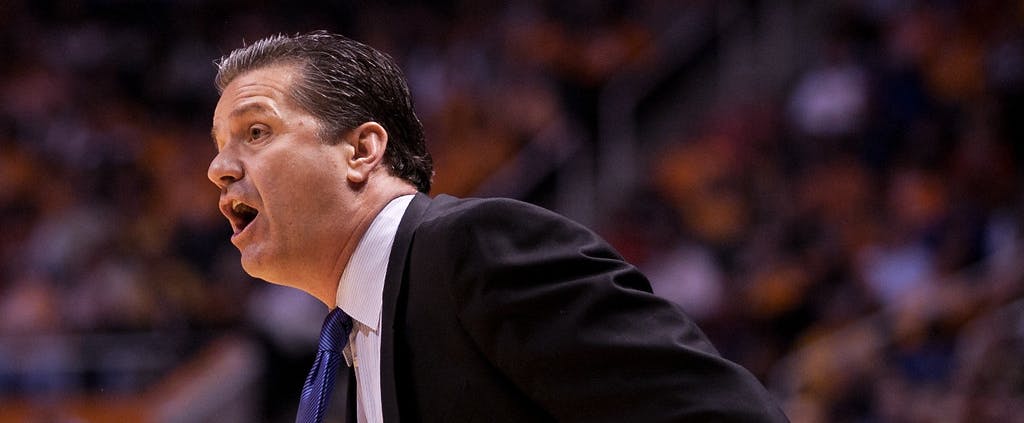 The Kentucky Wildcats are currently listed with odds of +180 to win the SEC Tournament (DraftKings).
Head Coach John Calipari has historically dominated this conference's tournament.
Traditionally, Kentucky sports very young teams that improve as the season moves along, and this season is no different.
The Wildcats have some of the best non-conference wins in the country, showing that they can defeat the best teams in the country. Continue reading this article to find out the three reasons why the Wildcats will cut down the nets.
Click the button below to take advantage of our exclusive $500 risk-free bet offer on DraftKings!
1. John Calipari Dominates This Tournament
It's no question that John Calipari is one of the best coaches in the business. He routinely recruits some of the brightest prospects each season, and reloads at the flick of a wrist. Calipari is not just a great recruiter, he is a phenomenal coach. Kentucky is routinely in the national conversation for the Final Four, and the coach does a great job fitting his talented pieces together each season. 
Another thing Calipari does is routinely dominate the SEC Tournament. In his 10 seasons at the helm, his Kentucky teams have often ran through their conference competition, winning the SEC Tournament five times. This year, that trend should be expected to continue.
2. Noticeable Season Long Improvement
It's expected that young teams would improve over the course of a long season, but Calipari has traditionally had his teams peaking right before March Madness. This season is no different, as his team has steadily improved all year, and is sitting pretty with a record of 25-6, and pulled off a comeback victory in a tough environment against Florida in their season finale, in a game where they were +4 on the closing line.
Kentucky enters this tournament playing their best ball. They've won nine of their last ten games, with their only loss coming against a desperate Tennessee team that is fighting for their tournament lives. That loss was admittedly a bit of a head scratcher, but sometimes, a loss before the postseason revitalizes a team, and re-focuses them on the big picture. 
3. They Have A Stellar Resume
While Kentucky has had no problem taking care of business in the SEC, with a record of 15-3, they boast some of the most impressive non-conference victories of any team in the country. In their season opener, the Wildcats defeated a Michigan State team that entered the season ranked No. 1. They followed that up with an impressive 78-70 victory over their rival, the Louisville Cardinals, covering -2.5 in a game that was essentially a toss-up if you take away home court. Finally, Kentucky went on the road in the Big-12/SEC Challenge and defeated a very well coached team in Texas Tech. It's hard to find a team with a more impressive resume.
Kentucky is the clear-cut favorite in this tournament, with their odds of +180 being by far the best. That being said, anytime you can get the favorite at plus odds, with them nearing 2/1, you have to pull the trigger. Kentucky has proven that they can beat any team in the country, they're playing their best ball, and Calipari has shown that the SEC Tournament is when he coaches his best. Take the Wildcats to win the SEC Tournament, and don't expect to sweat your pick too much.
Click the button below to unlock every single college hoops bet in our model through March Madness!