Way-Too-Early Final Four Sleeper: Saint Mary's
The Gaels are poised for a huge year and are an early Cinderella candidate
By Nolan Comar - Aug 29, 2019, 6:35pm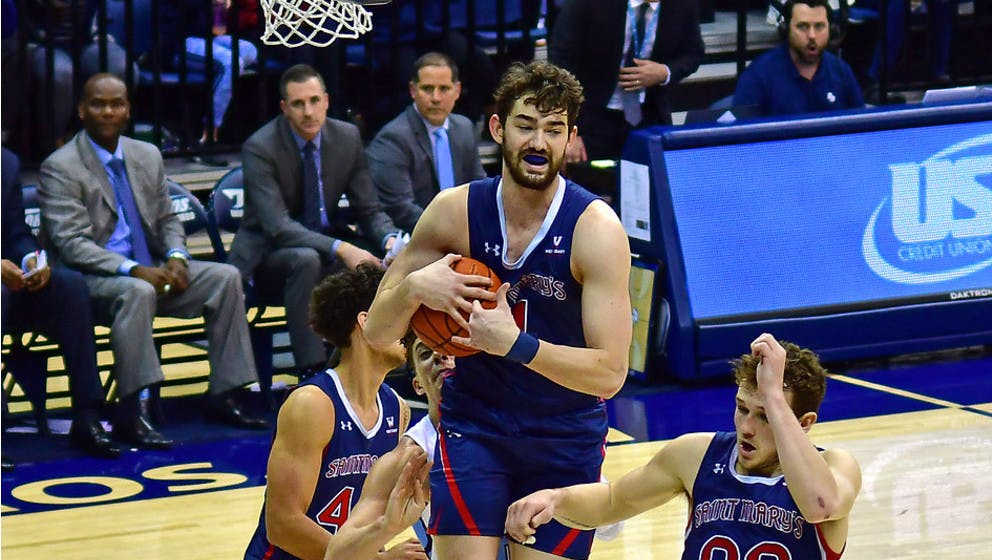 With the return of Jordan Ford and three other starters, the Gaels are poised to make a West Coast Conference run. 


7'3 fifth-year senior transfer Aaron Menzies is now eligible and the team also has a number of experienced role players on its bench that should contribute.
The No. 18 Gaels have gotten off to a 1-1 start and have been involved in two two-point games (a win over Wisconsin and a loss to Winthrop). But, they are a promising team for a number of reasons.
The Saint Mary's Gaels will enter the 2019-2020 college basketball season with extremely high expectations, perhaps the greatest in their history. 
After a slow 3-4 start last season, the Gaels went 19-7 after December 1st, which included winning the West Coast Conference. From there, the Gaels lost a narrow four-point decision to Villanova in the opening round of the NCAA Tournament. But, they have a ton of potential this year.
Returning Players
Head coach Randy Bennett will return four of five starters, headlined by star guard Jordan Ford. Ford is coming off a season in which he averaged 21.1 points, 2.8 rebounds and 2.5 assists and shot 41.2 percent from three-point range. After a short flirtation with entering his name into the NBA Draft process, Ford is back for his senior year and will be a favorite to win the WCC Player of the Year award. 
As the season goes along in college basketball, guard play comes into prominence and Ford was masterful in his 17-point outing in Saint Mary's upset of Gonzaga in last season's WCC Tournament. His ability to control the pace of the game and know when to take an assertive role and when to defer will be extremely important to the team's success.  
Complementing Ford will be redshirt junior forward Malik Fitts. At 6'8, Fitts operates seamlessly in Bennett's offensive system as he offers the ability to play both inside and out. Fitts posted 15.1 points and 7.6 rebounds while shooting 40.3% from the three-point line on 143 attempts last season.
Find out all the ways you can bet on college hoops in the upcoming season!
All of the Gaels' returning rotational players have spent at least three years playing college basketball and the reps and experience they've accrued could be pivotal as they head towards the stretch run this season. Those other key returning players include redshirt junior Elijah Thomas, redshirt junior Tommy Kuhse and redshirt senior Tanner Krebbs. 
Krebbs in particular is of note as he has built a reputation as a sharpshooter and connected on 39.9 percent of his 133 three point attempts last season. Bennett deploys a fairly deliberate style on offense and the experience that this team holds should pay dividends. Veteran players know where to be and how to execute and will likely give fits to younger teams that they come across.
A New Post Presence
The team did lose starting center Jordan Hunter to graduation, but fifth year senior Aaron Menzies should fill the void. Menzies sat out as a transfer last season from Seattle University but in 2017-2018, he was a second team All-WAC performer and made the WAC All-Defensive team while averaging 11.3 points, 8.9 rebounds and 2.3 blocks per game. At 7'3, Menzies will compliment the perimeter-orientated Gaels and will be a presence that the program has never featured in the low post. Bennett coaches a defensive style that prohibits three point attempts in an attempt to make opponents drive to the basket, right where Menzies will be waiting.
Looking Forward
The Gaels will get their annual two cracks at Gonzaga. Those games are always pivotal and a win or two against their rivals would give their resume a boost come March. After Bennett beefed up his schedule last year which included games vs LSU, New Mexico St, New Mexico, Utah State, UC Irvine, Harvard and Mississippi State, the program will face some major challenges this season as well.
This is perhaps the most talented and experienced team Bennet has had and they should not be afraid to play anyone at any location. Last season the Gaels had a taste of March success and with returning parts, a major newcomer and a steady head coach, it feels that more is on the way. 
Although winning a national championship seems like a stretch a Final Four run seems much more feasible. At +7500, there's considerable upside in placing a bet on that to happen.