NBA
Zion Williamson's Presence Vaulted The Pelicans Offense To New Heights
The rookie phenom hasn't needed much of a learning curve
By Sloan Piva - Mar 11, 2020, 2:34pm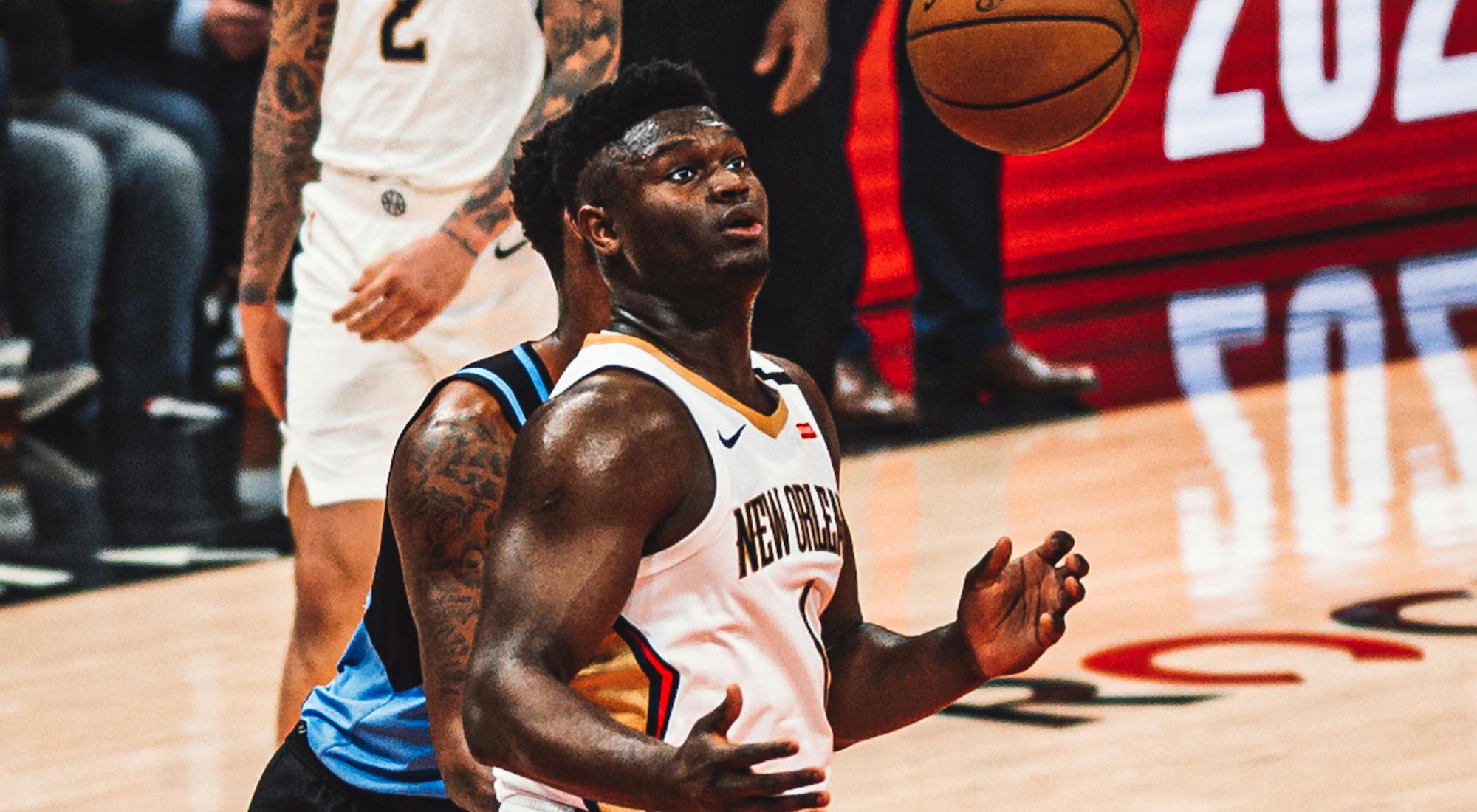 Zion Williamson has more than made up for missing the first 44 games of his rookie season—his first 19 games have been historic. The 19-year old No. 1 pick impacts not only the quality of the New Orleans Pelicans offense—he also helps bettors of the over on the regular.
The numbers don't lie: Zion has averaged 23.6 points, 6.8 rebounds, and 2.2 assists per game, while shooting 58.9 percent from the field and 46.2 percent from three-point land. The advanced metrics support his dominance, too: his PER, true shooting percentage and usage rate are ranked near the top of the league.
He excels in isolation, and feats of individual athleticism. But his impact on the overall team offense has also been unquestionable. New Orleans moves the ball better with him on the floor, and creates better plays and opportunities. They score more points on average (120.05) since his debut, and have moved up to fourth-highest points per game and second-best pace in the NBA.
But while his offense has been staggering, his defense has been stunted. He rates poorly in defensive metrics, and barely passes the eye test as an average defender. Opponents have averaged 115.7 points per game in the 20 games since his debut, and 117 on the season (4th-worst in the NBA). These truths only serve to support the case for bettors of the over.
After missing the first 44 games of his NBA regular season career due to injury, Zion Williamson of the New Orleans Pelicans had the basketball world wondering how his inaugural pro season would fare in history books. Would he be considered a bust No. 1 draft pick? Would he come back to compete for Rookie of the Year, despite Memphis Grizzlies floor general Ja Morant so clearly leading the field halfway through the season?
But the much-hyped 285-pound behemoth has answered the questions with his game in the second-half of the 2019-20 season, while helping the Pelicans score boatloads of points. Let's examine Zion's impact, both on the success of his squad and on the tendency for oddsmakers to post high opening point totals.
Dominating Early And Often At A Young Age

In the 19 games since his return from injury January 22, the 19-year old has played like an MVP contender, never mind Rookie of the Year candidate. He has averaged 23.6 points, 6.8 rebounds, and 2.2 assists per game, while shooting 58.9 percent from the field and 46.2 percent from three-point land.
His advanced metrics look even more impressive. He has a 24.3 PER, which if he qualified would rank among the top dozen players in the league this season. His 64.2 true shooting percentage would sneak him into the top 10. His 29.6 usage percentage sits right up there with Paul George (29.6%) and Anthony Davis (29.8%), and his 3.6 offensive box plus/minus ranks at or above the current levels of Khris Middleton (3.6) and George (3.4).
Simply put, the hype was warranted—he has been an instant offensive star.
Team Offense Improves With Zion, Too

When Zion plays, he automatically improves both the confidence and efficiency of the Pelicans. His first step allows him to create in isolation. His strength lets him dominate in the post. His athleticism propels him higher on his second jump for offensive rebounds and put-backs than opponents get on their first jump, and they are often still landing when he gets back up to score.
His intelligence helps the fluidity of the team's offense—ball movement just looks natural when he is on the court. He makes good, crisp passes that probably impress veterans like Draymond Green and Marc Gasol because his vision and IQ do not look like traits of a 19-year old. He also makes great catches, sometimes bailing out the erratic dishes of his young teammates.
He paces fast breaks, spaces the floor in half-court sets, and brings the intimidation factor with his thunderous throw-downs—he has 51 dunks in his first 19 games. Zion has been a +120 in that timeframe, and not coincidentally, the Pelicans lost the only four games in which he was a minus.
They have beaten playoff teams—sometimes by a lot—with him on the floor. They beat Boston by 15 in a January 26 game where he put up 21 points and 11 rebounds. Two games later, they crushed Memphis by 28, behind his 24 points on 60 percent shooting. This past Friday, he went 7-of-9 against elite defender Bam Adebayo and the Miami Heat, putting in 17 points in another big win.
And the over has continued to rise due to the impact he has had on the Pelicans offense. Since his debut, the Pelicans have outscored opponents on average 120.05-115.7 while going 11-9. Those are some humongous points per game totals, especially considering they have played against teams with great defenses including Milwaukee, Boston, Houston, Indiana, and two games against the Lakers.
Zion's Poor Defense Only Helps the Over

While New Orleans remains productive with Zion offensively despite top-ranked defensive opposition, they have not improved greatly on their own defensive side of the court. Zion has already clearly defined himself as an elite scoring option in the pros, but he has yet to prove himself as an even-average professional defender.
He gets beat off first steps, he gets jab-stepped, and he struggles to defend pick-and-rolls. He's a -1.2 defensive box plus/minus, hovering around Andrew Wiggins and Kevin Knox levels. That's not what you expect from such a powerhouse physical presence.
This is sure to change, as someone with Zion's drive and sheer willpower will not settle for defensive mediocrity in his rise to superstardom. But for the time being, the Pelicans will remain a team familiar with the over as long as this dominant force is on the floor.
With the Pelicans traveling to Sacramento to take on the red-hot Kings (7-3 straight-up in their last 10) on Wednesday, look for a barnburner between these 28-36 teams as they gun for the Grizzlies' spot in the No. 8 seed in the west. As long as Zion is pounding the rock, bettors should pound the over—and this time, maybe even parlay it with the Pels -1.5—New Orleans is 13-3-1 ATS in their last 17 road games, and the over is 19-7 in their last 26 games against teams in the NBA Pacific.
The total opened at 235 for Wednesday's Pelicans-Kings matchup. Click the button below to unlock our model's best bet for this game (and every other contest on today's slate)!