PHI
76ers
Tomorrow, 12:05 AM
DET
Pistons
PHI -6.5 O/U 215.5
CHA
Hornets
Tomorrow, 12:05 AM
ORL
Magic
CHA -1 O/U 213.5
TOR
Raptors
Tomorrow, 12:05 AM
IND
Pacers
IND -2.5 --
MIA
Heat
Tomorrow, 12:35 AM
BKN
Nets
BKN -7.5 O/U 234.5
SAC
Kings
Postponed
MEM
Grizzlies
-- --
LAL
Lakers
Tomorrow, 1:05 AM
CLE
Cavaliers
LAL -10 O/U 215
DEN
Nuggets
Tomorrow, 1:35 AM
DAL
Mavericks
DEN -1.5 O/U 222.5
SAS
Spurs
Tomorrow, 2:05 AM
NOP
Pelicans
NOP -2.5 --
BOS
Celtics
Tomorrow, 2:05 AM
CHI
Bulls
BOS -7.5 --
OKC
Thunder
Tomorrow, 3:05 AM
POR
Trail Blazers
POR -5.5 O/U 222
MIN
Timberwolves
Tomorrow, 3:05 AM
GSW
Warriors
GSW -8.5 O/U 225.5
NBA
The 3 Wildest Spread Trends Of The 2019-20 NBA Season
Remember these trends for the following NBA campaign
By Mason Cary - Sep 23, 2020, 3:07am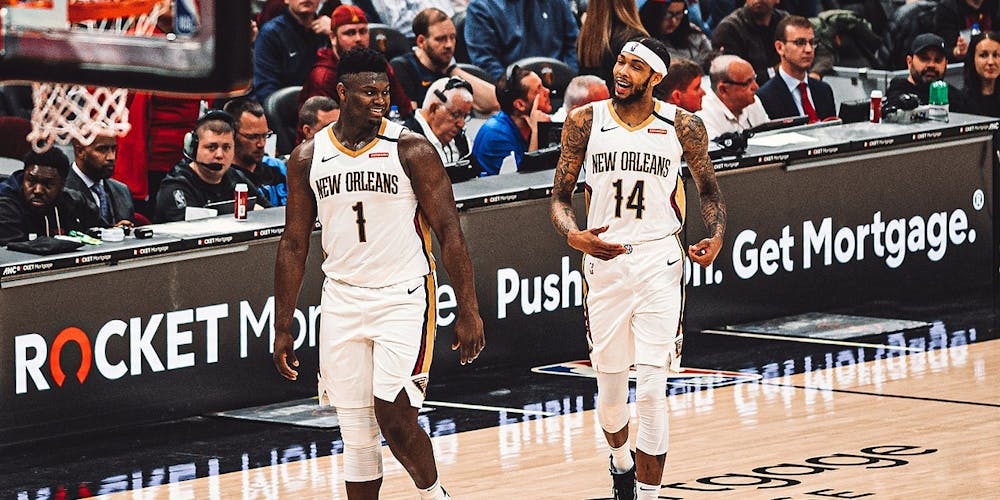 Quick-Hitters
This past NBA season was certainly one of the more unorthodox in recent history.
LeBron James and the Los Angeles Lakers held an impressive record as underdogs.
The New Orleans Pelicans had surprising success as road favorites.
The Oklahoma City Thunder may be the most underrated team in the NBA.
Get all of BetQL's best bets for today's NBA slate! Dating back a full calendar year, our five-star (max-value) bets have won 61% of the time!
Road Underdog Lakers
It's surprising to think LeBron James and the Los Angeles Lakers have been listed as road underdogs nine times this season by oddsmakers. In these nine contests, the Lakers earned an 8-1 (88.8 percent) record against the spread (ATS), better than any other team in the league as an underdog. The two-headed monster of James and Anthony Davis have been nothing short of dominant this season. The Lakers rank third in defensive efficiency with a mark of 106.1 and the second-best average scoring margin of 6.2. Next season, if we see this Lakers squad listed as an underdog, pounce on the spread instantly.
If you want to roster any NBA players in your DFS lineups tonight, be sure to get a 3-day free trial on RotoQL to check out our projections!
Pelicans As Road Favorites
This past season, the New Orleans Pelicans were an average team at best; however, the improvements from Brandon Ingram and Lonzo Ball, coupled with the presence of Zion Williamson, made them an electric team to watch. In the 2019-20 season, the Pelicans were listed as road favorites eight times in total. In those eight games, the Pelicans managed a 7-1 (87.5 percent) record ATS. New Orleans' strengths came from their young core. This allowed them to lead the league in possessions per game with 108.0, including leading in pace of play.
Thunder As Underdogs
This trend is the most wild due to the sheer volume of opportunities. The Oklahoma City Thunder were set as underdogs ATS in 45 games this past season. Yes, for more than half of the season, the fifth-seed in the west was an underdog in a majority of their games. However, in these 45 games, the Thunder held an absurd 31-14 (68.8 percent) against the spread. A consistent $100 bettor who wagered on Chris Paul and the Thunder when underdogs ATS would profit approximately $1,417.90 (average odds -110). This is more profit than the previous two mentioned trends combined!