NBA
Why Steph Curry Is A Sharp 2019-2020 MVP Bet
The two-time MVP will get massive usage in Golden State's offense without two of his former co-stars there
By Brandon Barbour - Aug 6, 2019, 3:21pm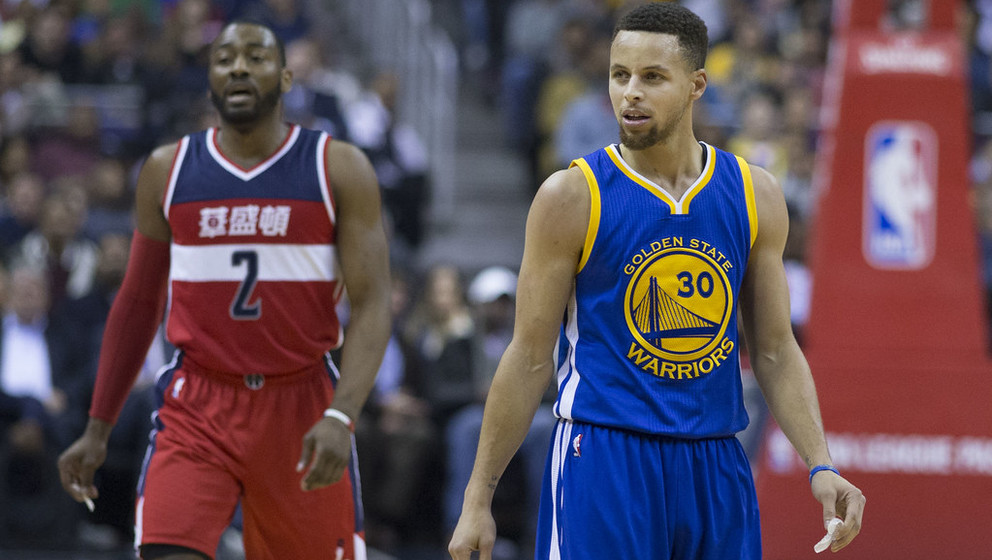 Without Kevin Durant and Klay Thompson around him and since a number of stars teamed up in the offseason, Stephen Curry (+550) is a sharp bet to win the 2019-2020 MVP Award.
Many have a hard time admitting or realizing it, but the Golden State Warriors would be completely lost without Stephen Curry. 
The two-time MVP is entering his age 31 season and is already a lock for the Hall Of Fame. He averaged 27.3 points, 5.2 assists, and 5.3 rebounds last season. His rebounds and points per game ranked second-best over his career, which is surprising given that he was playing with a star-studded cast and shared the ball. 
Curry has been a major factor in taking the Warriors to the NBA Finals over the past five seasons. Many will credit Kevin Durant to the team's success over the past three seasons with the Warriors winning 66, 58, and 57 regular season games from 2017-2019. 
Curry led the prized organization to 64 and 71 wins in 2015 and 2016, respectively, before Durant signed as a free agent. Curry took home MVP honors for his outstanding 2015 and 2016 seasons when the budding star was just 26-27 years of age, including the only unanimous selection ever in 2016.
Stephen Curry's PER (Player Efficiency Rating) was 24.45 last season, placing him 12th overall. However, his usage rating sat at 30.3 in 15th place. During Curry's amazing 2016 season (when Durant was still with the Oklahoma City Thunder), he owned the best PER in the league at 31.56 and his EWA (Estimated Wins Added) ranked best at 27.6. It's fair to assume that Curry's usage rating should skyrocket with Durant's departure and Klay Thompson's ACL recovery, leading to juicier stats and more recognition for the point guard. We may witness Curry's greatest season yet.
Watered-Down MVP Pool
The list of opposing players that could snatch an MVP from the Golden State star isn't a large list, especially after numerous contenders for the award joined forces. Voters for the acclaimed award tend to lean away from players that have another star carrying the load. Just take Curry and Durant, for example. The two never captured a regular-season MVP over their three seasons together. In fact, Curry never finished better than fifth in the voting after Durant joined. It's understandable that voters steer clear of these scenarios as long as there is another viable option and Curry could very well be that pick this season.
James Harden's 40.8 usage rating is 7.4 points higher than the next player, and wouldn't you know it, it was his new teammate, Russell Westbrook that fell in at a 33.4 usage rating from last season. It's well-documented that the two have chemistry from their childhood days and time together in OKC. 
Something has to give with these two, but who will steal the other's thunder? Harden took home the MVP award in 2018 and Westbrook in 2017. We saw how voters treated Curry and Durant during their tenure together and we shouldn't expect anything different from them when it comes to Harden and Westbrook now that they're together. One would have to go down with a lengthy injury for the other to garner the attention and respect of voters.
Another duo that managed to team up in the offseason are LeBron James and Anthony Davis. James has four regular-season MVP awards to his name, but hasn't garnered the award since 2013. James battled through one of his first ever injury-plagued seasons, finishing eighth in PER (25.64) and playing just 55 games. It'll be hard for James to play in enough games to be considered for the award given the mileage on his body. Eight-straight Finals would do that to any player. 
Davis should have a better chance at claiming the award this season, but the facts are that voters just don't support the All-NBA duos.
HOW TO BET ON THE NBA (BetQL Helper)
Kawhi Leonard and Paul George joined forces with the Los Angeles Clippers playoff roster and are positioned to make a splash in the West. The two are joining a brand new system together, so the chemistry may take a while to get there, but that can be said for the majority of these duos.
All duos aside, Nikola Jokic and reigning MVP Giannis Antetokounmpo may have the best chance to keep Curry from his third MVP. Jokic finished fourth in voting last season and took an up-and-coming Denver Nuggets squad to the second seed in the West. Jokic's passing ability makes him a very rare talent as a big man and his EWA (Estimated Wins Added) and PER ranked fourth last season, including five triple-doubles (very rare for a center). 
Meanwhile, Antetokounmpo is still an unstoppable force. However, if he doesn't make strides with his jump shot this season, then teams might finally find a way to contain him. It's well-known around the league that he's a pure finished inside the paint, but he's hardly feared from anywhere else on the court. Yes, Antetokounmpo was completely unstoppable last season, but teams may wise up and force him to defer more often. 
This is hardly a factor for Curry, as he can score from anywhere on the court at any given moment. Curry's effective field goal percentage edged out Antetokounmpo's by a fraction and his turnover rate was 3.2 percent less than the defending MVP winner last season.
Curry's Odds And Predictions
The fact that there are so many stars paired up nowadays makes it easy to eliminate them from contention. It's something that voters have steered clear from over recent history. This bodes well for Curry, who will be asked to do more than he ever has for the Warriors. DraftKings has Curry's MVP odds at +550 (behind Antetokounmpo) and if he can successfully lead the organization to another playoff berth without Durant and Thompson for the majority of the season, then he should garner a ton of attention. 
It's fair to assume that Curry's usage should go way up and could potentially lead the NBA. This gives him all the opportunity to improve his assists and volume of shots. As mentioned before, Curry can score from all over the court. His two-point percentage is far better than people give him credit for at .525 last season and .595 in 2018. He is a wizard under the hoop and abuses big men with his crafty ball handling and finishing ability. 
On top of that, he's the best three-point and free-throw shooter we have ever seen. Even at an incredibly high volume of three attempts (11.7 per game last season), he managed to sink 43.7 percent of them. Can you imagine the amount he will get to shoot without Durant and Thompson present? New acquisition D'Angelo Russell should be a nice compliment and help keep defenses honest.
While you're waiting for NBA season to arrive, check out BetQL's NFL dashboard for value bets, sharp bets, updated lines and totals and more!
Curry is a monster on the court and should be considered the favorite to capture another MVP award. If you love basketball, then you'll love watching Curry dominate all season on his own with less help than normal like he did in his days at Davidson. Draymond Green and company can still most likely help Curry reach the playoffs, which will help his MVP appeal. 
Get ready for an absolutely wild ride at the brand-new Chase Center in San Francisco. If you thought Curry was amazing in his two MVP seasons, well, you haven't seen anything yet.
All statistics were found on Basketball-Reference.com. The advice above conveys the writer's view and does not represent the stance or interest of BetQL.