NBA
The Suns Are Still A Few Years Away
Phoenix has been one of the worst-run organizations in the NBA over the last decade and things might not get better anytime soon
By Nolan Comar - Sep 18, 2019, 5:22am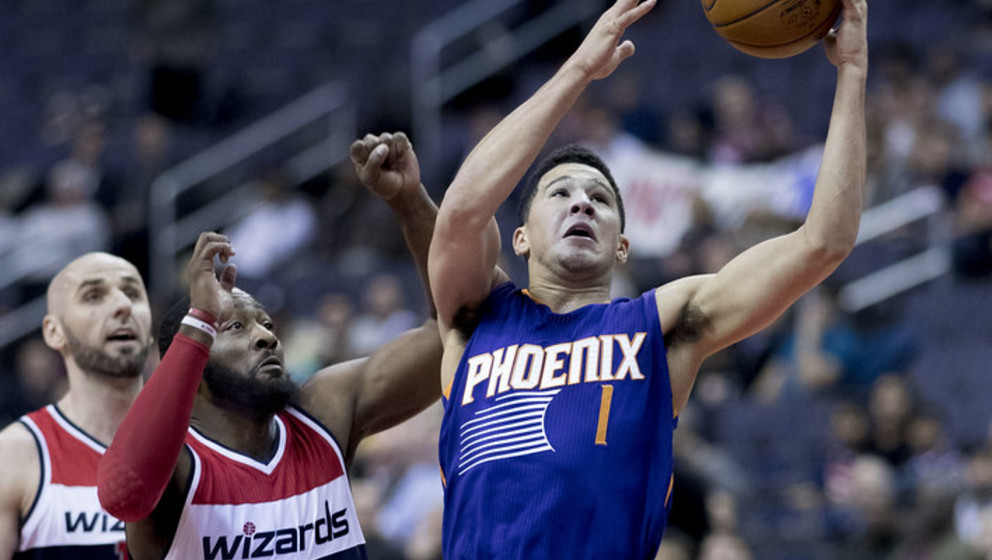 Having failed to exceed 24 wins in four-straight seasons, the Suns are struggling to find their way out of the bottom of the Western Conference. 
With one of the worst defenses in the NBA, the Suns struggled to slow down anyone last season.
After significant offseason movement, the depth in the West is as strong as ever, which is bad news for Phoenix.
Last Year's Struggles
A 19-win season in 2018-2019 led to the early dismissal of former Phoenix Suns coach Igor Kokoskov. Kokoskov was only given one season to try to lead the Suns back to relevance. Perhaps it's time for the Suns to reflect a bit more internally as failed draft picks and signings have led the organization to nine-straight seasons without a playoff appearance and four-straight seasons of 24 wins or less. 
Gone within the last six seasons are recent lottery picks in Josh Jackson, Marquese Chriss, Dragan Bender, TJ Warren and Alex Len. While there were signs of brilliance from star guard Devin Booker and number one draft pick, DeAndre Ayton, the Suns could not function in a loaded Western Conference last year. They finished the season ranked 28th out of 30 teams in offensive rating and 29th in defensive rating. Given those marks, it feels as if the Suns' 19-win season might have actually been an accomplishment. 
Learn more about the different types of NBA bets that you will be able to place this season! 
Moving Forward
New head coach Monty Williams will be the Suns' ninth coach in just seven seasons. Perhaps no figure speaks to the organizational dysfunction that has surrounded Phoenix than that. While Williams is respected around the NBA, the team defense during his last stop in New Orleans left much to be desired. During his last three seasons from 2013-2015, the Pelicans finished 28th, 27th and 22nd in defensive rating. For a team that must improve drastically on that end, it is curious that they pursued Williams to be the fit. 
The Suns also made it a point to find a point guard to try to stabilize the franchise. They hope they found such a player in veteran Ricky Rubio. Rubio is now a 28-year-old floor general who has never quite lived up to his teenage hype and while he's an adequate NBA starter, his presence will not likely move the needle to the degree the Suns need. 
Much will be asked of Rubio on and off the floor as he is now the Suns' most experienced NBA player. Phoenix as a whole only has two players with more than five years of NBA experience as they head to training camp. 
He'll be paired with Phoenix mainstay, Booker, in the backcourt. Booker, while a terrific individual offensive player, has yet to show a positive impact on the defensive end and hasn't noticeably made his teammates better. Ayton also gave off a similar feel in his rookie season, averaging 16.3 points and 10.3 rebounds, but the team as a whole struggled consistently.
Love DFS and want to give betting a try? Get a 50% deposit bonus up to $500 with your next deposit on DraftKings Sportsbook. Learn more!
A Loaded Western Conference
The Suns won't be given any favors in their quest to top their 27.5 win total. The Western Conference will once again be a murderers row. It could be argued that outside of Memphis and Oklahoma City, that every West team will be competing for a playoff spot. 
Finals MVP Kawhi Leonard and superstar big man Anthony Davis now both reside in the Pacific Division and the Suns will see them both four different times this season. The upstart Sacramento Kings will be looking to make a playoff push out of the Pacific and the old-guard of the Golden State Warriors will still be looking to prove a point this season as well.
With the Suns still in possession of their 2020 1st round draft pick, it will become a question again if the best route for future success is to 'tank' if the Suns find themselves without hope early on. With a new coach looking to establish a culture to go with a young team in a loaded division, it seems unlikely that the Suns can go from 19 to 27 wins in just one season. 
Note: The advice above is the writer's opinion only and does not represent the stance or interest of BetQL in any way.