LIVE
GSW
Warriors
44
2nd Q
WAS
Wizards
45
GSW -2 O/U 240.5
PHX
Suns
47
2nd Q
PHI
76ers
50
PHX -3 O/U 217
OKC
Thunder
55
2nd Q
IND
Pacers
67
IND -9 O/U 231
BKN
Nets
56
2nd Q
TOR
Raptors
53
TOR -4.5 O/U 231.5
CHI
Bulls
40
2nd Q
CLE
Cavaliers
56
CHI -2 O/U 210.5
ATL
Hawks
Today, 12:10 AM
NYK
Knicks
ATL -1.5 O/U 219
UTA
Jazz
Today, 12:10 AM
HOU
Rockets
UTA -11 O/U 224
MIA
Heat
Today, 12:40 AM
SAS
Spurs
MIA -1.5 O/U 215.5
DET
Pistons
Today, 12:40 AM
DAL
Mavericks
DAL -10.5 O/U 218
DEN
Nuggets
Today, 2:10 AM
POR
Trail Blazers
DEN -1.5 O/U 230
MIN
Timberwolves
Today, 2:10 AM
SAC
Kings
SAC -4 O/U 239.5
MEM
Grizzlies
Today, 2:10 AM
LAC
Clippers
MEM -3 O/U 224.5
NBA
NBA Player Props: 3 Best Bets for Sunday, February 28
Three wagers to target in today's 8-game slate
By Vikas Chokshi - Feb 28, 2021, 6:00pm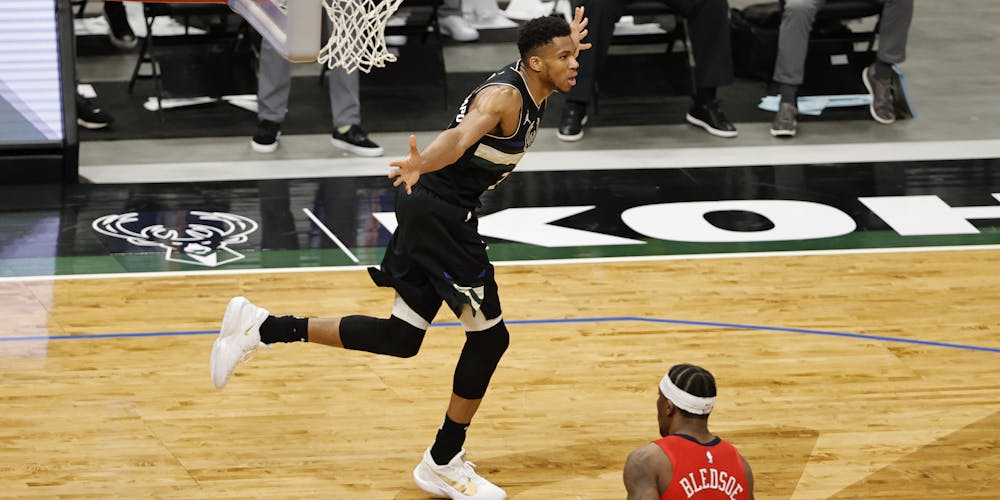 There's an eight-game NBA slate tonight, which means there are plenty of options to choose from in the player prop pool. Today's card features great matchups, but I'll go Warriors-Lakers as the game of the day. Los Angeles is currently favored by 4 points and the total is set to 221. LeBron James vs. Steph Curry will be exciting to watch purely from an entertainment standpoint.
As for today's best NBA bets, player props are a fun way to wager on NBA games even if you don't like a side or total. I like to find matchups that I can exploit or good situations due to injuries.
Let's dive into a couple of these scenarios now.
Get all of BetQL's best bets for the NBA season! Dating back a full calendar year, our five-star (max-value) bets have won 61% of the time!
LaMelo Ball OVER 19.5 points
Ball is averaging 15.0 points per game (PPG) on the year, but that number has jumped to 20.1 over his last ten games.
He's gunning for that Rookie of the Year Award and today he faces off against a Sacramento Kings team that is putrid at defense. Sac-town is ranked 30th in points allowed, defensive rating and field goals allowed.
This game also has the highest total on the board today at 238, so we will see points galore. Ball has also gone over this mark in three straight games and should surpass this number thanks to the matchup.
Play DFS? Be sure to get a 3-day free trial on RotoQL to check out our projections!
Giannis Antetokounmpo UNDER 12.5 rebounds
The Greek Freak is currently averaging 11.7 rebounds per game (RPG) and 11.3 RPG at home on the season.
Today he faces off against a Los Angeles Clippers team that is great at rebounding. The Clippers are currently 2nd in rebounds allowed and offensive rebounds allowed, and 3rd in defensive rebounds allowed. Los Angeles has the length to keep him off the boards.
Giannis has also gone under this mark in four out of his last six games.
Deandre Ayton OVER 15.5 points
Ayton is currently averaging 14.3 PPG on the season and 14.9 per over his last ten games. Today he faces off against the Minnesota Timberwolves, who struggle defensively.
Minnesota is ranked 28th in points allowed, 26th in rebounds allowed, and 29th in offensive rebounds allowed. Ayton will get plenty of put-back opportunities and easy layups, which should help him eclipse this mark.
He has also topped this number in his last seven of 11 games, which is always a plus.
Be sure to check back daily for our top NBA player prop bets.
Odds courtesy of DraftKings Sportsbook