GSW
Warriors
Today, 11:10 PM
WAS
Wizards
GSW -2 O/U 241
PHX
Suns
Today, 11:10 PM
PHI
76ers
PHX -3 O/U 217
OKC
Thunder
Today, 11:10 PM
IND
Pacers
IND -9 O/U 231
BKN
Nets
Today, 11:10 PM
TOR
Raptors
TOR -4.5 O/U 231
CHI
Bulls
Today, 11:10 PM
CLE
Cavaliers
CHI -2 O/U 210
ATL
Hawks
Tomorrow, 12:10 AM
NYK
Knicks
ATL -1.5 O/U 219
UTA
Jazz
Tomorrow, 12:10 AM
HOU
Rockets
UTA -11 O/U 225
MIA
Heat
Tomorrow, 12:40 AM
SAS
Spurs
MIA -1.5 O/U 216
DET
Pistons
Tomorrow, 12:40 AM
DAL
Mavericks
DAL -10.5 O/U 217
DEN
Nuggets
Tomorrow, 2:10 AM
POR
Trail Blazers
DEN -1.5 O/U 230
MIN
Timberwolves
Tomorrow, 2:10 AM
SAC
Kings
SAC -4 O/U 239.5
MEM
Grizzlies
Tomorrow, 2:10 AM
LAC
Clippers
MEM -3 O/U 224.5
NBA
NBA MVP 2021: Nikola Jokic odds shift to win Most Valuable Player
With injuries to several superstars, Jokic has become the MVP favorite
By Reed Wallach - Apr 5, 2021, 8:15pm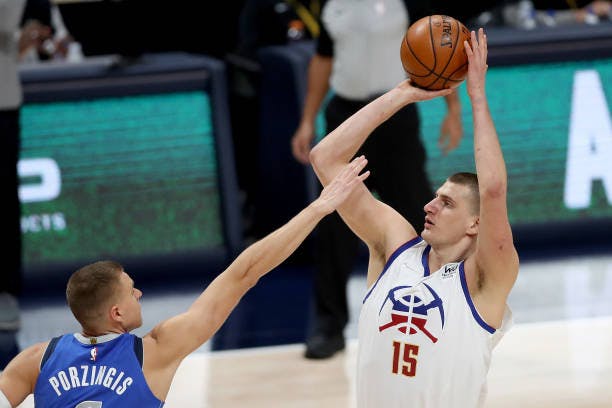 Nikola Jokic continues to push ahead in the 2020-2021 NBA MVP race. 
After news broke Tuesday afternoon that James Harden will be sidelined at least 10 days with a strained hamstring, Jokic's odds shifted at DraftKings Sportsbook to -159.
Get all of BetQL's best bets for the NBA season! Dating back a full calendar year, our five-star (max-value) bets have won 61% of the time!

Jokic is the front runner for the award, averaging over 26 points, nearly 11 rebounds and over eight assists. 
He is in the 91st percentile in efficiency differential, per Cleaning the Glass, and the Nuggets have won six straight. As of Wednesday, Denver is in the No. 4 spot in the Western Conference and only a game out of the three seed. 
While Jokic has been superb this season, he has also been able to stay healthier than his competitors for the award.
LeBron James was the early front runner for MVP, but he has been sidelined with a high right ankle sprain with no timetable for return. After that, Joel Embiid missed 10 consecutive games with a knee injury, and the 76ers are sure to be cautious with him given his injury history.
James Harden was making a push for the hardware with Kevin Durant missing 26 of the last 27 games due to a hamstring strain, but will now miss an extended period of time with a hamstring injury of his own.
Play DFS? Be sure to get a 3-day free trial on RotoQL to check out our projections!
'The Joker' has been great this season, and is a deserving candidate for the award, but with such a short offseason leading up to the 2020-2021 season, many teams are being protective over their superstars. 
Meanwhile, Jokic has not missed a game this season. In a year with so many injuries and rest days for players, the Nuggets big man has not only played great, but has been available. 
The odds shift highlights that there may not be another deserving candidate due to the lack of playing time, and Jokic is in position to run away with this award.