WAS
Wizards
Today, 11:40 PM
ATL
Hawks
ATL -8 O/U 237
IND
Pacers
Today, 11:40 PM
CLE
Cavaliers
IND -9 O/U 229
NOP
Pelicans
Tomorrow, 12:10 AM
MEM
Grizzlies
MEM -9.5 O/U 229.5
MIL
Bucks
Tomorrow, 12:40 AM
SAS
Spurs
MIL -7 O/U 233.5
HOU
Rockets
Tomorrow, 2:10 AM
POR
Trail Blazers
POR -14.5 O/U 238
UTA
Jazz
Tomorrow, 2:10 AM
GSW
Warriors
UTA -2 O/U 225.5
NBA
NBA MVP 2021: Betting Value on Steph Curry to win Most Valuable Player?
Curry's recent hot streak has his MVP odds on the move
By Vikas Chokshi - Apr 20, 2021, 7:10pm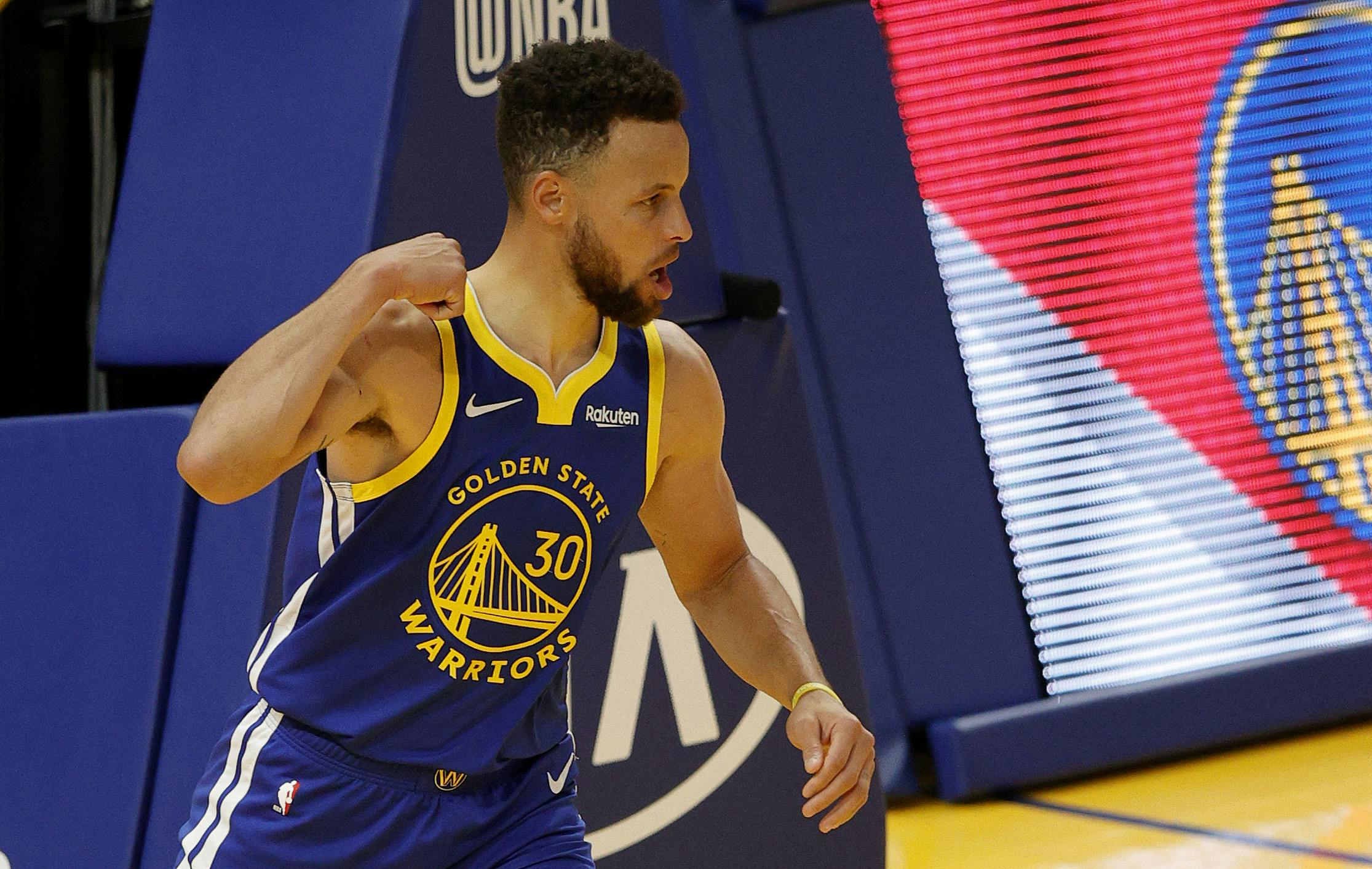 The Denver Nuggets' Nikola Jokic is the overwhelming favorite at -300 to win the NBA's MVP award. This year's race has been spectacular to watch as an NBA fan and gambler, as there have been so many amazing performances by the league's best. We've seen both LeBron James and Joel Embiid as heavy favorites before getting hurt, and multiple other stars have also been in the mix. 
One name we haven't heard that much buzz around, since the start of the season at least, has been Steph Curry. The Golden State Warriors guard must've taken notice, because he's been on an insane heater this past month, including a record setting 11-game streak.
The MVP odds at BetMGM currently list Embiid behind Jokic at +250, followed by Giannis Antetokounmpo at +1100, James Harden at +1600, Luka Doncic at +2000. After his torrid stretch, Curry has finally joined the party at +2000.
Following Curry's 49-point performance in a win over the Philadelphia 76ers on Monday night, he is now leading the NBA in scoring with 31.4 points per game. This month, through 10 games, Curry is averaging 40.8 points, 7.2 threes, 6.2 rebounds and 4.4 assists. What's even more impressive is that he is doing it with 54.9/ 50.3/ 90.9 shooting splits.
Oddsmakers have taken notice of Chef Curry's amazing stretch, as multiple books have shortened his MVP odds drastically.
"The Stephen Curry for MVP chatter has gotten louder following back-to-back games of 40+ points," said Seamus Magee, Sports Trader at BetMGM. "BetMGM has adjusted Curry from +10000 on Saturday to +2000."
Curry started out at +1100 to win the award before the season started before his odds lengthened all the way up to +10000, which was as recent as this past Sunday. Before last night's explosion, he was still at +5000, before making the leap this morning to +2000.
Unfortunately for Curry, Jokic also went off for 47-points,15 rebounds, 7 assists and a win against the Memphis Grizzlies on Monday night. The Joker's amazing play has the Nuggets currently in fourth place in the Western Conference standings, even after star Jamal Murry went down with a season ending knee injury. Meanwhile, Curry has the Warriors sitting in 9th place in the West, a feat that's impressive in its own right seeing as though they've played the season without star Klay Thompson. Rookie James Wiseman also went down recently with an injury, hurting Golden State's chances even further.
The path for Curry to win is going to come down to if he can keep these insane numbers up. It seems impossible from a betting angle, but if he can somehow continue this torrid pace and catapult the Warriors into playoffs, I can see Curry getting some votes.
On the flip side, the Joker isn't letting up, and Embiid has come back to where he left off in terms of domination.
Ultimately, even though this 11-game stretch of basketball is one of the best I've ever seen since the likes of Michael Jordan and Kobe Bryant, I think it's a little too late for Curry. If I had a vote, it would go to Jokic, with my only other option being Embiid. For that reason, I'll be laying off.
The books agree, as Magee had this to say about the current odds, "Curry is still a longshot to win the award ..." 
But, we've seen several stars go down with injury, so with a guy as talented as Curry, never say never, right?