LIVE
GSW
Warriors
6
1st Q
WAS
Wizards
12
GSW -2 O/U 240.5
PHX
Suns
7
1st Q
PHI
76ers
15
PHX -3 O/U 217
OKC
Thunder
18
1st Q
IND
Pacers
18
IND -9 O/U 231
BKN
Nets
18
1st Q
TOR
Raptors
11
TOR -4.5 O/U 231.5
CHI
Bulls
10
1st Q
CLE
Cavaliers
17
CHI -2 O/U 210.5
ATL
Hawks
Tomorrow, 12:10 AM
NYK
Knicks
ATL -1.5 O/U 219
UTA
Jazz
Tomorrow, 12:10 AM
HOU
Rockets
UTA -11 O/U 225
MIA
Heat
Tomorrow, 12:40 AM
SAS
Spurs
MIA -1.5 O/U 215.5
DET
Pistons
Tomorrow, 12:40 AM
DAL
Mavericks
DAL -10.5 O/U 218
DEN
Nuggets
Tomorrow, 2:10 AM
POR
Trail Blazers
DEN -1.5 O/U 230
MIN
Timberwolves
Tomorrow, 2:10 AM
SAC
Kings
SAC -4 O/U 239.5
MEM
Grizzlies
Tomorrow, 2:10 AM
LAC
Clippers
MEM -3 O/U 224.5
NBA
Luke Walton Is The Betting Favorite To Be Next NBA Head Coach Fired
Three head coaches have +300 or less odds to be the next to go
By Vikas Chokshi - Feb 26, 2021, 8:33pm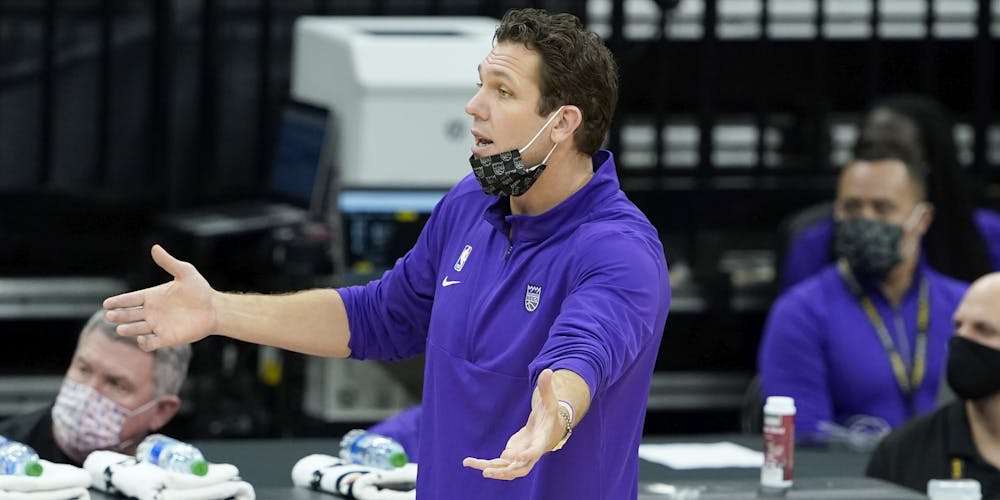 Sacramento Kings head coach Luke Walton is currently the odds on favorite to be the next NBA head coach to get fired. Last Sunday, the Minnesota Timberwolves fired Ryan Saunders, which potentially jump-started the NBA coaching carousel.
There are currently three NBA coaches that have +300 betting odds or lower to be the next coach fired. Walton sits at +250, Dwane Casey of the Detroit Pistons is at +275, and Scott Brooks of the Washington Wizards is at +300.
Get all of BetQL's best bets for the NBA season! Dating back a full calendar year, our five-star (max-value) bets have won 61% of the time!
Walton is in the second-year of a four-year deal, but his .409 win percentage as the team's coach looks like it already has him on the hot seat. The Kings are 12-19 through 31 games, and have a 44-60 overall record since Walton started coaching there. The team has also lost nine games in a row and currently sits 13th in the Western Conference standings.
In his defense, Sacramento has been hit by the injury bug several times over Walton's tenure. The second-year coach was also given a young, rebuilding roster to try to mold, but that usually takes some time to shape into form.
Play DFS? Be sure to get a 3-day free trial on RotoQL to check out our projections!
Speaking of defense, statistically, that is the one area the Kings really struggle in as a unit. Sacramento ranks 30th in points allowed and in defensive rating. If the team wants to end its 14-year playoff drought, defense is where they need to turn things around.
As for who would replace Walton, veteran coach Alvin Gentry, who is on the staff, is probably a good place to start. Gentry is highly respected in NBA circles and is known as a teacher of the game. Younger players tend to gravitate towards him, which would help with this roster. The former New Orleans Pelicans coach has over 36 years of experience under his belt. Teams also typically tend to go in-house after in-season firings, at least until the season ends.
It will also be interesting to keep an eye on if fans are allowed back at higher capacities soon, especially given the team's monetary losses due to the pandemic. Besides the aforementioned injuries and roster construct, owner Vivek Ranadive may be hesitant to be on the hook for Walton's salary for two more seasons.