LAC
Clippers
Tomorrow, 12:05 AM
WAS
Wizards
LAC -5.5 O/U 236.5
TOR
Raptors
Tomorrow, 12:05 AM
BOS
Celtics
BOS -8.5 O/U 216.5
DET
Pistons
Tomorrow, 12:35 AM
NYK
Knicks
NYK -5 O/U 210.5
DEN
Nuggets
Tomorrow, 1:00 AM
IND
Pacers
DEN -4.5 O/U 225.5
MIL
Bucks
Tomorrow, 1:05 AM
MEM
Grizzlies
MIL -6 O/U 234
MIA
Heat
Tomorrow, 1:30 AM
NOP
Pelicans
NOP -3.5 O/U 224.5
OKC
Thunder
Tomorrow, 2:05 AM
SAS
Spurs
SAS -6 O/U 218.5
SAC
Kings
Tomorrow, 3:05 AM
POR
Trail Blazers
POR -5 O/U 238.5
GSW
Warriors
Tomorrow, 3:05 AM
PHX
Suns
PHX -6 O/U 224.5
NBA
How The Utah Jazz's Hot Streak Is Impacting Betting Odds
Sportsbook Directors at DraftKings and The Borgata reveal insider info
By Vikas Chokshi - Feb 19, 2021, 10:33pm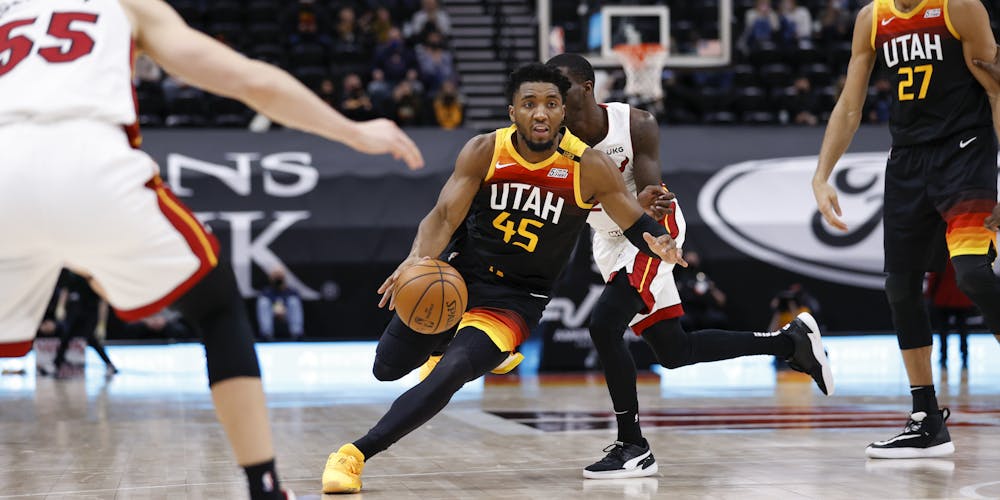 The Utah Jazz are setting the NBA on fire, with a league leading 24-5 straight up (SU) record. From a betting perspective, the Jazz are also hot, as they've covered nine straight games and on a 19-1-1 against the spread (ATS) run heading into Friday night. Overall, Utah is 22-7 ATS, the best mark in the league.
For an ATS streak like this one, you have to go back to the 2014-15 season, when the Atlanta Hawks covered the spread in 15 straight games. The longest such streak since 1990, per @ESPNStatsInfo.
Get all of BetQL's best bets for the NBA season! Dating back a full calendar year, our five-star (max-value) bets have won 61% of the time!
So how has Utah's run impacting their betting odds? Quite a bit. The surging Jazz have leaped to fifth at most books to win the championship.
The defending champion Los Angeles Lakers remain the clear-cut consensus +250 favorites at DraftKings Sportsbook. Understandably so, as LeBron James is playing at an MVP level and the team has a 22-8 SU record.
The Brooklyn Nets remain second in the NBA championship odds at +400, boosted after the acquisition of James Harden from the Houston Rockets. The Nets are followed by the Los Angeles Clippers (+550) and Milwaukee Bucks (+700).
Which brings us back to the Jazz. To break down how Utah's run has impacted the betting markets, I spoke with Thomas Gable, Sportsbook Director at The Borgata, and Johnny Avello, Sportsbook Director at DraftKings.
"The Jazz have the most liability of any team to win the NBA title at The Borgata," Gable said. "We took some decent money on them in the offseason where they opened at +5000, and now are currently at +900."
Avello stated that the Jazz were in the +3000 range and now sit at +1200 at DraftKings.
"At home they've been pemonemal but on the road is what's been surprising, as they are 11-3," Avello said. "Everything is clicking and everyone is playing well for them like Donovan Mitchell, Rudy Gobert rebounding, and they are shooting almost 40 percent from 3."
Play DFS? Be sure to get a 3-day free trial on RotoQL to check out our projections!
Speaking of Spider Mitchell, both oddsmakers said he is flying under the radar when it comes to MVP betting.
"Mitchell is currently at +6600 and he's not getting hit, which is surprising," per Avello. "Everyone is looking at Joel Embiid, LeBron James, Nikola Jokic. LeBron is getting the most money so we will keep him as the favorite."
Gable shared similar sentiments in regards to Mitchell. At The Borgata, Mitchell's MVP odds have moved but not nearly as dramatically as one would expect. They opened at +10000 and are currently +6600 there as well.
When it comes to betting on a game-by-game basis, when a team is hot, public bettors tend to jump on board.
"The public loves to jump on streaks in basketball and the Jazz are no exception," Avello said. "Football is a little different as teams play on a weekly basis so they lose their momentum, but basketball, they play on a nightly basis, so they are definitely riding this wave."
Can the Jazz keep this up, and if so, how will the books react?
"I think the Jazz overall have been undervalued by the market for a long time this season, certainly longer than they should have been," Gable said. "Now, with this current ATS run they are on, the market is finally catching up and you are starting to see them laying more points each night than what they were only a week or two ago."
Avello closed by saying if the Jazz keep up, their power ratings will be adjusted. The better they do, the stronger their power rating will be and thus a higher point spread. He thinks they will come back down to earth soon, and if they do, they will do the same thing they always do, adjust their ratings and the line.
Bottom line: The Jazz's hot streak against the spread will slow at some point but until it does, expect bettors to keep riding them.