CHA
Hornets
Today, 5:10 PM
WAS
Wizards
-- --
BOS
Celtics
Today, 5:10 PM
NYK
Knicks
-- --
IND
Pacers
Today, 5:10 PM
TOR
Raptors
-- --
PHX
Suns
Today, 6:10 PM
SAS
Spurs
-- --
MEM
Grizzlies
Today, 7:40 PM
GSW
Warriors
GSW -5 O/U 230
HOU
Rockets
Today, 11:10 PM
ATL
Hawks
-- --
ORL
Magic
Today, 11:10 PM
PHI
76ers
-- --
CLE
Cavaliers
Today, 11:10 PM
BKN
Nets
-- --
MIA
Heat
Tomorrow, 12:10 AM
DET
Pistons
-- --
LAC
Clippers
Tomorrow, 1:10 AM
OKC
Thunder
-- --
LAL
Lakers
Tomorrow, 1:10 AM
NOP
Pelicans
-- --
MIL
Bucks
Tomorrow, 1:10 AM
CHI
Bulls
-- --
DEN
Nuggets
Tomorrow, 1:10 AM
POR
Trail Blazers
-- --
UTA
Jazz
Tomorrow, 1:10 AM
SAC
Kings
-- --
DAL
Mavericks
Tomorrow, 1:10 AM
MIN
Timberwolves
-- --
NBA
Big Bets on Hawks to Win NBA Championship Move Odds
A couple of big bets on Atlanta has moved their futures odds at BetMGM
By Vikas Chokshi - Apr 26, 2021, 7:03pm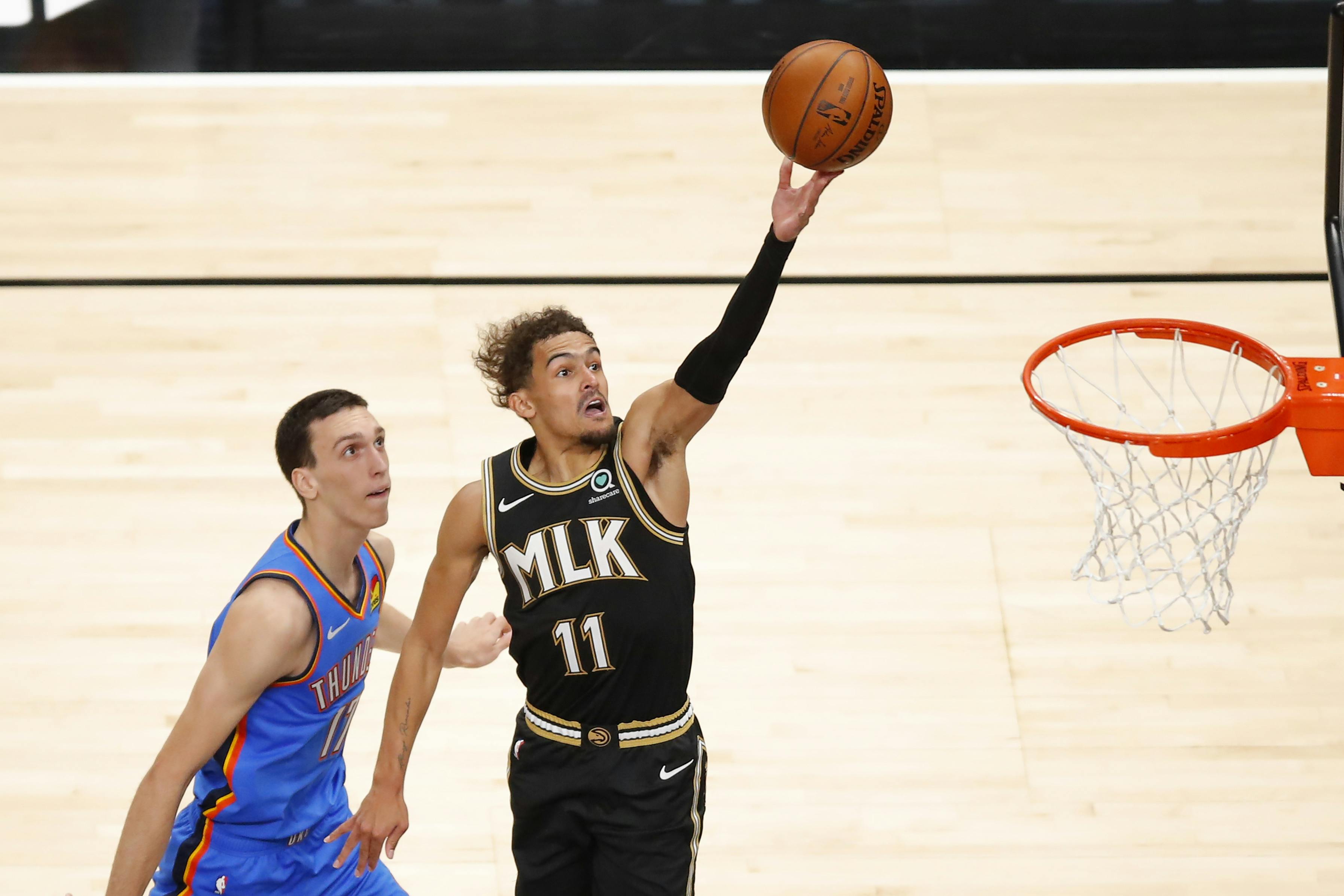 BetMGM took the following two large wagers on the Atlanta Hawks this past weekend:
$10,000 to win $1,500,000 (+15000) to win NBA Championship
$10,000 to win $500,000 (+5000) to win Eastern Conference
The bets were significant enough to move the team's futures odds.
"The sportsbook took two notable futures wagers on the Hawks," Seamus Magee, Sports Trader at BetMGM, said. "BetMGM adjusted Atlanta's odds to win the Eastern Conference from +5000 to +4000 and to win the NBA Championship from +15000 to +10000."
The Hawks haven't been talked about much in the national spotlight, but they've quietly been one of the league's hottest teams since the All-Star break. Atlanta also has the best record in the East since Nate McMillon took over as head coach.
Currently, Atlanta sits in fifth place in the Eastern Conference, and the team is coming off of back-to-back victories against the Miami Heat and Milwaukee Bucks.
Star point guard Trae Young is the engine that makes the unit go. Young comes into tonight's matchup scoring 25.3 points per game while dropping 9.6 dimes a game (second in the league).
Teams like the Brooklyn Nets, Philadelphia 76ers, and Milwaukee Bucks are still in the upper echelon of the conference, but if the Hawks can keep this up, there's a good chance these odds shorten even further by playoff time.
Speaking of the Nets, bettors are still anticipating a Nets-Lakers Finals.
"The Nets remain our biggest liability to win the East and the Lakers are the biggest liability to win the title," said Magee.