NBA
3 Keys To A Clippers Victory Over The Rockets
The Clippers must do these three things to take down the Rockets
By Sloan Piva - Mar 5, 2020, 4:31am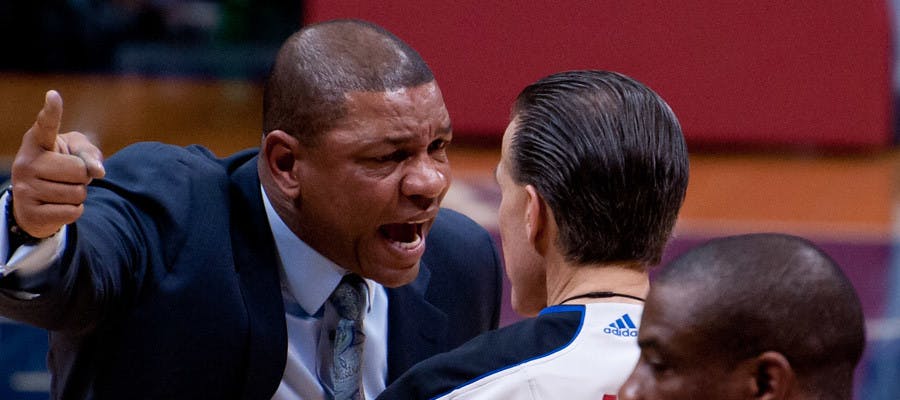 The Houston Rockets have been rolling since acquiring Robert Covington and committing to a small-ball lineup. But the Los Angeles Clippers are also rolling, winning five straight and finally attaining full health. This Western Conference showdown Thursday at 8:00pm EST  could be a preview of a postseason clash of powerhouses.
Los Angeles does not necessarily have to completely conform to Houston's style of play, but they will have to beat them at their own game a bit in order to win. That includes aggressively penetrating to the hoop, spacing the floor, and knocking down treys. It also includes limiting open three-point attempts defensively and protecting the rim.
While the Rockets dominate certain elements of games, they also have their fair share of weaknesses. The Clippers must capitalize on Houston's vulnerabilities, including transition defense, rebounding, and bench production.
Paul George and Kawhi Leonard, who usually thrive under pressure, have now played enough games together to answer the bell in this primetime bout.
The Rockets opened as one-point favorites and the over/under opened at a healthy 237 points. Check out the LIVE ODDS.
In early February, Houston Rockets GM Daryl Morey acquired Robert Covington and traded away Clint Capela as part of a massive four-team trade. In turn, Morey, coach Mike D'antoni, and the franchise committed to a small-ball strategy that completely exasperated the NBA.
Most analysts and pundits criticized the decision. Even coaches and players doubted its potential effectiveness. But since the shake-up, the Rockets have gone 8-3 straight-up, taking down the likes of the Los Angeles Lakers, the Utah Jazz, and on two separate occasions, the Boston Celtics. The next title contender Houston welcomes to the Toyota Center is the Los Angeles Clippers, who will be at full strength and ready to silence the buzz.
Finally fully healthy and firing on all cylinders, the Clippers have won five games in a row while averaging 120.6 points per game. They have taken care of the ball, distributed well, and shot well from three-point land and the free throw line. Most important of all, they are playing as a cohesive unit and making the right plays more often than not.
Here's what the Clippers will have to do to carry their momentum into Houston past the smoking-hot, small-ball Rockets.
1. Beat Them at Their Own Game

Many teams seem to think they will immediately benefit defensively from the advantage of size mismatches thanks to Houston's small-ball approach. Most of them are wrong. The Rockets have perplexed Rudy Gobert, Anthony Davis, and Jonas Valunciunas, among other centers, by making them guard wing players outside of the paint. This allows for penetrators James Harden and Russell Westbrook to utilize their combination of power and quickness on dribble drives. If the paint remains clear due to Houston's spacing, or if help defense arrives late, the driver gets an easy layup or an and-one dunk. If help comes, the driver utilizes another one of their strengths, passing, to kick to an open teammate for a perimeter three or to a cutter for a lob dunk.
This process seems so simple, but its clockwork fluidity has befuddled opponents. Because Harden and Westbrook are such dominant scorers and passers, and P.J. Tucker, Danuel House, Covington and friends are such strong three-point shooters, it has worked flawlessly. They are a textbook example of pace and space, and they are outsmarting and physically overmatching defenders. They have taken an unfathomable 49.3 three-pointers a game since the Covington acquisition, averaging 17.9 makes from deep. It's also a pretty normal occurrence for the Rockets to log 20 or more assists in a game.
For Los Angeles to surmount Houston and their bold strategy, they will have to beat the Rockets at their own game. Many opponents have tried to out-shoot Houston, but few have succeeded. Opposing teams average 33.5 attempted treys a game since the small-ball implementation, and have connected on only 11.4 of them. That's because the Rockets' core plays elite perimeter defense, gets their hands up and on the ball during opposing ball movement, and switches and recovers very, very well.
2. Take A Measured Offensive Approach
On offense, the Clippers will have to space the floor, penetrate to the hoop, and make good decisions with the ball. They should attack the weaker defenders in Harden and Westbrook, find open shooters on switches or collapsed help defense, and make the most of their open shots. Look for coach Doc Rivers to get sharpshooters Marcus Morris and Landry Shamet involved in the three-point game early and often.
3. Make Defensive Adjustments If Needed
On defense, Rivers should start with man defense, as he has some tremendous defenders in Kawhi Leonard, Paul George, Patrick Beverley, Montrezl Harrell, and Morris. But if the Rockets start exposing them as they have so many teams, the Clips should switch to a 3-2 zone or even a box-and-one strategy. Against this Houston team, you cannot leave shooters open on the wing, but you also cannot allow dribble penetration to the hoop. One of these zone defensive strategies could be the right wrinkle to feature against this strong perimeter-oriented offensive scheme.
So, which Western Conference standout has the edge? Click the button below to find out which team our model favors against the spread and on the moneyline.