LIVE
GSW
Warriors
44
2nd Q
WAS
Wizards
45
GSW -2 O/U 240.5
PHX
Suns
47
2nd Q
PHI
76ers
50
PHX -3 O/U 217
OKC
Thunder
55
2nd Q
IND
Pacers
67
IND -9 O/U 231
BKN
Nets
56
2nd Q
TOR
Raptors
53
TOR -4.5 O/U 231.5
CHI
Bulls
40
2nd Q
CLE
Cavaliers
56
CHI -2 O/U 210.5
ATL
Hawks
Today, 12:10 AM
NYK
Knicks
ATL -1.5 O/U 219
UTA
Jazz
Today, 12:10 AM
HOU
Rockets
UTA -11 O/U 224
MIA
Heat
Today, 12:40 AM
SAS
Spurs
MIA -1.5 O/U 215.5
DET
Pistons
Today, 12:40 AM
DAL
Mavericks
DAL -10.5 O/U 218
DEN
Nuggets
Today, 2:10 AM
POR
Trail Blazers
DEN -1.5 O/U 230
MIN
Timberwolves
Today, 2:10 AM
SAC
Kings
SAC -4 O/U 239.5
MEM
Grizzlies
Today, 2:10 AM
LAC
Clippers
MEM -3 O/U 224.5
NBA
2021 NBA All-Star Weekend: Best Bets for 3-Point Contest
Get in on the action for Saturday's All-Star festivities
By Vikas Chokshi & Reed Wallach - Mar 5, 2021, 8:27pm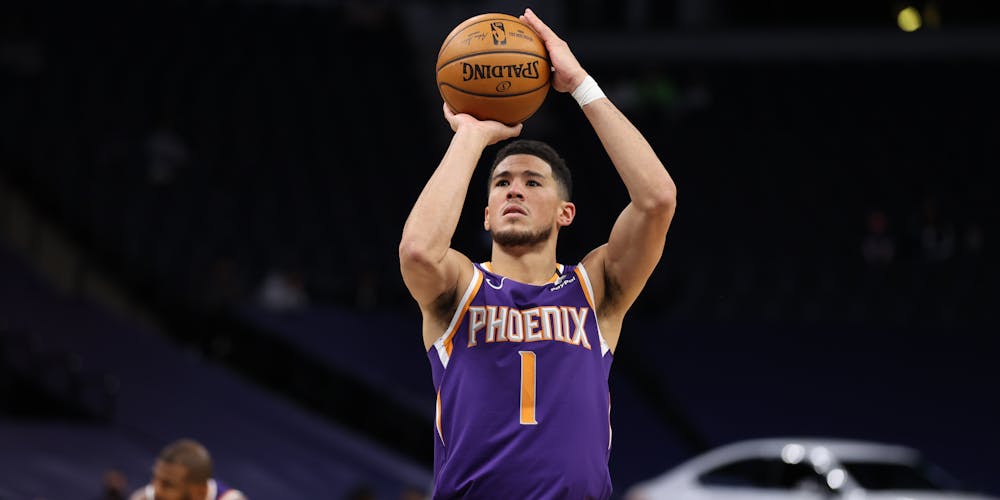 NBA All-Star weekend is finally here! This year's festivities are going to be a lot different than the year's past due to the pandemic, but the show must go on.
And, if the events are going down with odds for them, you know we have you covered.
This year's 3-point contest is made up of six shooters. Here are the contestants with their odds:
Devin Booker +200
Steph Curry +200
Zach LaVine +500
Donovan Mitchell +500
Jaylen Brown +700
Jayson Tatum +700
Get all of BetQL's best bets for the NBA season! Dating back a full calendar year, our five-star (max-value) bets have won 61% of the time!
Vik's pick: Zach LaVine +500
I wanted to pick Devin Booker just so I could write "wet like I'm Book" (Drake), but I'm going with my guy from Chi-town, Zach LaVine.
LaVine's odds are too sweet to pass up here. The guard comes into the contest hot, shooting 46.1% on threes over his last ten games. Zach actually ranks first in 3-point percentage among the contestants, shooting 43.5% on the year. LaVine also shoots 48.3% on catch and shoot 3's, second only to Steph Curry in the field.
I also love that he participated in the contest last year and has a strategy coming into it this time around.
Zach LaVine on his 3-point shooting contest strategy with money balls this time around: "I'm putting them in the corner ... If I put my money balls in the right spot, I have a shot."

— Cody Westerlund (@CodyWesterlund) March 4, 2021
At 5-1 odds, I like the value.
Reed's Pick: Devin Booker +200
Booker has a ton of experience in the three-point contest. He won the whole thing in 2018, is making his fifth appearance, and is rightfully co-favorites with Stephen Curry.
While Curry will be the popular pick, I'll take the Phoenix Suns guard. He is coming off Western Conference Player of the Month honors in February, but didn't make the initial All-Star team.
He's filling in for Anthony Davis and should come in with a chip on his shoulder. That's enough for me.
Odds courtesy of DraftKings Sportsbook