NBA
2019-2020 NBA Betting Preview: Milwaukee Bucks
Antetokounmpo and company are poised for a title run
By Brandon Barbour - Jul 11, 2019, 12:37am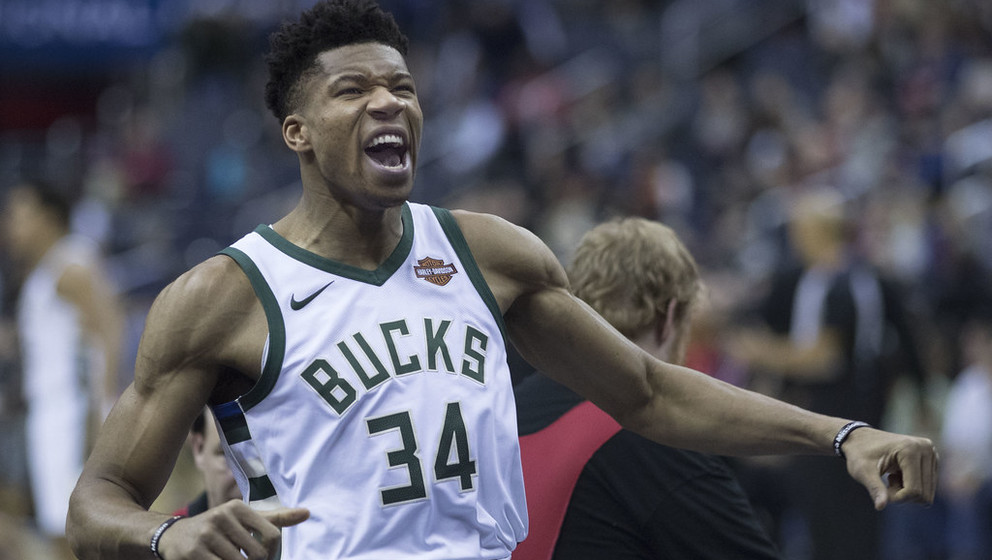 The Milwaukee Bucks had a fantastic 2018-2019 season, but ultimately endured a brutal beatdown by the eventual champion Toronto Raptors. The Bucks steamrolled through the regular season with the best record in the NBA (60-22) and continued that trend into the playoffs. They disposed of Detroit easily in the first round, sweeping them. Then, they took down Boston in five games. Milwaukee took games one and two against Toronto in the Eastern Conference Finals next, pushing their record to 10-1 in the playoffs up to that point. 
That's where things came crashing down for the Bucks, as the Raptors would win four-straight and go on to win the NBA Finals. Milwaukee's lineup was full of quality players that had never played in such meaningful games before, unlike the Raptors. Experience can play a major factor in pressure situations, so it's fair to assume that the Bucks learned something from this tragic blow.
Vegas has Milwaukee at 9/2 to win the 2019-2020 NBA Finals. Let's dive in and see just how legitimate those odds are.
Key Additions
New Bucks: Robin Lopez, Wesley Matthews, Thanasis Antetokounmpo
The Bucks had a tough offseason deciding where to invest their money. There were many players up for new contracts and sacrifices had to be made. Khris Middleton (five years, $178M), George Hill (three years, $29M), and Brook Lopez (four years, $52M) were all re-signed by the organization. They added Robin Lopez (two years, $9.75M), Wesley Matthews (one year, $2.56M), and Thanasis Antetokounmpo (two years, $3.15M with a qualifying offer) to their roster. 
Interestingly, the team will now feature two sets of brothers (Brook and Robin and Giannis and Thanasis). 
Signing Robin made a lot of sense as it was partially a ploy to keep Brook around in addition to adding to their defensive prowess. Lopez averaged 9.5 points on 57 percent shooting with 3.9 rebounds in 21.7 minutes per game for Chicago last season. Wesley Matthews is entering his age 33 season after spending time in Dallas and Indiana in 2018-2019. Matthews averaged 12.2 points in 30.3 minutes per game last season between three clubs (just two games in New York) and continued to shoot the three-ball well. He has shot 38.2% from deep in his career, which could prove to be one of the more valuable aspects of his game for the Bucks. Matthews has also played in 36 playoff games in his career. Thanasis is incredibly raw. Milwaukee swooped him as a free agent from overseas in an attempt to groom the athletically gifted, but very fresh brother of their MVP. This move seems more like a ploy to keep Giannis with the Bucks on a long-term basis than anything else. Kyle Korver will be bought out in Phoenix and is expected to pick between the Bucks, Lakers, and Sixers. He would be an ideal fit since he has experience thriving within Budenholzer's system and the team would gladly welcome the three-point shooting if the financial terms work. 
Key Subtractions
Bye-Bye: Malcolm Brogdon, Nikola Mirotic, Pau Gasol
The Bucks did what they thought was best this offseason, and one of those particular moves allowed Malcolm Brogdon to accept a hefty contract to sign with the Indiana Pacers. The sign-and-trade granted Brogdon a hefty four-year, $85M contract with a potential top contender in the East. In return, the Bucks received a future first round pick with lottery protections (which probably won't matter with Indiana set to be a playoff team.) Brogdon, a former second-round pick by Milwaukee, has steadily gotten better in each of his three seasons. He averaged 15.6 points and 4.5 rebounds in 28.6 minutes per game last season. Brogdon also had phenomenal shooting percentages (a rare member of the 50-40-90 club) going 50.5 percent from the field, 42.6 percent on threes, and 92.8 percent from the free throw line. They will surely miss the 26-year-old guard and may despise competing against him in the future. 
On top of losing Brogdon, the Bucks said goodbye to another decent three-point shooter in Nikola Mirotic. He elected to continue his career overseas. Pau Gasol underwent successful repairs on his foot and is excited to play in the 2019-2020 season. It appears that he will have to wait patiently for an opportunity. The Bucks have seemingly moved on from him with the signings of the Lopez brothers.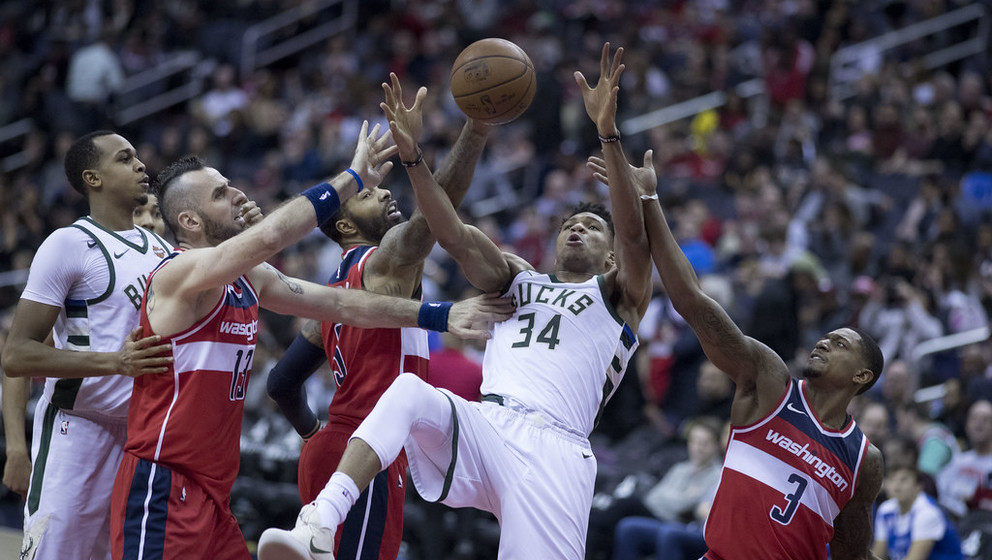 Offensive/Defensive Analysis
As one would assume, leading the NBA in wins must equate to stellar overall team numbers. The Bucks finished fourth in the NBA (first in the East) in offensive rating per 100 possessions last season. The Raptors and Sixers finished just behind them, but their squads lost some key pieces in the offseason. Milwaukee's essential swapping of Brogdon and Mirotic for Lopez and Matthews shouldn't damper this output much in coach Mike Budenholzer's offense. The Bucks led the NBA in defensive rating per 100 possessions, and there's no reason to expect their defensive-minded approach to take a back seat in the coming season. 
The Bucks should be even more difficult to score on in the paint with the addition of Robin Lopez. Overall, Milwaukee's margin of victory averaged out to 8.87 points per game, leading the NBA. (The Warriors came in at second with a margin of 6.46.) The Bucks are a lanky and large bunch, plus they're young. There's no reason why we shouldn't expect All-Stars Antetokounmpo and Middleton to keep improving. Milwaukee's offense may come close to being unstoppable if Giannis can figure out his jump shot. It's amazing how difficult he is to cover now, but could you imagine if he shot even 35 percent from beyond the arc?
X-Factor
Most would assume that the best player should receive the glory and criticism of winning and losing for a franchise, but that can hardly be the case here. For Giannis to maximize his on-court production, the Bucks must on the same page with offensive spacing. The Greek Freak prefers to operate with the ball around the top of the key or free throw line. He easily finishes inside the paint and led the league in dunks last season. Teams tend to cheat and double-team him whenever he puts the ball on the floor, which makes spacing evermore important. 
If the team can maintain their space from him while he operates, then there's more opportunity for one-on-one battles for Giannis and more opportunity for wide open threes. The Bucks hoisted up the second-most threes in the NBA last season, behind only the Rockets. They rank tied for 13th in percentage, though. With a bit more experience playing together and a coach that's been absorbing all opponents' strategies against them, they should figure this out and be comfortable knowing where one another are at every moment, creating more fluid possessions. Spacing could be the key to this offense taking another step forward.
Conclusion
The Bucks have made changes this offseason, but they most likely weren't detrimental to the club's chances. The Celtics swapped Kyrie Irving and Al Horford for Kemba Walker and the Sixers swapped Jimmy Butler for Al Horford this offseason (essentially.)  The Brooklyn Nets seemingly slightly improved with Kyrie Irving joining and D'Angelo Russell departing, but they'll still be waiting a season on Kevin Durant. Toronto lost out on the Kawhi Leonard sweepstakes and may consider rebuilding after winning a championship. The East continues to play second fiddle to the West, but that's just fine by Milwaukee. 
The Bucks should be fully capable of advancing to the NBA Finals this season. It's a mystery as to who could make it there against them, but a lot of these revamped Western teams don't have any cohesiveness at the moment. The Bucks have aged and grown together, making their bond and chemistry stronger. Don't take this team lightly after missing out on an NBA Finals appearance. "Fear the Deer" could grow more true than ever in the 2019-2020 NBA season. At 9/2 to win the NBA Finals, they're one of the best bets at this point of the summer.
If you want to get more information on betting besides prop bets, then go to our NBA odds page to see odds, lines and spreads.