MIA
Heat
Today, 5:10 PM
BOS
Celtics
BOS -1.5 O/U 220.5
NYK
Knicks
Today, 7:40 PM
LAC
Clippers
LAC -8.5 O/U 216
NOP
Pelicans
Today, 11:10 PM
CHA
Hornets
CHA -4.5 O/U 220
DAL
Mavericks
Today, 11:10 PM
CLE
Cavaliers
DAL -10.5 O/U 217.5
MIN
Timberwolves
Today, 11:10 PM
ORL
Magic
MIN -7 O/U 229
CHI
Bulls
Tomorrow, 12:10 AM
DET
Pistons
CHI -8.5 O/U 221.5
OKC
Thunder
Tomorrow, 2:10 AM
SAC
Kings
SAC -10.5 O/U 221.5
PHX
Suns
Tomorrow, 2:10 AM
LAL
Lakers
PHX -6.5 O/U 215.5
NBA
How To Bet On The NBA
The NBA Finals is the perfect time to learn how to bet the NBA.
By Bennett Bedford - Jun 10, 2019, 8:01pm
How To Bet On The NBA

The NBA is establishing itself as a leader in the sports betting scene, with NBA commissioner Adam Silver being one of the most vocal advocates for sports betting reform. There are a number of different bets that a handicapper can make in NBA including; Betting Against the Spread, Betting the Moneyline, Betting Totals, Betting Quarters and Halves, Parlays and Teasers, Prop Betting, and Futures Betting.  Below you will find a quick breakdown of each of these bet types and ways that you can use BetQL to become a more informed NBA bettor.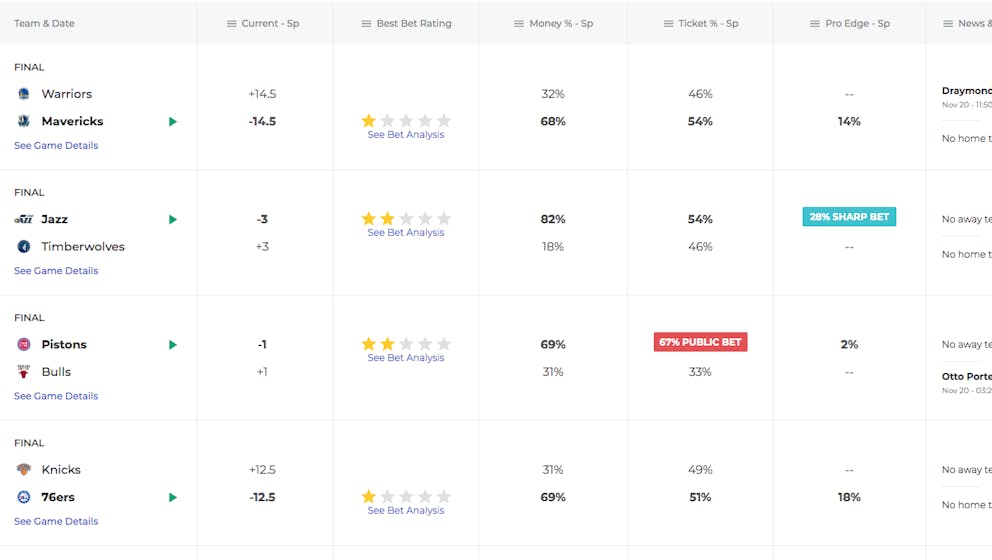 Betting Against the Spread
Betting against the spread or ATS for short is the most popular way to bet on NBA  games and is also very simple. The team that is favored will be listed with a negative number (ie. -5) and that is the number they need to win the game by. In this example the favorite must win by 6 or more points to "cover" the spread and win the bet. If they win by exactly 5-points the bet is considered a "push" or "no-bet".
Betting the Moneyline

Betting the moneyline is the simplest form of sports betting. You are simply picking which team will outright win the game. The favorite will be listed as a negative number (ie. -200) that means you will have to bet that amount to win $100. The underdog will be listed as a positive number (ie. +500) that means you will win that amount on a $100 bet.
Betting Totals

Betting the total for a game in a bet on how many total points will be scored in a game. In the NBA game totals are typically between 190 and 240 points. Similar to betting the spread, there can be a "push" if the total amount of points scored in the game exactly equals the total. The term "over/under" can also be used to describe betting the total. Many books also provide "team total" bets, which is a bet on how many points one of the teams will score in either the entire game, one half, or one quarter of play.
Betting Quarters and Halves

Most sportsbooks offer bets against the spread, on the moneyline, totals, and team total bets for just one half or one quarter of play. In the NFL you typically won't see a first half or first quarter spread dip into double digits. A popular betting trend as of late has been betting the 2nd half of games after everyone has gotten to see how both teams are playing.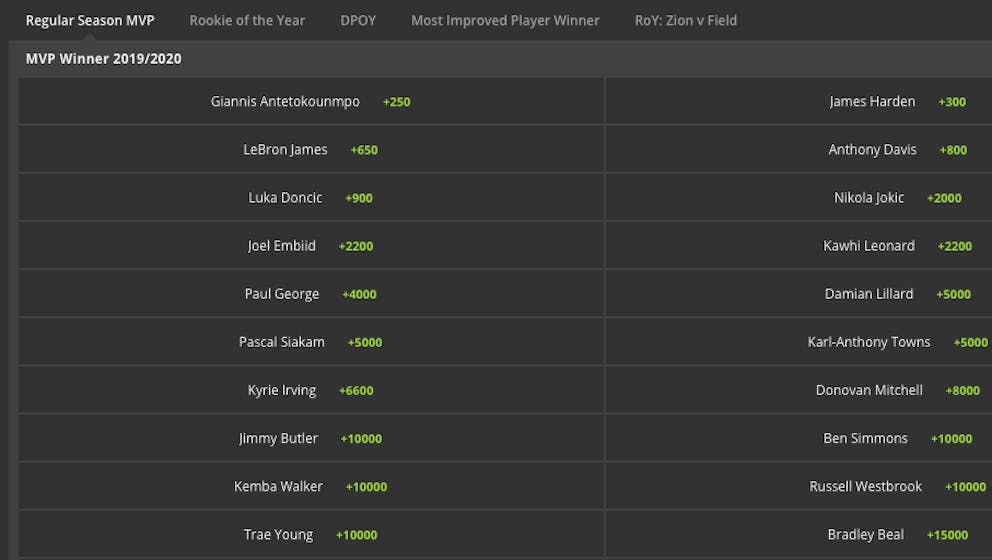 Prop Betting

Prop betting is where you place a bet on the performance of one player in an NFL game. Books have a variety of prop bets available, including but not limited to: passing yards, rushing yards, receiving yards, receptions  first player to score, player to score 2 touchdowns, etc. Some player props are set up like betting on totals (ie. James Harden score over 38.5 points), and like moneyline bets (ie. James Harden will have more assists than Chris Paul tonight).
Futures Betting

NBA Future bets allow you to bet on future events that have not yet happened. For example you can bet on divisional winners, conference champions, NBA Champions, etc. These bets typically are available all year round with odds that change from week to week.
Parlays and Teasers

Parlays and teasers are a way to "stack" bets at different odds.
A parlay bet is when you place two to twelve bets linked together. In a parlay you need all of the bets to win to cash the parlay, but the upside is that you get much better odds in the bet. For example many parlays will pay out 10-1000X what the original bet was depending on how bets are included in the parlay.
A teaser bet is similar to a parlay bet in that you are "stacking" multiple bets. However, with teasers you are getting adjusted (better) odds in return for a lower payout. For example, you can place a bet on two -6 favorites in a 4-point, 2-team teaser and both teams will need to win for the bet to cash but both of their odds will adjust to only -2 favorites at lower odds.