CIN
FC Cincinnati
Sat 5/22, 5:00 PM
MTL
Montreal Impact
MTL -124 O/U 2.5
LA
LA Galaxy
Sat 5/22, 7:30 PM
POR
Portland Timbers
POR -114 O/U 3 & 3.5
MIA
Inter Miami CF
Sat 5/22, 10:00 PM
CHI
Chicago Fire FC
MIA +176 O/U 2.5
TOR
Toronto FC
Sat 5/22, 11:00 PM
ORL
Orlando City SC
ORL -118 O/U 3
CLB
Columbus Crew SC
Sat 5/22, 11:30 PM
NYC
New York City FC
NYC -153 O/U 2.5
RSL
Real Salt Lake
Sun 5/23, 12:00 AM
DAL
FC Dallas
DAL -103 O/U 2.5
NY
New York Red Bulls
Sun 5/23, 12:00 AM
NE
New England Revolution
NE -119 O/U 2.5
VAN
Vancouver Whitecaps
Sun 5/23, 1:00 AM
HOU
Houston Dynamo
HOU -172 O/U 3
SKC
Sporting Kansas City
Sun 5/23, 2:00 AM
SJ
San Jose Earthquakes
SKC +167 O/U 3
COL
Colorado Rapids
Sun 5/23, 2:30 AM
LAFC
LAFC
LAFC -143 O/U 3 & 3.5
ATL
Atlanta United FC
Sun 5/23, 8:30 PM
SEA
Seattle Sounders FC
SEA -143 O/U 2.5
PHI
Philadelphia Union
Sun 5/23, 11:00 PM
DC
DC United
PHI +152 O/U 2.5
MLS
Keep An Eye On This NYCFC Player With The MLS Returning To Action
New York City FC will depend on this player to lead the attack on offense
By Juan Pablo Aravena - Jul 14, 2020, 2:26am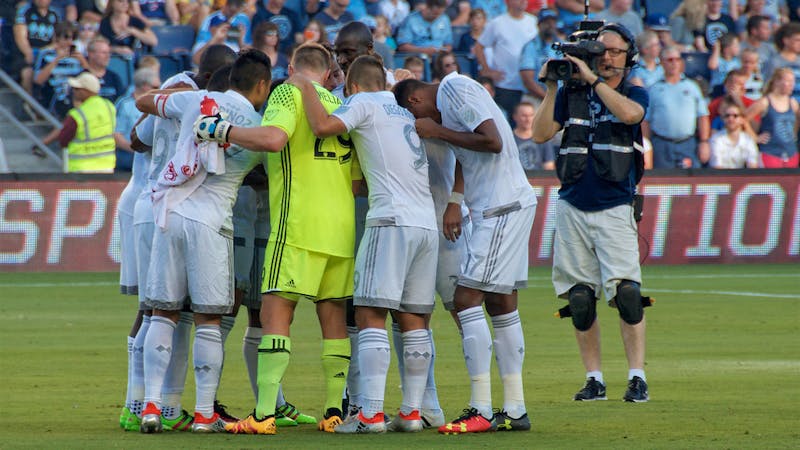 New York City FC will depend on Heber Araujo dos Santos to lead the offense in 2020.
NYCFC's dos Santos managed to score 15 goals over 22 appearances in 2019, despite dealing with injuries in the second half.
The 28-year-old averaged 0.86 goals per 90 minutes last season, ranking fourth-best in the league in the category.
Unsung Leader On The Offensive
When talking about New York City FC, everyone seems to focus the attention on players such as Alexander Ring, Valentin Castellanos, and star playmaker Maxi Moralez. Even Alexandru Mitrita and Ronald Matarrita are viewed as key members of the first-team squad. However, Heber Araujo dos Santos is still not getting nearly as much as recognition as he deserves.
The Brazilian forward has dealt with injuries during most of his career, and that was the case in the 2019 MLS season once again. He only made 22 appearances (18 starts) after dealing with muscular and quad injuries in the second half of the campaign. Despite this, he still managed to score 15 goals on 56 shots, while also adding four assists. 
Putting things from another perspective, the 28-year-old scored 0.86 goals per 90 minutes during the 2019 regular-season. He ranked fourth in the league in the category, sitting behind only Carlos Vela (LAFC), Zlatan Ibrahimovic (Los Angeles Galaxy) and Josef Martinez (Atlanta United).
Like free money? We thought so. We read all the fine print, rated and reviewed all of these awesome offers for you. Get in on the action today by selecting your state below and take advantage of our exclusive deals!
Turning Things Around
It's hard to get that kind of productivity from an MLS striker, let alone a relatively cheap, unproven one like Heber. Maybe that's why he never got the recognition he deserved, even when he was bagging goals for fun at Yankee Stadium. His 2020 campaign got off to a poor start, though, and he has yet to find the back of the net in three games, including the MLS Is Back Tournament opener against the Philadelphia Union last Thursday.
Make no mistakes about it, Moralez might create chances and Ring may patrol things in midfield, while Castellanos and Mitrita will be the ones in charge of creating spaces in the final third. Still, games are won by scoring goals and no one can do that better than Heber in the current NYCFC roster.
The Brazilian must rediscover his best form if NYCFC are going to make a deep run in the MLS Is Back Tournament. He is a game-changing player when he has it all clicking. NYCFC needs him to succeed and that's why he should be player to watch for the Bronx-based franchise in the upcoming weeks.
Find out how you can use BetQL to dominate the MLS!