SF
Giants
Today, 5:05 PM
PHI
Phillies
PHI -125 O/U 8
BAL
Orioles
Today, 5:10 PM
MIA
Marlins
MIA -165 O/U 7.5
HOU
Astros
Today, 7:10 PM
COL
Rockies
HOU -150 O/U 10.5
MIN
Twins
Today, 7:37 PM
OAK
Athletics
OAK -105 O/U 8
STL
Cardinals
Today, 8:05 PM
WAS
Nationals
WAS -165 O/U 8
TEX
Rangers
Today, 8:07 PM
LAA
Angels
LAA -180 O/U 8.5
MIL
Brewers
Today, 8:10 PM
SD
Padres
SD -210 O/U 7.5
CHW
White Sox
Today, 10:10 PM
CLE
Indians
-- --
ATL
Braves
Today, 10:35 PM
NYY
Yankees
NYY -125 O/U 9
PIT
Pirates
Postponed
DET
Tigers
DET -120 O/U 8
ARI
Diamondbacks
Today, 10:40 PM
CIN
Reds
CIN -185 O/U 8.5
TOR
Blue Jays
Today, 11:10 PM
BOS
Red Sox
-- --
NYM
Mets
Today, 11:40 PM
CHC
Cubs
NYM -140 --
TB
Rays
Tomorrow, 12:10 AM
KC
Royals
-- --
PIT
Pirates
Tomorrow, 2:00 AM
DET
Tigers
-- --
PIT
Pirates
Tomorrow, 2:00 AM
DET
Tigers
-- --
MLB
MLB Player Props: Bet on Trey Mancini to Hit a HR
Top MLB Player Props for Thursday, April 8
By Sloan Piva - Apr 8, 2021, 4:21pm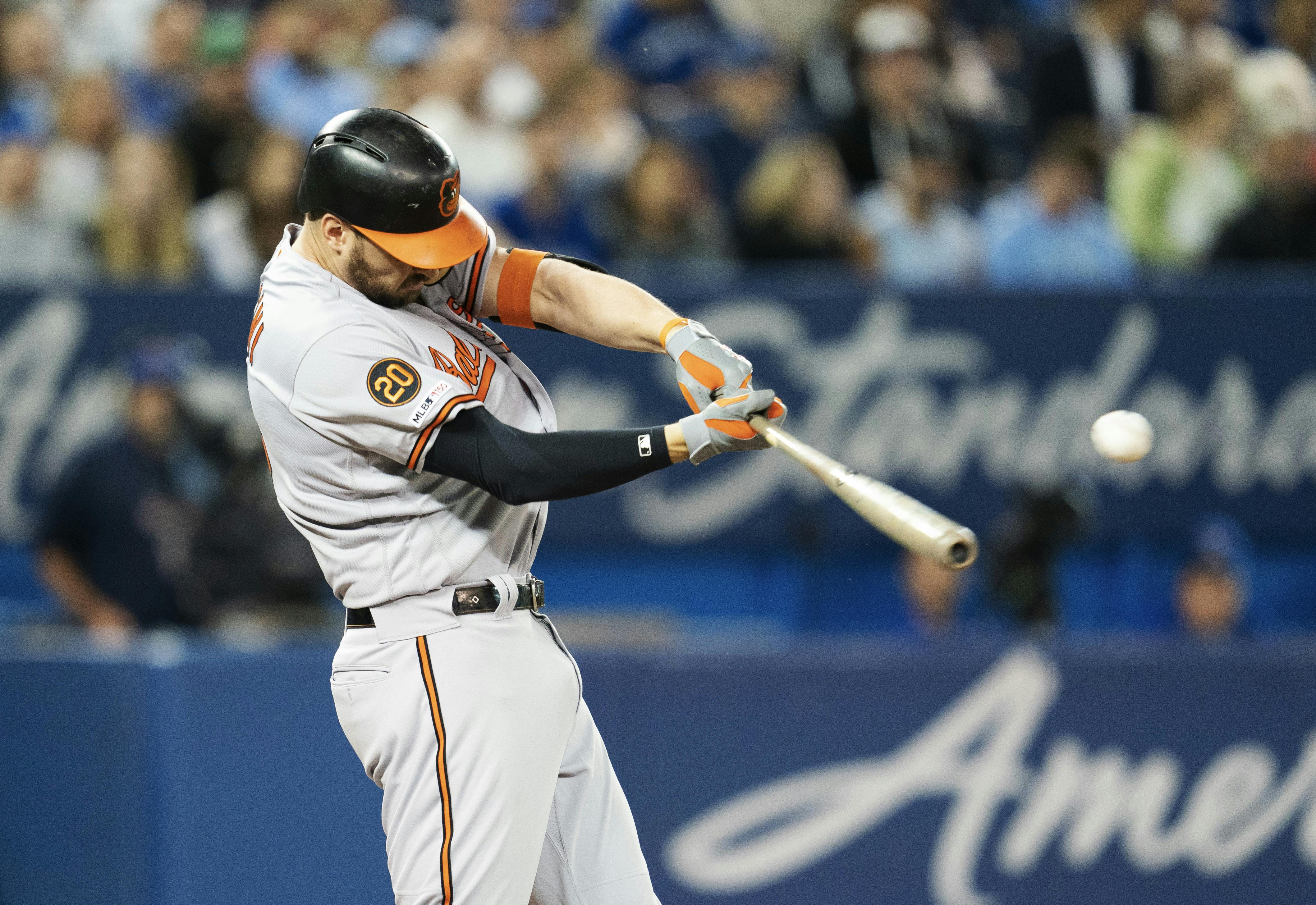 MLB player props continue to evolve and simultaneously rise in popularity in the betting world. Sportsbooks like DraftKings and FanDuel regularly feature stat props like "player to hit home run," "strikeouts by pitcher," and "total runs batted in." It's like a much more focused (and often much less luck-based) version of DFS.
We will primarily use DraftKings Sportsbook when gathering odds, and update odds as they are posted. For now, we will pinpoint one or two players for each major prop. If odds are not yet posted for certain players, we will specify that their odds are to be determined (TBD), and illustrate our confidence level for said players to reach certain amounts of the stat listed.
Eventually, we may continue this format and also separately branch Home Run props into their own article. Because, as we all know, everyone loves the longball.
Get all of BetQL's best bets for the MLB season! Dating back a full calendar year, our five-star (max-value) bets have won 61% of the time!
Player to Hit Home Run
Trey Mancini, 1B/OF, Baltimore Orioles vs. Boston Red Sox (+500)
We will see a couple debuts Thursday afternoon at Camden Yards. It will mark the first start since 2019 by embattled Red Sox pitcher Eduardo Rodriguez, and it will also serve as the home opener for the Orioles. After opening the year with a three-game sweep over these same Sox, Baltimore just got smacked around by the Bronx Bombers in a 3-1 series win. But a date with E-Rod Thursday presents the O's with a prime opportunity to bounce back—and very possibly, tee off. The 28-year-old Sox starter dealt with COVID-19 last season, which directly resulted in an unfortunate diagnosis of myocarditis (an inflammation of the heart muscle).
Trevor Story, SS, Colorado Rockies vs. Arizona Diamondbacks
The Rockies have had a tough start to the 2021 season. They scored 29 runs in their first five games out of the gate, yet only had one win to show for it. That will happen when you start the year with a four-game series against the defending-champion Dodgers, then tussle with the pesky Diamondbacks with only one day of rest.
While it certainly misses longtime third baseman Nolan Arenado, Colorado's issue this season has not appeared to be offense. The Rockies put eight runs on the board in their first game with Arizona, and reached at least five runs in three different games against LA. I like Trevor Story to collect his first longball of the season Thursday, as he has always seen the ball well when D-backs starter Merrill Kelly is on the mound (Story career numbers vs. Kelly: 3-for-9, 1 HR, .889 SLG, 1.222 OPS). 
Play DFS? Be sure to get a 3-day free trial on RotoQL to check out our projections!
Strikeouts by Pitcher
Jose Berrios, Minnesota Twins vs. Seattle Mariners
Early-season humble brag: I'm on record saying Berrios will finish in the AL Cy Young conversation this season. The Twins ace already made me look good last week. Berrios logged six innings of no-hit baseball—accompanied with a whopping 12 strikeouts—in Minnesota's 2-0 win over Milwaukee April 3. He struck out 63.1 percent of the 19 batters he faced, and only needed 84 pitches to get through the six frames. If not for the fact it's early April (and the soft-as-baby-doodoo era of baseball we are in), he probably could have spun (at least) a complete game shutout with 15 Ks.
Minnesota Manager Rocco Baldelli's leash should be a little longer for Berrios against the Mariners Thursday. It's the Twins' home opener, and not many on Seattle's roster have faced the 26-year-old righty. M's outfielder Mitch Haniger is familiar, however—in 12 at-bats against Berrios, he has struck out seven times. I think the 2012 first-round pick will fan 10 Mariners Thursday, and lead the Twins to their home-opening win.
Corbin Burnes, Milwaukee Brewers at St. Louis Cardinals
It seems I have an affinity for starting pitchers in their age-26 seasons. Burnes looked phenomenal in his season debut last week, dueling it out with the aforementioned Berrios in an instant classic. The Brewers ace struck out 11 batters, and like Berrios, took a no-hitter into the seventh inning. Now he draws the Cardinals at Busch Stadium, and I like his chances to reach double-digit strikeouts again.
The majority of the St. Louis lineup has yet to face Burnes, but he has struck out the trio of Paul Goldschmidt, Paul DeJong, and Matt Carpenter a combined 13 times in 31 total at-bats. It would not be considered "chasing strikeouts" if you bet the over on Burnes Ks Thursday—he's more than capable of duplicating his titanic performance from last Saturday.
Total Hits
Mike Trout, OF, Los Angeles Angels
The best hitter in baseball almost cracked the Home Run list, but I needed a strong candidate in the hits department. Trout has treated Toronto starting pitcher Ross Stripling like a teeball tee, enjoying a .714 batting average against the 31-year-old. In seven at-bats against Stripling, Trout has two homers and five total hits.
This matchup is a baseball nerd's dream—it combines a pitcher who perennially ranks in the bottom 10 percent in the league in both average and max exit velocity with a hitter who consistently ranks in the top tier of exit velocity stats. Trout is a smash play for hits and homers, and I like Anthony Rendon's odds to finish with multiple hits, too.
What Could Have Been – A Tragic Blurb
Boy, am I bummed to not be able to include the Diamondbacks' Ketel Marte in the 'Hits' section. The star second baseman had been red-hot since Opening Day, with a robust .522/.560/.957 slash line. His OPS? A gargantuan 1.517. Before I finished writing this article Wednesday evening, he had registered multiple hits in all but one of Arizona's games, and had a date with Jon Gray at Coors Field (in 22 career at-bats against Gray, Marte has nine hits). But alas, he tweaked his hamstring and went down like a ton of bricks at about 10:35 p.m. Wednesday night. We at BetQL (as well as my fantasy baseball teams) wish Marte a speedy recovery.
Total Runs Batted In
J.D. Martinez, DH, Boston Red Sox (Over 0.5, +135)
Martinez seems primed for a bounce-back season of epic proportions, after a down 2020 season that he openly blamed on the temporary removal of in-game video. In five games so far, the veteran slugger has a .476/.522/1.000 slash line (1.522 OPS). Martinez has two home runs, five doubles, and nine RBI, and he's only struck out three times. I like him to drive in a few more runs on Thursday, regardless of the pitcher to be named by the Orioles.
Total Runs Scored
Ramon Laureano, OF, Oakland Athletics
Laureano has very quietly been raking in the opening stretch of the 2021 MLB season. He has five hits in his first 18 at-bats, and he has scored four runs in just five games. Most impressively, Laureano has yet to strike out. Cristian Javier showed promise in his first outing against the Athletics last Friday, but he did allow two earned runs in just 3.2 innings. I think Laureano continues his hot streak Thursday, and scores at least one run.