LIVE
MIA
Marlins
3
BOT 8th
PHI
Phillies
5
PHI -190 O/U 7.5
TB
Rays
13
BOT 8th
BAL
Orioles
4
TB -160 O/U 9
BOS
Red Sox
0
TOP 8th
TOR
Blue Jays
6
TOR -130 O/U 9
CHW
White Sox
4
BOT 7th
MIN
Twins
2
CHW -150 O/U 8.5
WAS
Nationals
3
BOT 7th
CHC
Cubs
5
CHC -110 O/U 9
PIT
Pirates
2
TOP 8th
STL
Cardinals
5
STL -125 O/U 7.5
NYY
Yankees
5
TOP 6th
TEX
Rangers
4
NYY -150 O/U 8.5
MIL
Brewers
0
Today, 12:10 AM
KC
Royals
0
MIL -180 O/U 7.5
CLE
Indians
5
BOT 2nd
LAA
Angels
1
LAA -120 O/U 7.5
HOU
Astros
2
TOP 3rd
OAK
Athletics
1
HOU -120 O/U 8
ARI
Diamondbacks
0
BOT 1st
LAD
Dodgers
1
LAD -275 O/U 7.5
DET
Tigers
1
BOT 1st
SEA
Mariners
0
SEA -120 O/U 8
COL
Rockies
0
BOT 1st
SD
Padres
0
SD -235 O/U 7
SF
Giants
4
FINAL
CIN
Reds
2
CIN -125 O/U 8
NYM
Mets
4
FINAL
ATL
Braves
3
ATL -160 O/U 8.5
MLB
MLB Play of the Day for Tuesday, April 4: Chicago White Sox vs. Cincinnati Reds
Which side of the total is the BetQL Model siding with?
By Reed Wallach - May 4, 2021, 2:00pm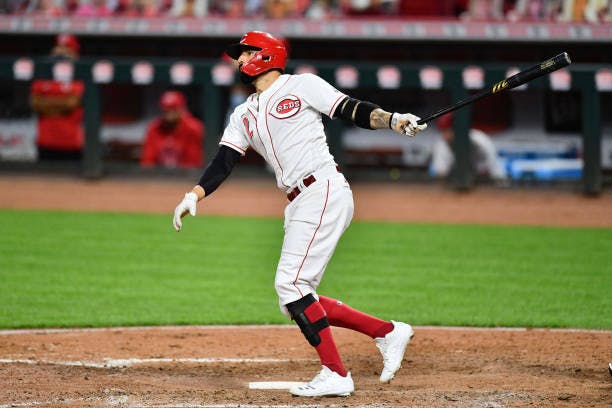 We have a midwest showdown between the Chicago White Sox and Cincinnati Reds on Tuesday night, and the BetQL Model has a strong play on the total. Get the right side below!
You can get ALL of our best bets on every MLB game each day here!
Get all of BetQL's best bets for the MLB season! Dating back a full calendar year, our five-star (max-value) bets have won 61% of the time!
Chicago White Sox (-115, 9) vs. Cincinnati Reds - 6:40 PM EST
The BetQL Model is siding with the over, set at 9, a ⭐⭐⭐⭐ play!
In the hitter friendly Great American Ball Park, with the wind blowing out to right field, expect both offenses to rake against two subpar pitchers. 
Reds' pitcher Jeff Hoffman's numbers are misleading. He has a solid ERA of 3.33 but a FIP of more than a run higher, showing that he has been a bit lucky thus far.
Against a White Sox lineup that is second in the MLB in on base percentage, Hoffman is in trouble, especially if he can't limit his walks. In his last start, he walked five batters over four innings. If he's going to let runners on easily, the South Siders will chase him from the game quickly.
BETMGM SIGN UP PROMO: Bet $20 on the OVER and win $100! CLICK BELOW TO REGISTER!
Expect plenty of runners on the base paths for both sides. The White Sox will have Dylan Cease on the mound after a complete game shutout in a seven inning double header. Besides that, the right hander hasn't pitched into the fifth inning this season. Don't let his recent start effect this bet, Cease is in trouble against Cincy on Tuesday.
Cease struggles with control as well, also walking more than four batters per nine. The Reds are right behind the White Sox in OBP, third best in the MLB, and are sure to make Cease work early and often. Led behind Nick Castellanos, hitting .330 on the year with nine home runs, the Reds are in line to do put up a big number as well.
With the weather pushing the ball out of the park, coupled with two walk prone pitchers against two of the best offenses in all of baseball, this total should soar over. 
Pick: Over 9