LIVE
MIA
Marlins
3
FINAL
PHI
Phillies
8
PHI -190 O/U 7.5
TB
Rays
13
BOT 9th
BAL
Orioles
4
TB -160 O/U 9
BOS
Red Sox
0
TOP 9th
TOR
Blue Jays
8
TOR -130 O/U 9
CHW
White Sox
4
TOP 8th
MIN
Twins
2
CHW -150 O/U 8.5
WAS
Nationals
3
BOT 8th
CHC
Cubs
5
CHC -110 O/U 9
NYY
Yankees
6
TOP 7th
TEX
Rangers
4
NYY -150 O/U 8.5
MIL
Brewers
0
Today, 12:10 AM
KC
Royals
0
MIL -180 O/U 7.5
CLE
Indians
5
TOP 4th
LAA
Angels
1
LAA -120 O/U 7.5
HOU
Astros
2
BOT 3rd
OAK
Athletics
1
HOU -120 O/U 8
ARI
Diamondbacks
1
BOT 2nd
LAD
Dodgers
1
LAD -275 O/U 7.5
DET
Tigers
1
TOP 3rd
SEA
Mariners
0
SEA -120 O/U 8
COL
Rockies
1
TOP 2nd
SD
Padres
0
SD -235 O/U 7
SF
Giants
4
FINAL
CIN
Reds
2
CIN -125 O/U 8
NYM
Mets
4
FINAL
ATL
Braves
3
ATL -160 O/U 8.5
PIT
Pirates
2
FINAL
STL
Cardinals
5
STL -125 O/U 7.5
MLB
MLB Play of the Day for Monday, May 3: Tampa Bay Rays vs. Los Angels Angels
Betting preview for the pitching duel between Tyler Glasnow and Shohei Ohtani
By Reed Wallach - May 3, 2021, 1:51pm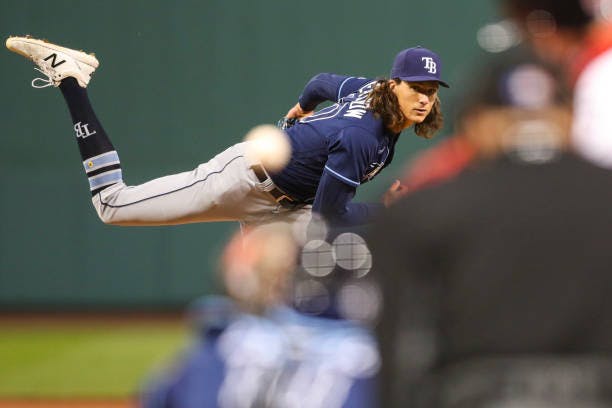 We have a duel on the diamond tonight when the Tampa Bay Rays match up with the Los Angeles Angels. The Rays will have Tyler Glasnow on the bump while the Angels will turn to two-way star Shohei Ohtani to shut down the Tampa Bay offense. 
Who will win in this battle of two of the most exciting young players in Major League Baseball?
You can get ALL of our best bets on every MLB each day here!
Get all of BetQL's best bets for the MLB season! Dating back a full calendar year, our five-star (max-value) bets have won 61% of the time!
Tampa Bay Rays (-120, 7.5) vs. Los Angeles Angels - 9:38 PM EST
The BetQL Model is backing the Glasnow and the Rays to get a win on the road Monday night, a ⭐⭐⭐⭐ play on Tampa Bay. 
Let's start with the TB ace. Glasnow has been electric this season, posting a 1.67 ERA that is as legitimate as it gets. Over six starts this season he has a FIP of 1.7 and is allowing less than five hits per nine innings. 
He will have to bring it in this matchup against the Angels and their top flight offense. Behind Mike Trout's dominant hitting thus far -- .413 batting average with seven homers and 16 runs batted in -- LAA is tied for the lead league in weighted runs created. 
However, where Glasnow can thrive in this matchup is that Joe Maddon's club is last in the league in walk rate.
Typically, the team is putting the ball in play, but they don't get ahead in many counts and that spells trouble against the Tampa Bay pitcher. With a filthy arsenal, Glasnow is going to be able to put pressure on Angels hitters and put them away late in at bats. 
BETMGM PROMO: Sign up for a new account and get a risk-free bet up to $600. REGISTER HERE!
Shohei Ohtani has been outstanding on both sides of the ball this season, but he hasn't gone past five innings in three starts this season. While he has allowed just five runs this season, there has to be some concern when the Angels turn to the bullpen. 
The team has some strong names in Raisel Iglesias and Alex Claudio, but as a unit the team is bottom half of the league in bullpen ERA. Considering Ohtani hasn't shown an ability to go deep into ball games yet, while Glasnow has gone less than six innings just once over six starts, the bullpen is going to be a breaking point to this game. 
Fade the popular Ohtani in this matchup and back the small favorite Tampa Bay to get the job done on Monday night, especially when relievers come into play.
Pick: Tampa Bay Rays -120