MLB
MLB Pitching Breakdown: June 13, 2019
Which bets to target based on tonight's MLB pitching matchups
By Daniel Johnson - Jun 13, 2019, 9:12pm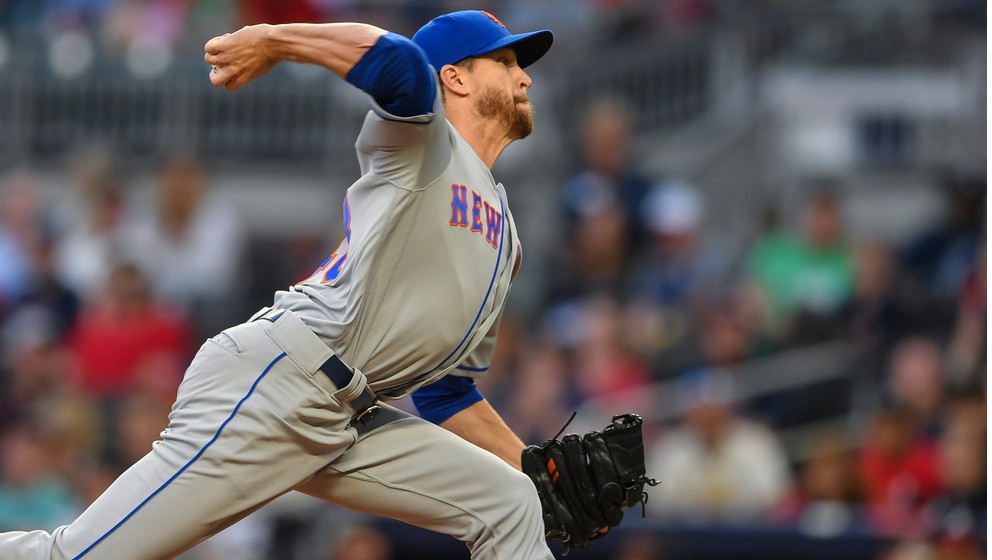 Starters: Jack Flaherty (4-3, 4.08 ERA, 1.20 WHIP) vs. Jacob deGrom (3-6, 3.45 ERA, 1.15 WHIP)
Though deGrom has not been his historical self from last season, he still holds in his arm the potential to blank the Cardinals and any MLB lineup. The 2018 Cy Young winner has only allowed six runs over his last four starts. That being said, deGrom's high pitch count has prevented him from going more than seven innings in his last five starts, leading the Mets' bullpen to allow runs and take away potential wins from him.
On the other side, Flaherty is coming off a poor outing versus the Chicago Cubs where he could not get out the fourth inning and pushed his ERA over 4. Away from St. Louis, Flaherty's ERA goes up by two runs compared to his average, to 6.67 and averages more than a hit per inning (32 hits in 28.1 innings pitched).
Recommended Bets to Consider: Over (7), No 1st inning score (-135), Over on Strikeouts for deGrom (7.5) and Under for Flaherty (5.5)
Starters: J.A. Happ (6-3, 4.48 ERA, 1.15 WHIP) vs. Ivan Nova (3-5, 6.28 ERA, 1.62 WHIP)
Pitching against his former team, Ivan Nova probably wishes his ERA was lower than the 6.28 he currently holds. However, that comes from two particularly bad starts where he allowed eight and nine runs. He normal averages closer to about four runs a game. In April, Nova pitched well against the Yankees, throwing six innings of one run ball with five strikeouts.  
J.A. Happ, on the other hand, is coming off back-to-back starts allowing one lone run. A stark improvement from early in the season when his ERA hovered around 7 and he allowed six runs on nine hits against the White Sox. The Yankees certainly have the firepower in their offense, and Happ has improved greatly, but the number to hit is ten on the total and it is doubtful that the Sox can really help it get there in this matchup.
Recommended Bets to Consider: Under (10), Yes 1st inning score (-130)
Starters: Marcus Stroman (3-8, 3.31 ERA, 1.32 WHIP) vs. Gabriel Ynoa (0-2, 4.96 ERA, 1.44 WHIP)
The Blue Jays were able to break their recent losing streak last night, that was with a Blue Jays team not starting Marcus Stroman. Stroman, coming off two substandard starts for him, will be looking to rebound against an Orioles team that, prior to last night, was averaging less than three runs a game over the past week. Stroman previously faced Baltimore on his second start of the season, where he allowed only two runs, but surrendered nine hits in 5 ⅔ innings and suffered his first loss.
This will be only Ynoa's fourth start of the season, and he has been progressing, pitching one more inning in each start. However, in those three starts, he has only been able to record seven strikeouts in 15 innings.
Recommended Bets to Consider: Under (9), TOR to score first (-160)
Starters: Zack Greinke (7-2, 2.87 ERA, 0.94 WHIP) vs. Erick Fredde (1-0, 2.93 ERA, 1.21 WHIP)
This is a game between one good pitcher at home against a great pitcher on a team with a better road record than a home record. Greinke averages just under seven strikeouts a game, only one walk and his opponents have hit only .214 off him this season.
For Fredde, who is starting only his fifth game this season, he has thrown for an average of five innings per start and allowed a total of six runs. In every start though, he has averaged less than a strikeout an inning, and has he produced 32 ground balls and 30 fly balls in his starts.
Recommended Bets to Consider: Under (8.5), No 1st inning scoring (-105)
Starters: Adrian Sampson (5-3, 3.72 ERA, 1.33 WHIP) vs. David Price (4-2, 2.70 ERA, 1.05 WHIP)
With David Price, we see an ace returning to form after a health scare in a previous start. In his three games after his first inning departure from illness, Price has thrown 24 strikeouts and only allowed three total earned runs. He will be working against the second most run producing offense in the AL, as Texas' 380 runs rank only behind the Twins.
Adrian Sampson, on the other hand, is coming off a complete game, one run outing in his last start. He also went seven string innings and allowed one run in the outing before that. At the same time, Boston's early struggles have subsided and the team sits third in the AL in hits (616) and fourth in runs scored (359).
Recommended Bets to Consider: Under (9), Over for Price (6.5) and Sampson (4.0) for Strikeouts.
Starters: Matthew Boyd (5-4, 3.08, ERA, 1.04 WHIP) vs. Homer Bailey (4-6, 5.90 ERA, 1.51 WHIP)
In the rubber match of this series tonight, each team has won their win by a low score of 3-2. And with these two arms on the mound, the third contest has the ability to see this low score again. Matthew Boyd has allowed only six runs over the last four games, while Homer Bailey is coming off his best start of six innings and three runs.
Bailey has struggled this year with an ERA right below six, and three losses in his last five games. His 61.0 innings pitch and 66 hits allowed is something that needs to be considered. However, against Detroit in May, Bailey pitched six solid innings of 2-run ball, being carried to victory by a 15-run explosion from the Royals bat.
Boyd certainly likes pitching deep into games, as he only has two starts this year that saw him throw less than 90 pitches, and five where he threw over 100, including 108 in his last start. Against Kansas City in May, he struck out nine in seven innings while walking just one batter and allowed two earned runs.
Recommended Bets to Consider: Under (8.5), No 1st inning scoring (-105), Over for Boyd (6.5) and Bailey (4.0) on Strikeouts
Starters: Matt Straham (2-5, 4.03 ERA, 1.16 WHIP) vs. Jon Gray (5-5, 4.27 ERA, 1.33 WHIP)
Matt Straham is entering tonight with a 1-3 record over his last four starts and allowed seven runs with two home runs in his last start against the Marlins. San Diego as a team is entering the game on a four-game losing streak and scoring an average of fewer than three runs per game.
Though Gray is not a world beater as a pitcher, he has had two efficient starts against the Padres this season. In those games, he has thrown for a combined 13 innings and allowing only four runs while striking out 13 batters.
Recommended Bets to Consider: Under (11.5), No 1st inning scoring (+150), Under for Strikeouts for Straham (5.5) and Over for Strikeouts for Gray (6.5)
GET AN EDGE OVER VEGAS
Get our apps to view tonight's mispriced lines and bets that the pros love
Get Today's Picks