MLB
The Worst Teams to Bet on in Baseball in 2019
Bet on these teams at your own risk!
By Bennett Bedford - Jun 25, 2019, 9:53pm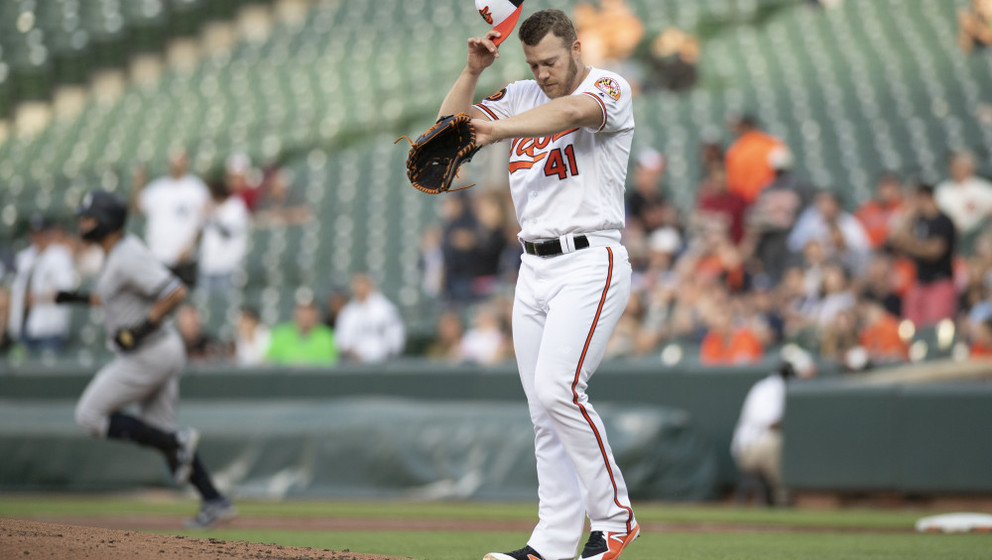 Identifying teams who are continually seeing value in their daily odds is one of the most valuable aspects of sports betting. Just as important is finding which teams are complete money pits and are consistently losing their bettors money. This information can be tricky to find, but BetQL has you covered with up to date +/- seasonal net units available for each team on every single slate.
This article is going to look at which teams have been the least profitable to bet on in baseball this season and give some insight into why they have been such bad bets. Some of these teams will be obvious, but some of them may surprise you. All of this information can be found in the BetQL 'add and remove statistics' tool on the BetQL Web-App.
Baltimore Orioles (-19.45 Units)
The Baltimore Orioles were projected to be one of the worst teams in baseball at the start of the season, and thus far they have not disappointed. Baltimore has the worst record in MLB by a sizeable margin and has four fewer wins than the 2nd worst team (Detroit). While this shouldn't be surprising to anyone who even casually follows professional baseball, it's still not a great sign that they are -3.25 units worse than the 2nd least profitable team this season.
The books are not giving us nearly enough value on the Orioles to win outright on a night to night basis, and for me, it would take a line in the +250 range to even start to consider betting on the Orioles on the money line.
Kansas City Royals (-15.48 Units)
The Royals are a better team than their 27-52 record would suggest, but the fact that they can keep games closer than other bad teams (-60 run differential is better than eight other teams) is likely preventing the books from giving bettors reasonable money line odds.
The Royals rarely have money line odds greater than +200 unless they are playing teams like the Yankees or Astros on the road. This season the Royals have only had nine games in which they had closing money line odds of +200 or higher, and they have only been able to win three of those games.
Toronto Blue Jays (-14.45 Units)
The 3rd least profitable team in MLB this season is another team from the AL East. The Toronto Blue Jays currently sit 21 games under .500, and much of their struggles can be contributed to a pitching staff that has allowed the 3rd most runs against in MLB at 413. Toronto is another team that just doesn't get the value on their money line odds for us to target consistently as underdogs.
However, it should be noted that if you do want to target Toronto, then it isn't the worst idea to target them against other teams in their division. The Blue Jays are 6-4 over their last ten divisional games and have three wins against the Red Sox over their last seven matchups. They are also 2-2 versus the Yankees on the season.
Washington National (-14.1 Units)
The first three teams might have been relatively predictable, but these next two teams have to be a surprise. The Washington Nationals expected to be contenders in the NL East, even following the departure of Bryce Harper in the offseason. However, the Nationals have struggled for most of this season and sit at a mediocre 37-40 on the year. We know that sports books tend to overvalue lines when top pitchers are on the mound, and unfortunately for Nationals bettors in 2019, Washington has not one but three excellent pitchers on their staff.
We're never going to get great odds when Max Scherzer is on the mound, and he has been a money pit this season as Washington has gone only 6-10 in games in which he has started. Stephen Strasburg and Patrick Corbin haven't been much better either, with the Nationals going a combined 17-14 in games in which they start -- not even close to a good enough record to break even given that they both frequently see their money line odds in the -130 to -200 range.
Washington has started to play better baseball in June, so they are a much more viable team to bet on versus the first three teams on this list, but you should know that you are rarely going to be getting value on their money line odds.
Boston Red Sox (-13.5 Units)
Finally, on to the team that I consider the most disappointing team in baseball this season. The 2018 World Series Champions are only 6-games above .500 this season and have, for the most part, proven to be a bad bet on a day-to-day basis. The biggest issue with the Red Sox this season is that they have consistently been losing as heavy favorites.
It's hard to stay profitable as a team when they are only 3-5 this season in games in which they closed as -250 to -320 favorites. You're simply never going to get Red Sox lines at a good enough value to justify taking them when they are large favorites, and they have not been consistent enough against good teams this season for you to feel good about betting on them when they do fall in the -110 to -150 range.
There's plenty of strategy that goes into putting together a winning ticket, and the best place to start is the BetQL Mobile App. Our Trending Picks and Public Betting tools are a massive advantage when you're making bets, regardless of bankroll size. I'm always there to help too so check me out on Twitter (@DFSBenj) for even more NFL, NBA, MLB and PGA daily fantasy and sports betting content.
GET AN EDGE OVER VEGAS
Get our apps to view tonight's mispriced lines and bets that the pros love
Get Today's Picks