MLB
MLB BetQL In Action: A Weekly Review
Four top bets from last week are revisited
By Dan Karpuc - Aug 18, 2019, 6:53am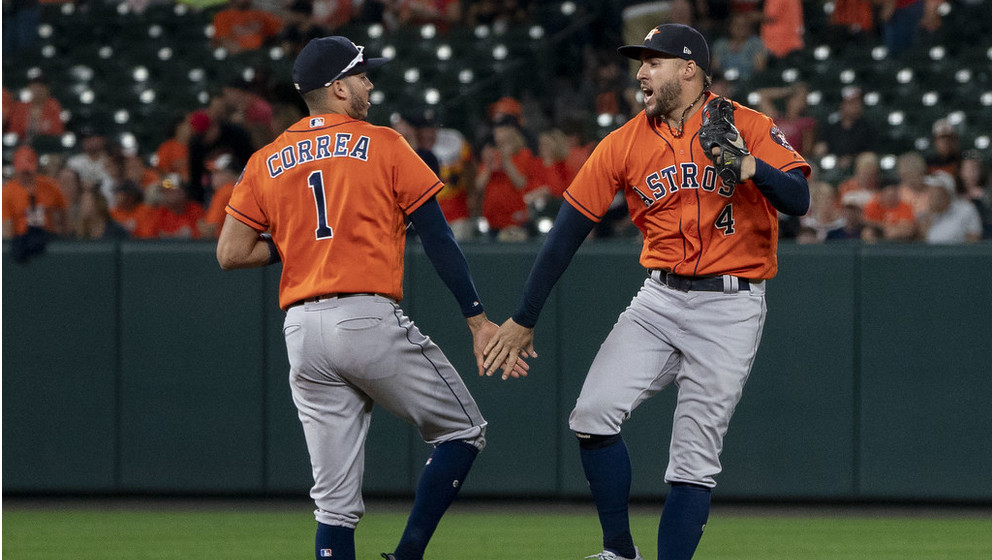 Whether you're new or old to BetQL, you probably already know that we take pride in our data. But, you may be wondering how that data translates into the ultimate goal of making money consistently.
5-star bet ratings don't occur on a daily basis on the platform. They're reserved for the most significant edges that our proprietary model produces. Let's take a look at one notable 4-star and three 5-star bets from last week.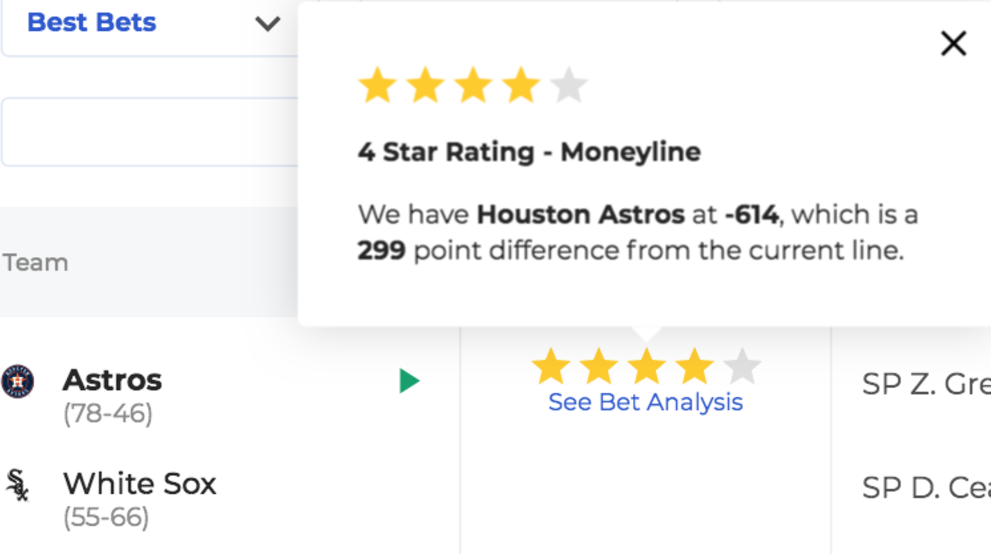 Astros @ White Sox
(Monday, 8/12/19)
On Monday, Zack Greinke and the Houston Astros took on Dylan Cease and the Chicago White Sox. The consensus moneyline was at -315 in the Astros' favor, but ours was at an incredible -614 (a 299-point difference), as most factors in our model pointed to a Houston victory. 
As predicted, Greinke delivered a quality start and the Astros bats scored a run in each of the last four innings to solidify a 6-2 victory.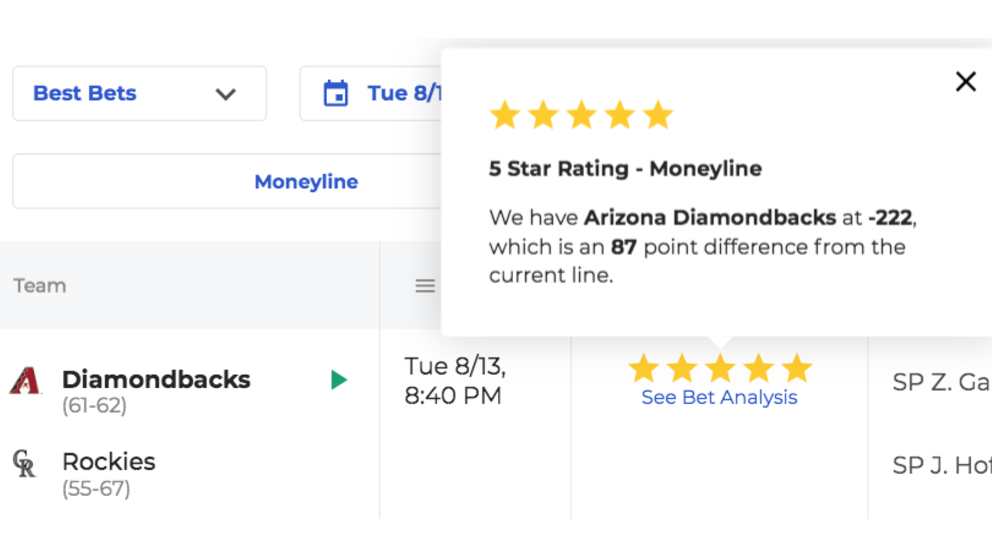 D-Backs @ Rockies 
(Tuesday, 8/13/19)
On Tuesday, the Arizona Diamondbacks and Colorado Rockies squared off at Coors Field. The consensus moneyline was at -135 in Arizona's favor, but we had it at -222 (an 87-point difference). 
The D-Backs jumped out to a 7-1 lead heading into the bottom of the second and the rest was history, as Arizona took down the home team by the score of 9-3. Rockies starter Jeff Hoffman was absolutely shelled (7 ER in 2.0 IP) and his presence was one of the many pre-game factors that led to our heavily-skewed line.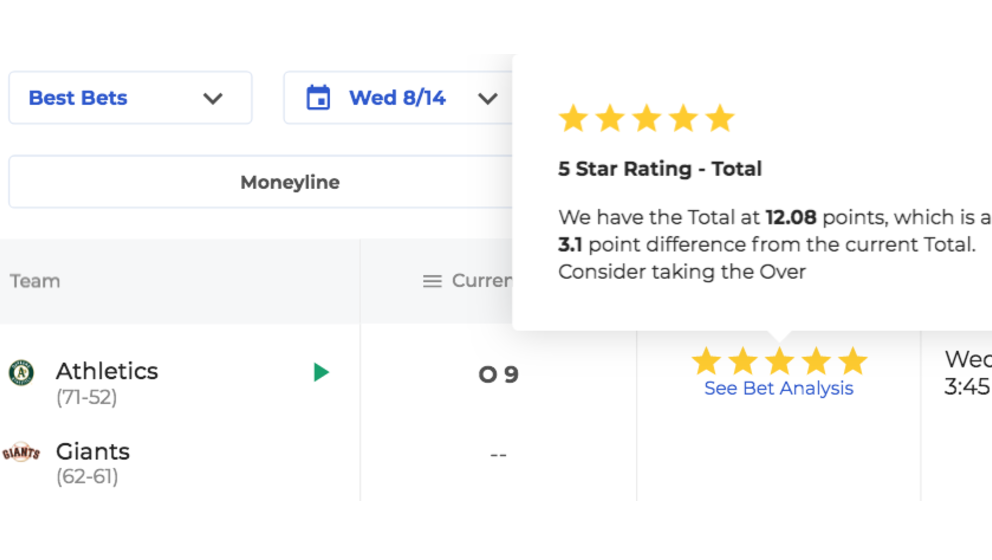 Athletics @ Giants
(Wednesday, 8/14/19)
On Wednesday, the Oakland Athletics and San Francisco Giants squared off with a 9-run total. Our model pointed to a high 12.08-run total (3.08-point difference). 
Oakland took a 7-0 lead into the bottom of the eighth before the Giants put up a five-spot to hit the over. The A's added two more in the top of the ninth to win 9-5, well over the single-digit total.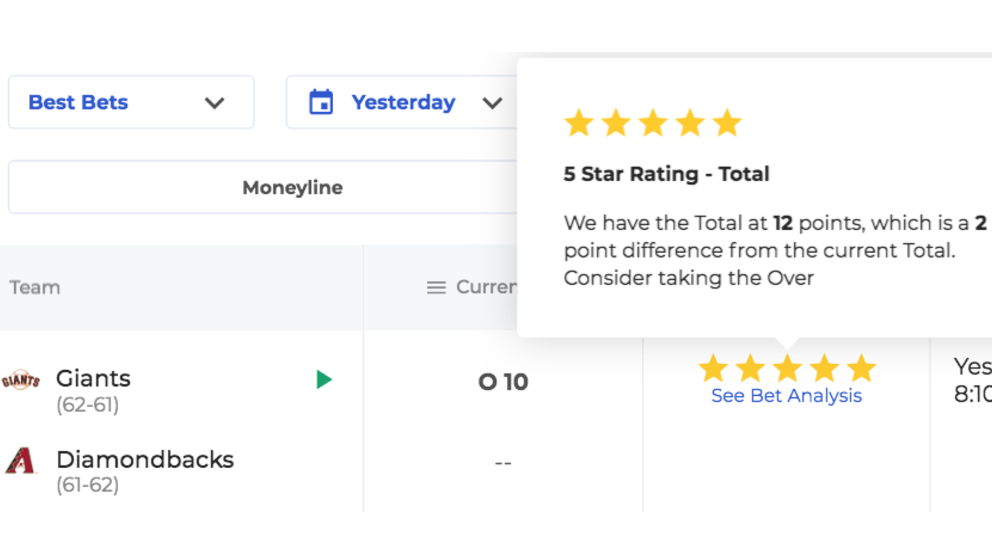 Giants @ Diamondbacks 
(Saturday, 8/17/19)
On Saturday, the Giants and D-Backs took the field with a 10-run total. Our model pointed to a 12-run total (2-point difference). 
Ten combined pitchers took the field, as the Giants walked away with an 11-6 victory, well above the 10-run total. Seven of those 10 pitches allowed at least one earned run. Of those to avoid doing that: catcher Alex Avila, who comically came in to pitch the ninth inning for the D-Backs. 
Be on the lookout next Sunday for another weekly review.