SF
Giants
Today, 5:05 PM
PHI
Phillies
PHI -125 O/U 8
BAL
Orioles
Today, 5:10 PM
MIA
Marlins
MIA -160 O/U 7.5
HOU
Astros
Today, 7:10 PM
COL
Rockies
HOU -150 O/U 10.5
MIN
Twins
Today, 7:37 PM
OAK
Athletics
OAK -105 O/U 8
STL
Cardinals
Today, 8:05 PM
WAS
Nationals
WAS -170 O/U 8
TEX
Rangers
Today, 8:07 PM
LAA
Angels
LAA -170 O/U 8.5
MIL
Brewers
Today, 8:10 PM
SD
Padres
SD -210 O/U 7.5
CHW
White Sox
Today, 10:10 PM
CLE
Indians
-- --
ATL
Braves
Today, 10:35 PM
NYY
Yankees
NYY -125 O/U 9
PIT
Pirates
Postponed
DET
Tigers
DET -120 O/U 8
ARI
Diamondbacks
Today, 10:40 PM
CIN
Reds
CIN -185 O/U 8.5
TOR
Blue Jays
Today, 11:10 PM
BOS
Red Sox
-- --
NYM
Mets
Today, 11:40 PM
CHC
Cubs
NYM -140 --
TB
Rays
Tomorrow, 12:10 AM
KC
Royals
-- --
PIT
Pirates
Tomorrow, 2:00 AM
DET
Tigers
-- --
PIT
Pirates
Tomorrow, 2:00 AM
DET
Tigers
-- --
MLB
MLB Play of the Day for Thursday April, 8: Los Angeles Angels vs. Toronto Blue Jays
Angels offense will thrive against Toronto
By Reed Wallach - Apr 7, 2021, 2:06pm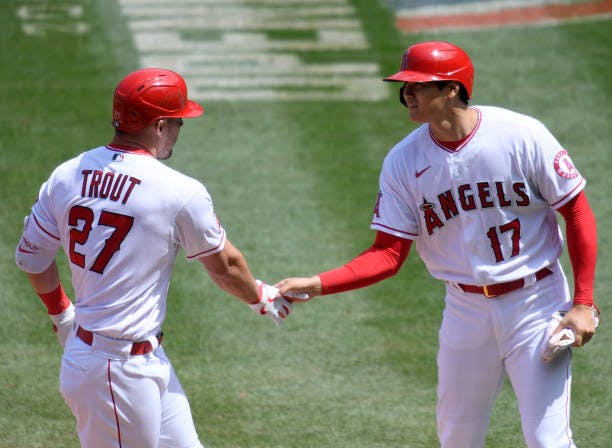 The Los Angeles Angels are on the road to face the Toronto Blue Jays in a battle of two playoff hopeful teams.
What does the BetQL Model think of this matchup between AL East foes? You can read about this game below, but you can get ALL of our best bets on every MLB each day here!
Get all of BetQL's best bets for the MLB season! Dating back a full calendar year, our five-star (max-value) bets have won 61% of the time!
Los Angeles Angels (+100, 10) vs. Toronto Blue Jays - 7:00 PM EST
The Blue Jays were set to be a high powered offense in 2021, but have stumbled out of the gate, scoring just 20 runs through six games and hitting .219 as a team. 
Toronto is a young ball club, but plate discipline can help get runners in scoring position, especially as they still look for their bats to get going. The Blue Jays are 28th in walk rate this season. 
The Angels meanwhile have been cooking on offense early. A loaded lineup with Mike Trout, Anthony Rendon, and Shohei Ohtani has shown what it can do already, placing seventh in slugging percentage and 13th in on base percentage. 
Joe Maddon's team is getting on base and also crushing the ball. The team has 33 runs to their name through six games and nine home runs.
Play DFS? Be sure to get a 3-day free trial on RotoQL to check out our projections!
The Angels should be able to get to Blue Jays pitcher Ross Stripling, who struggled in his first start. He didn't get out of the third inning against the Yankees, allowing seven hits and three earned runs. 
LA has a good history against Stripling on an admittedly small sample, registering 10 hits in 33 at bats against the righty.
We can expect the Angels to produce runs in this matchup, but how reliable is Angels' starter Griffin Canning? The right hander is making his 2021 debut after a shaky Spring Training. He allowed 11 earned runs in over 14 innings this spring. 
The BetQL Model is backing the Angels explosive offense with a ⭐⭐⭐ play on the Halos.
LA had the day off on Wednesday and should have their full bullpen available if Canning struggles. 
While the Blue Jays only needed to use two relievers in a Wednesday victory over the Rangers, they haven't had an off day since last Friday, and fatigue could be settling in on both sides, especially as the offense sputters.
Pick: Angels +100