MLB
Masahiro Tanaka: Postseason Artist
The Yankees pitcher has been historically-dominant in the playoffs throughout his career
By Brandon Barbour - Oct 15, 2019, 6:18pm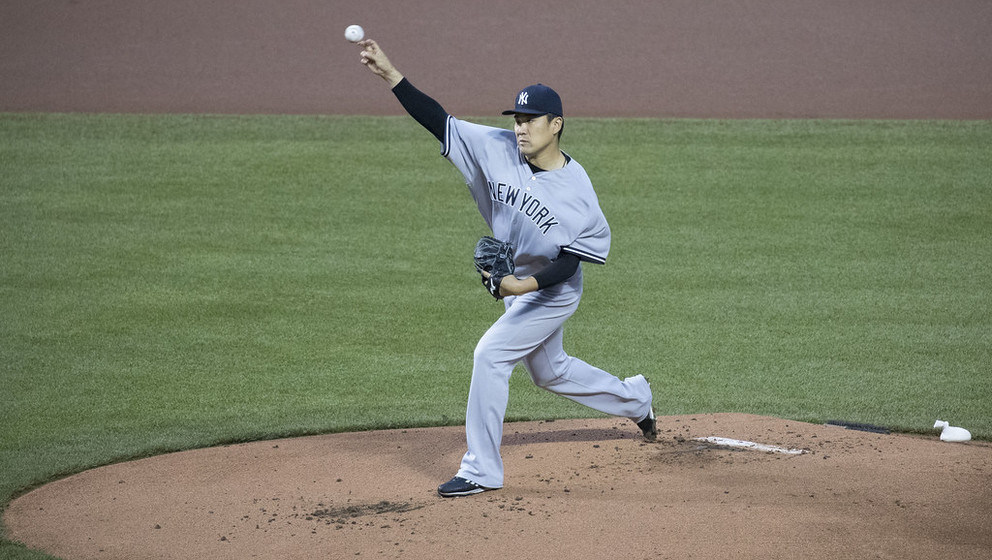 Masahiro Tanaka owns a 5-2 record and 1.32 ERA over 41.0 postseason innings for the New York Yankees.
In 2019, Tanaka has allowed just one run over 12.0 playoff innings.
Tanaka ranks third-best in WHIP and fourth-best all-time in hits per nine innings over his postseason career.
The New York Yankees paid up big time back in 2014 when they signed Masahiro Tanaka to a seven-year, $155 million contract. The Yankees kicked in a $20 million posting fee to the Rakuten Eagles of Japan in addition to Tanaka's hefty contract. New York's posting bid wasn't the largest, but Tanaka wanted to play there.
About six years later and here we are. As it turns out, it seems as though Tanaka has lived up to his hefty contract. Now 30 years old, the starting pitcher owns a 3.75 ERA over 164 regular season games in pinstripes, going 75-43.
Tanaka elected to rehab through a partial UCL tear instead of having Tommy John surgery as a rookie in 2014. That decision has ultimately turned out to be a terrific one for his career, as the righty has made at least 30 starts in three of his last four seasons. Tanaka has been pretty great for New York overall, but he's been a completely different animal in the postseason.
View today's MLB Best Bets on BetQL!
Playoff Dominance
Tanaka is fresh off an ALCS Game 1 masterpiece against a Houston Astros offense that hit .274 and produced the third-most runs in the AL this year. Tanaka tossed 6.0 shutout innings and allowed just one hit, earning the win and out-dueling Zack Greinke. He will start another game later in this exciting series.
In the ALDS, Tanaka started Game 2 against the Minnesota Twins, an offense that scored the second-most runs in the AL in 2019. Tanaka was brilliant, striking out seven over 6.0 innings while allowing one run in a winning effort.
The 2019 postseason has been a great one for Tanaka so far, but it's been a continuation of an outstanding track record. Tanaka has made seven starts in the playoffs over his career and has yet to allow more than two runs in a single outing. The righty is 5-2, now owns a crisp 1.32 ERA and has allowed just 21 hits over 41.0 postseason innings. These performances are mixing Tanaka in with special company. His consistency and reliability has been remarkable.
Elite Postseason Company
With 41.0 innings of postseason action under Tanaka's belt, let's see where he stacks up against some of the all-time greats. Not many get the opportunity to see this much action in the playoffs over their careers, but Tanaka has certainly taken advantage of every single chance.
Opposing hitters are reaching base at a very dismal rate against the Japanese ace over his playoff career. Tanaka's WHIP sits at 0.732 over his seven postseason starts, which is good enough to rank him third all-time in the category behind Monte Pearson and Jeremy Affeldt. Tanaka sits just in front of Roy Halladay, Mariano Rivera, and Gerrit Cole in the statistic. Those are some pretty intriguing names.
Tanaka has been one of the toughest to hit in the history of the playoffs, too. He's allowing just 4.61 hits per nine innings, ranking him fourth-best over his career. Only Andrew Miller, Kenley Jansen and Affeldt have better numbers in that category with very similar inning totals. Hitters have simply been baffled by Tanaka's precision and command over the years and he's currently one of the best postseasons arms in the game. It's time we start holding him in a higher regard.
Before every single playoff game, be sure to check out all of our algorithm's best bets as well as our other informative dashboards!
Tanaka Was The Answer All Along
When it comes to New York's depth at starting pitcher (and considering Luis Severino's season-long injury), it seemed like they may not have enough to compete with the likes of the Houston Astros this postseason. When it comes down to it, they're more than equipped, only because Tanaka has been so darn great.
Tanaka has acted the part of a true ace in his playoff appearances to date, carrying New York when doubters said they didn't have enough. Tanaka is fortunate to have a stellar offense behind him, but his calm and collected presence on the bump has been a major asset. He exudes confidence and teammates feed off of that in big time games.
Tanaka's stats prove that he's currently one of the best postseason arms ever and he's finally garnering the recognition he deserves for it. He will have another opportunity in the ALCS to take on the Astros, we might be able to see him make his first ever World Series appearance. The righty deserves to make a start on the biggest stage that the game has to offer and he may very well get that chance this year. Playoff Tanaka is in full force and if he leads the Yankees to a World Series title, he would become an immortal legend in New York.