MLB
Bet On This Side Of The Marlins' 2020 Regular-Season Win Total
Some key offseason additions and the presumed development of top prospects creates a positive outlook for the Marlins
By Dan Karpuc - Feb 12, 2020, 4:02pm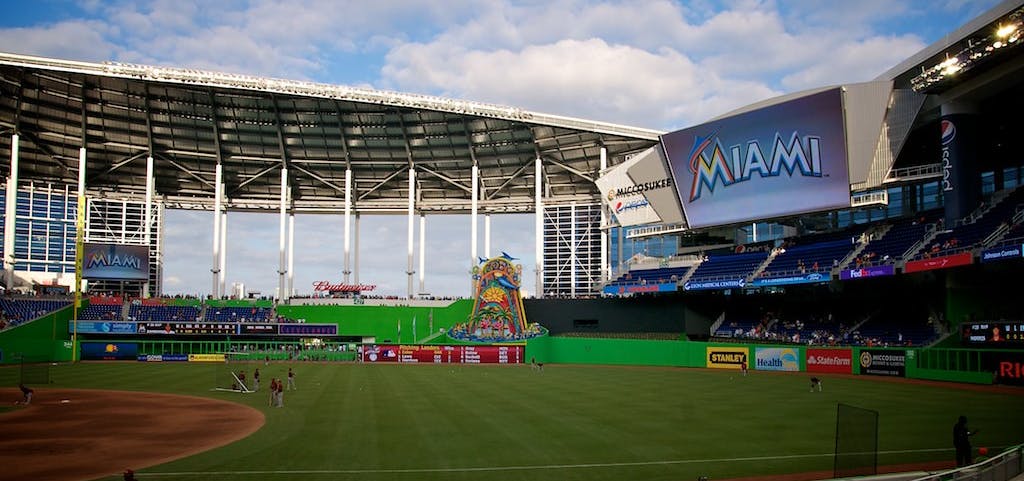 DraftKings is assigning the Miami Marlins a 64.5 regular-season win total. 
Based on the presumed development of some key prospects, important free agent signings and the general landscape of the National League, betting the OVER makes a lot of sense, as they should improve off of a 57-105 campaign in 2019. 
A projected starting rotation of 2019 All-Star Sandy Alcantara (3.88 ERA, 4.55 FIP, 18.0 K% in 2019), Caleb Smith (4.52 ERA, 5.11 FIP, 26.0 K%), Pablo Lopez (5.09 ERA, 4.28 FIP, 20.3 K%), Jordan Yamamoto (4.46 ERA, 4.51 FIP, 25.2 K%) and Jose Urena (5.21 ERA, 4.74 FIP, 16.8%) has upside. The back-end of Miami's bullpen also has the potential to be formidable. Don Mattingly will have three versatile right-handed arms in Brandon Kintzler, Ryne Stanek and Drew Stekenrider to assign roles to. Stanek, for example, was used as an "opener" in Tampa Bay due to his elite ability to miss bats (28.3 K%). Meanwhile, Yimi Garcia, Adam Conley, Sterling Sharp and Stephen Tarpley should have bullpen roles carved out with a couple more to be determined in Spring Training. There are some unknowns, but there's a general sense of optimism on the hill heading into 2020.
"Sandy Alcantara finished the 2019 season with a 3.88 ERA, 4.55 FIP, and 18.0 K% stat line. A lot of people would see those numbers and look the other way. You shouldn't. Alcantara throws hard, and the best pitch in his arsenal is his power sinker. He throws his sinker at a whopping 95.6 MPH. The sinker had a 5.0 Barrel%, which was ranked third amongst starters (min 500). At the same time, it was ranked first among starters with a Weak% of 72.2 and GB% of 63.3. In the last two months of the season, he increased his sinker usage, and it resulted in a 2.78 ERA. This sinker is very good, and it was even better than Noah Syndergaard's. Alcantara also throws a four-seam fastball and slider, both of which had respectable pVAL of 2.8 and 1.2. Alcantara was a very raw pitcher coming into 2019, and I think he started to make strides towards the end of 2019. Alcantara showed that he could adjust his pitch mix mid-season to keep performing at a high level. Alcantara is an interesting pitcher coming into 2020, and he could easily produce a sub-four ERA once again..." Michael Simione - RotoBaller
The additions of Jesus Aguilar, Jonathan Villar and Corey Dickerson should all be positional improvements while Francisco Cervelli should make a positive impact behind the plate. Non-roster Spring Training invitees include outfielder Matt Kemp and Miami native utilityman Sean Rodriguez. Kemp, in particular, has a solid chance at winning a job.
Cervelli should split time behind the dish with Jorge Alfaro. Now a 26-year-old backstop, Alfaro will look to build off of a 2019 campaign in which he slashed .262/.312/.425 and hit 18 homers with 57 RBI over 130 games played. Cervelli played in just 48 games for the Atlanta Braves and Pittsburgh Pirates last season due to injury and should be a valuable veteran presence behind Alfaro. 
Aguilar is slated to take over the full-time first base role. Garrett Cooper (.281/.342/.446 with 15 HR, 50 RBI over 107 games in 2019) will likely spell him. After hitting 35 home runs and knocking in 108 runs over 149 games for the Milwaukee Brewers in 2018, Aguilar struggled mightily last season and managed just 12 homers and 50 RBI over 131 games for the Brewers and Tampa Bay Rays. However, in a new role and most likely in the middle of the lineup in an everyday role, Aguilar should have a major opportunity in front of him as he looks to hit the refresh button.
Left-handed 23-year-old hitter Isan Diaz should be able to win a platoon spot at second base, but could end up backing up righty Jon Berti. Diaz struggled at the plate last year (.173/.259/.307 in 49 games) while Berti emerged (.273/.348/.406 in 73 games), but it makes sense to split their at-bats if Diaz shows a noticeable improvement at the plate in Spring Training. After all, he was a highly-touted prospect and seemingly has upside. It is worth mentioning that Berti led the Marlins' everyday players in on-base percentage last year, so he's definitely a candidate to carve out more of a role if he continues to show that ability in 2020. Expect Berti to grab most of the at-bats at second base when the Marlins are facing left-handed pitchers, especially after Diaz managed just four hits in 40 at-bats (with 14 strikeouts) against southpaws last season. However, if the youngster emerges after some offseason adjustments, he can bolster the bottom half of this lineup, which would allow Mattingly to deploy Berti off the bench, where his versatility can come into play in mid-game situations.
Villar can play all over the field, but the most logical spot for him is third base, which would allow shortstop Miguel Rojas to build off of a decent 2019 campaign. Villar was the lone bright spot for the Baltimore Orioles last season and had a career year. Not only did he play all 162 games, but he blasted 24 home runs, drove in 73 runs and stole 40 bases (.274/.339/.453 over 642 AB). You can make the argument that he's the best base-stealer in the National League right now and should be a major switch-hitting threat at the top of Miami's lineup. Rojas will also look to build off of his 2019 campaign (.284/.331/.379 in 483 AB over 132 games) in which he established himself as an elite defensive shortstop and viable contact hitter with a proven ability to put the ball in play, as indicated by his team-leading 11.8% strikeout rate. 
Dickerson will likely man left field in a platoon with Harold Ramirez. Last season, Dickerson split time between the Pirates and Philadelphia Phillies and thrived in a platoon role (.304/.341/.565, 12 HR, 59 RBI over 260 AB in 78 games). The right-handed Ramirez will likely be the team's fourth outfielder and hit 11 homers and drove in 50 RBIs over 421 AB in 119 games last year (.276/.312/.416). 
Heading into Spring Training, Lewis Brinson is keyed in on the starting center field role, but will likely have a very short leash and is no guarantee to win it. While he seemed to make minor improvements after getting sent down to Triple-A midway through last season, his Major League numbers last year indicate that his clock might be running out of time (.173/.236/.221 over 226 AB in 75 games). It's worth noting that Matt Joyce was also signed this offseason, Magneuris Sierra could be a replacement option, and Berti and Villar also have a proven ability to play center. However, keep an eye on a healthy Kemp, who is on a minor-league deal. Although he's getting reps at first base in Spring Training, he seems like a logical threat to steal Brinson's spot in the lineup (which would likely move Villar to center field, Anderson to third base to make room for Kemp in right, where he'd be better suited to play at this stage in his career). Over the past two seasons, Brinson has more strikeouts (194) than hits (115).
"You have to go out there and win the job," said Brinson at the recent Marlins Fan Fest. "You have to go out there and show you deserve to be out there everyday and can contribute to the team."
Brian Anderson, who spent time at third base last season, has positional versatility, but should be the everyday right fielder. While his name came up in trade rumblings last year, it's worth mentioning that the 26-year-old is under team control until the 2024 season and will enter his first arbitration year after the upcoming campaign. Since he's making $563,000 this year (major discount), expect the Marlins to hold on to him and benefit from the fact that he hit 20 home runs (team-leading .207 ISO) and drove in 66 runs over 126 games in 2019 (.261/.342/.468). He should be a mainstay in the middle of Miami's lineup.
While the projected Major League roster is a vast improvement over last season's, a number of top prospects in the organization should be poised to make their debuts sooner rather than later. Some positional players that could see call-ups include 22-year-old outfielder Jesus Sanchez (.260/.325/.398, 13 HR, 63 RBI across three levels and 465 PA in 2019), 24-year-old Monte Harrison (.274/.357/.451, 9 HR, 24 RBI across 215 Triple-A AB), and 23-year-old first baseman Lewin Diaz (.270/.321/.530, 27 HR, 76 RBI across three levels and 455 AB). On the hill, 21-year-old top prospect Sixto Sanchez (2.53 ERA, 1.03 WHIP over 103.0 IP in Double-A) and 21-year-old Edward Cabrera (2.23 ERA, 0.99 WHIP over 96.2 IP across A-Advanced and Double-A) will not start the year in the Majors, but are candidates to get called up as the season progresses, especially if they build off of their impressive 2019 numbers and the back-end of the Major League rotation struggles. Unlike last year, the Marlins suddenly have some organizational depth. 
Opening Day Projected Lineup vs. RHP: Villar, Anderson, Dickerson, Aguilar, Kemp, Alfaro, Rojas, Diaz, Pitcher
Opening Day Projected Lineup vs. LHP: Villar, Anderson, Kemp, Aguilar, Alfaro, Berti, Ramirez, Rojas, Pitcher
While there are some major question marks when it comes to the back-end of Miami's rotation and regarding their early and middle relievers, this is a much-improved team that should be a ton of fun to watch all season long.
Do you think the Marlins can win 65-plus regular-season games this year? Head to the MLB feed on the BetQL App and weigh in!