LIVE
MIA
Marlins
3
FINAL
PHI
Phillies
8
PHI -190 O/U 7.5
TB
Rays
13
BOT 9th
BAL
Orioles
4
TB -160 O/U 9
BOS
Red Sox
0
TOP 9th
TOR
Blue Jays
8
TOR -130 O/U 9
CHW
White Sox
4
TOP 8th
MIN
Twins
2
CHW -150 O/U 8.5
WAS
Nationals
3
BOT 8th
CHC
Cubs
5
CHC -110 O/U 9
NYY
Yankees
6
TOP 7th
TEX
Rangers
4
NYY -150 O/U 8.5
MIL
Brewers
0
Today, 12:10 AM
KC
Royals
0
MIL -180 O/U 7.5
CLE
Indians
5
TOP 4th
LAA
Angels
1
LAA -120 O/U 7.5
HOU
Astros
2
BOT 3rd
OAK
Athletics
1
HOU -120 O/U 8
ARI
Diamondbacks
1
BOT 2nd
LAD
Dodgers
1
LAD -275 O/U 7.5
DET
Tigers
1
TOP 3rd
SEA
Mariners
0
SEA -120 O/U 8
COL
Rockies
1
TOP 2nd
SD
Padres
0
SD -235 O/U 7
SF
Giants
4
FINAL
CIN
Reds
2
CIN -125 O/U 8
NYM
Mets
4
FINAL
ATL
Braves
3
ATL -160 O/U 8.5
PIT
Pirates
2
FINAL
STL
Cardinals
5
STL -125 O/U 7.5
MLB
Jacob deGrom And This Surprising Pitcher Are Baffling MLB Hitters
A look at some ridiculous numbers through five starts
By Dan Karpuc - May 2, 2021, 8:08pm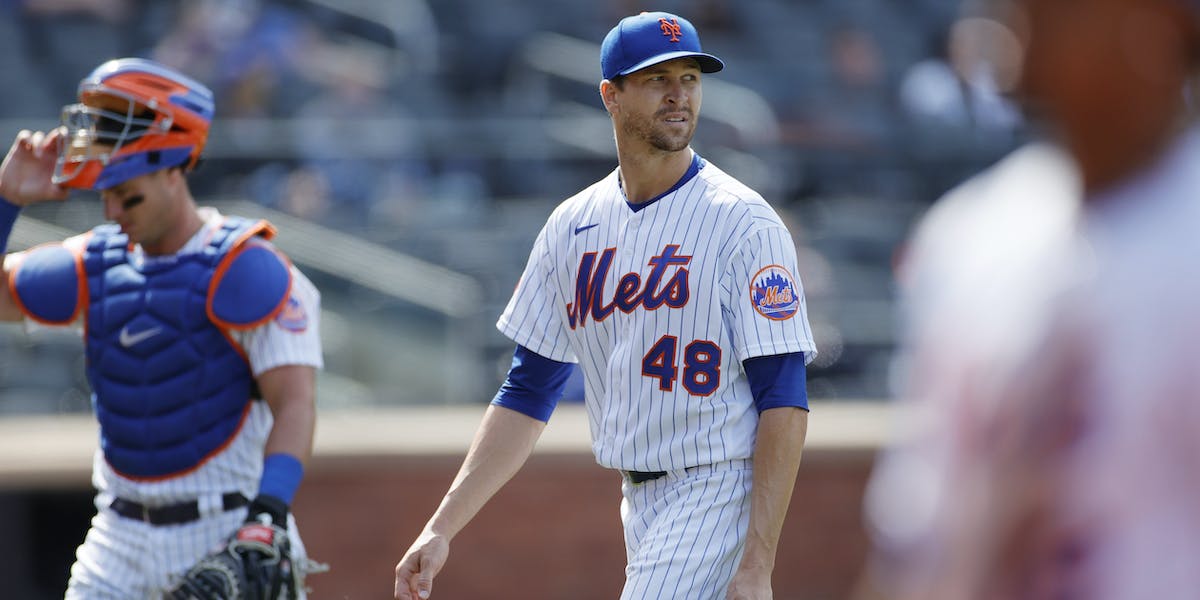 With four to five outings in the bag for most MLB starters, it's time to take a look at a couple early-season standouts: Jacob deGrom of the New York Mets and Danny Duffy of the Kansas City Royals. Take a look at what both pitchers have been able to accomplish so far and, most importantly, why that matters from a betting perspective moving forward. 
Jacob deGrom, New York Mets
In 188 MLB starts, Mets pitcher Jacob deGrom has a career 2.55 ERA, 1.03 WHIP and has struck out 1,418 hitters while allowing 957 hits in 1,204.2 innings. 
However, the back-to-back NL Cy Young award winner's win-loss record is 72-53 and he holds a 2-2 record in 2021 despite leading the NL with an incredible 0.51 ERA and 0.57 WHIP through five starts. 
Dan Szymborski of FanGraphs estimated every pitcher's expected win total if their teams had scored their average number of runs per game rather than the team's actual performance since 2002. By his calculation, deGrom should have 17 more wins and should be 89-34 overall, meaning that the Mets have almost criminally deprived him of run support over the years.
This year is no exception.
The Mets have lost three of deGrom's five starts.
The narrative hasn't prevented sharp bettors from backing them in deGrom's starts, though.  
Per BetQL's Sharp Betting Dashboard, New York was a -290 favorite vs. the Red Sox on Wednesday April 28th and closed with 45% of public bets and 67% of total money, a 22% sharp bet. Back on April 10th, deGrom and the Mets were a -290 favorite at home vs. the Marlins and closed with 61% of public bets and 88% of total money, a 27% sharp bet. Before that, they were -200 favorites on the road vs. the Phillies and closed with 55% of public bets and 75% of total money, a 20% sharp bet.
What's sickening (for Mets bettors) is that the Nationals have won two out of five Patrick Corbin (1-3, 8.10 ERA) starts. He's been the worst statistical starting pitcher in 2021. Yet, his team has had the same results as the Mets in deGrom's starts.
No matter who the opponent is, it's tough to have confidence in the Mets with deGrom on the hill, especially due to the fact that they'll continue to be heavy favorites with the best pitcher in baseball on the bump and therefore won't have much financial upside.
deGrom will get an extra day of rest before his next start in St. Louis against the Cardinals on Tuesday. Sign up for a new BetMGM account, bet $20 on the Mets tonight and win $100 regardless of the outcome!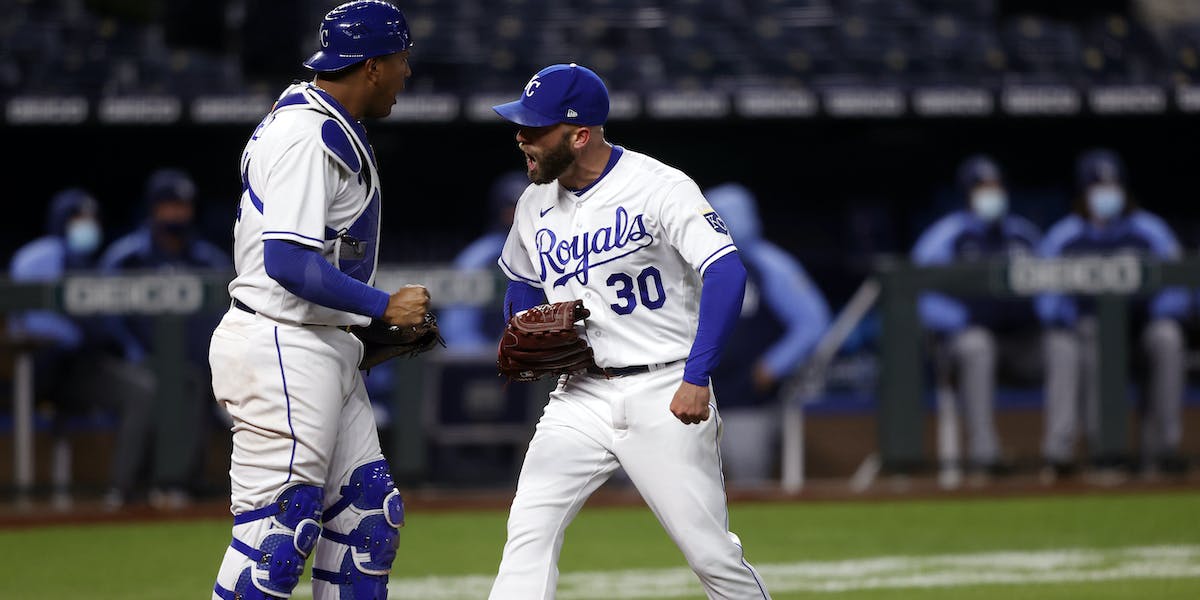 Danny Duffy, Kansas City Royals
The Royals came into Sunday with a 16-9 record and stood atop the AL Central standings, which is something that I was very high on before the season started.
Hopefully you jumped on them to win the AL Central Division (+4500 on PointsBet) and over 72.5 regular season wins (-112 on DraftKings) because this team is legit and should be in the mix all season long. 
While their success has been a total team effort, the biggest surprise has undoubtedly been left-handed pitcher Danny Duffy. Sporting a 4-1 record, 0.60 ERA and 0.97 WHIP, the veteran southpaw is off to an other-worldly start.
While there's some negative regression on the way (evidenced by his .247 BABIP), he ranks 2nd in MLB in ERA behind deGrom and has had a decision in all five of his starts so far. 
Boasting a 29.3% hard hit rate allowed, his 13.9% swinging strike rate is a career-high despite the fact that Duffy's repertoire and pitch types have not noticeably changed year-over-year. However, Duffy apparently feels much more comfortable throwing his curveball this year, as he outlined to Anne Rogers of MLB.com recently.
"I felt better with my curveball than I think I've honestly ever felt," Duffy noted. "Maybe dating back to my rookie year when that was kind of my go-to pitch. … That's why catch is so important. None of us are out there messing around with the way we approach our throwing program. It pays off."
He's thrown that curveball 9.3% of the time in 2021, down from 14.1% last season, but is proud of his progression and newfound ability to throw it in any count or situation, as well as a setup pitch for his fastball, changeup, slider or sinker.
Don't expect him to be the AL Cy Young frontrunner all season long, but Duffy's effectiveness will only benefit Kansas City and their eventual chance to contend as a dark horse.
You'll still be able to get good prices in Duffy's starts moving forward. Per BetQL's MLB Odds Dashboard, he's been an underdog in three of his five starts and it's clear that Vegas doesn't consider him a front-line starter even with his red-hot start.
His next start will be on Thursday when Kansas City hosts the Cleveland Indians. Sign up for a new BetMGM account, bet $20 on the Royals tonight and win $100 regardless of the outcome!