MLB
Examining 3 World Series MVP Bets
These lefties could net you a nice payout
By Brandon Barbour - Oct 20, 2020, 12:34pm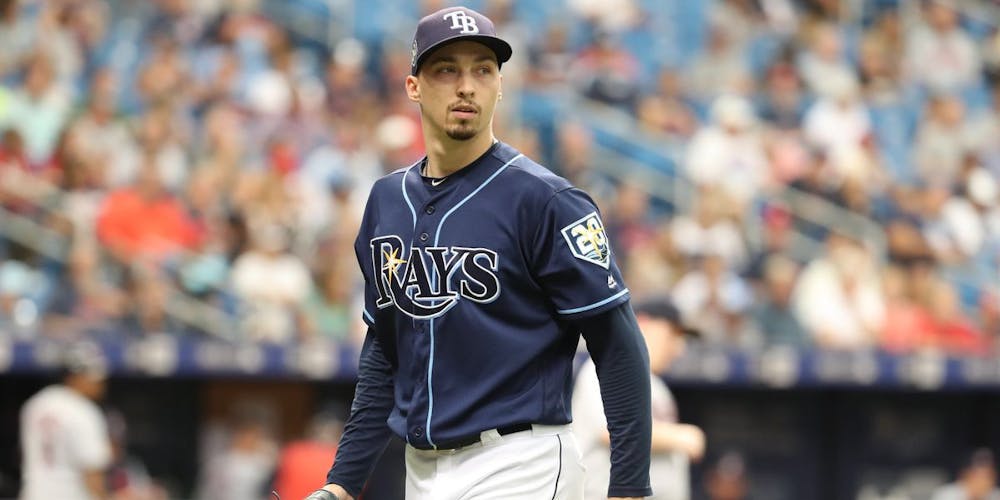 Quick-Hitters
Clayton Kershaw should log two starts for the Los Angeles Dodgers in the World Series. He has held the Tampa Bay Rays' offense to a 9-for-63 mark over his career.
Blake Snell will have the element of surprise when he faces a Los Angeles offense that has little experience against him. The southpaw owns a 3.20 ERA over 19.1 innings in the 2020 postseason. He's slated to start Game 2.
Cody Bellinger is heating up in a big way. The star centerfielder has launched two homers over his last five games while driving in eight runs over his last eight contests.
Get all of BetQL's best bets for today's MLB slate! Dating back a full calendar year, our five-star (max-value) bets have won 61% of the time!
Clayton Kershaw - DraftKings Sportsbook (+1000)
The struggles of Clayton Kershaw's postseason career have been well-documented. The southpaw has tallied an ugly 4.31 ERA over 177.1 career playoff innings. However, the future Hall of Famer has amassed a 3.32 ERA over three starts (19.0 innings) in the 2020 postseason. Despite dealing with more back issues, Kershaw has earned wins against the Milwaukee Brewers and San Diego Padres. Most recently, the lefty was dealt a no-decision against the Atlanta Braves, but the Dodgers still came out on top. That's a 3-0 Los Angeles record over Kershaw's three playoff outings this year.
The Dodgers' ace last threw on Thursday, so that gives him more rest than any other potential starter on the club. Walker Buehler last threw on Saturday and Julio Urias concluded the NLCS on Sunday night. With that in mind, assuming Kershaw's back holds up well, the southpaw will be set to make two starts in the series if there isn't a sweep. This gives the ace more opportunity to rack up two solid outings for MVP voters.
The Tampa Bay Rays' offense logged 506 at-bats against lefties this season (18th-most), but they managed to strike out a whopping 169 times (tied for fifth-most). Their strikeout rate of 28.5 percent ranks as the highest in baseball against southpaws. Kershaw's 23:2 K:BB ratio over 19.0 innings suggests that he'll enjoy facing a Tampa offense that has only averaged 4.0 runs per contest in this postseason.
On top of that, the lack of at-bats that the Rays' offense has logged against Kershaw will help his case even more. Tampa's bats have gone 9-for-63 (.142) against him with just two extra-base hits and 18 strikeouts. The majority of these at-bats are from Manuel Margot (5-for-23) and Hunter Renfroe (3-for-22 with a homer), as the two used to play in the same division for the Padres, but the lack of experience all-around is an advantage for Kershaw.
At +1000 to take home World Series MVP, the consideration for Kershaw feels legitimate this time around with a solid return on investment.
If you want to roster any Rays or Dodgers in your DFS lineups tonight, be sure to get a 3-day free trial on RotoQL to check out our projections!
Blake Snell - FanDuel Sportsbook (+1600)
Like Kershaw, Blake Snell could have an opportunity to make two starts in the World Series. At the moment, he's projected to start Game 2. After a rough 2019 campaign, the southpaw has recovered, totaling a 3.24 ERA over 11 starts (50.0 innings) in the regular-season. Snell's 3.20 ERA over 19.2 postseason innings is keeping pace.
The Los Angeles offense is daunting, but Snell has already faced the New York Yankees and Houston Astros (twice) during the 2020 playoffs, so he should be equipped. In fact, the Dodgers' offense has little experience against the lefty. Mookie Betts has logged a 7-for-23 line (.304) with a homer against Snell, but the rest of the offense has a combined eight at-bats against him. The element of surprise generally favors pitchers the first time around, so it wouldn't be crazy if the Dodgers struggled. Los Angeles' .192 ISO against lefties this year isn't bad, but it's well-below their .240 ISO (leads MLB) that they post against right-handers.
Snell's 15.0 percent usage of his slider is much higher than last season's mark of 6.7 percent. This is useful because the Dodgers struggle against the slider more than any other pitch according to FanGraphs. Many could decide to lean towards Tyler Glasnow (+1200 on FanDuel Sportsbook) over Snell in MVP betting. However, Glasnow allowed at least one homer in 9-of-11 regular-season starts in 2020. On top of that, he has allowed six homers over four postseason starts this year (19.1 innings).
The MVP Award has only gone to a pitcher in two of the last six World Series matches (Stephen Strasburg and Madison Bumgarner). Even so, the Tampa offense isn't very flashy. If the Rays are going to win the franchise's first World Series, the chances have to be considered strong for a pitcher to take home the hardware.
Cody Bellinger - DraftKings Sportsbook (+1200)
All the talk has been around Corey Seager's red hot bat when it comes to Los Angeles' offensive success, and rightfully so. The shortstop crushed five homers over seven games against the Braves, taking home NLCS MVP honors. This overshadowed Cody Bellinger's go-ahead solo homer in the bottom of the seventh in Game 7 of the NLCS.
Bellinger is only hitting .250 (11-for-44) in the 2020 postseason, but his three homers and 10 RBI paint a different picture. It was strange to hear that the lefty tuned up his swing in the offseason after hitting .305 and crushing 47 homers on his way to NL MVP hardware. His struggles early on have dissipated and productivity has sparked. Bellinger's just heating up. The centerfielder has launched two long-balls over the past five games and has recorded eight RBI over the past eight contests. The timing couldn't be better.
The Dodgers' superstar hasn't recorded many at-bats against Tampa pitching, but it's worth noting that he has crushed two homers off Glasnow in just two career at-bats, including a walk. Glasnow is slated to pitch Game 1, so it's very possible that Bellinger will log five or six at-bats against the flamethrower over the series. With few lefties in the Rays' bullpen, Bellinger could feast. Maybe Dave Roberts will move him back into the four-hole where he belongs. At +1200, the best power bat in the Los Angeles offense feels like a nice bet.