MLB
DraftKings DFS MLB Slate Rundown
Top pitching options, elite bats, value plays and a premier stack option for Thursday's evening slate
By Brandon Barbour - Sep 12, 2019, 3:25pm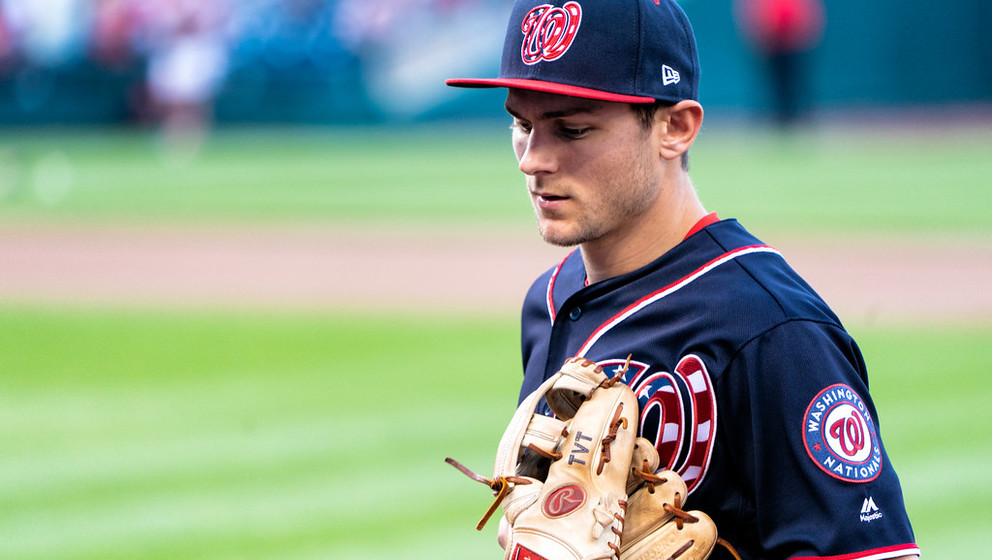 Julio Teheran ($8,500) and Kolby Allard ($7,200) are two starters that stand out as great pitching options on DraftKings tonight.
Yordan Alvarez ($5,400), Trea Turner ($4,700) and Corey Seager ($4,500) all grade out as elite hitting options.
Marcus Semien ($4,100) and Nick Solak ($4,100) are solid value options.
The Braves stack should pop off against Drew Smyly.
Value Arms
Julio Teheran ($8,500)
Pitching is hard to come by today. Patrick Corbin is pricey at $10,500 and he faces a Minnesota offense that obliterates left-handed pitching. Rich Hill is making his first start since June 19th with the last word being that he threw a 30-pitch simulated game just six days ago, and now he's valued at $10,700. That's just ridiculous.
Julio Teheran owns a shiny 1.08 ERA over his last four outings, lasting at least six innings in each. The 26 strikeouts over 25.0 innings are nice as well. Teheran is holding opponents to a .167 batting average and low 32.8 percent hard-hit rate over the four-game stretch. The Phillies have scored nine runs over their last three games, adding to Teheran's appeal.
Kolby Allard ($7,200)
The 22-year-old southpaw Kolby Allard has done a fine job over his last three outings, logging two quality starts and posting a 14:3 K:BB ratio. His 1.47 ERA over the three starts has earned him three-straight wins.
Allard hasn't allowed a long-ball in five of his six starts this season. Over his last three contests, the lefty has induced ground balls at a 50.9 percent rate. He draws a Tampa Bay Rays offense that has more success against righties and Allard is hot. There's little to pick from and Allard's ability to make it through six innings at this price tag increases his likelihood of picking up a win.
Lock in your favorite MLB plays and optimize your lineups using the powerful tools on RotoQL!   
Elite Bats
Yordan Alvarez ($5,400)
Yordan Alvarez burst onto the fantasy scene in a massive way this season, looking like one of the next elite bat to hold a spot in the powerful Houston Astros lineup.
Alvarez is has gone 8-for-17 over his last four games with three doubles, two homers, and eight RBI. His 17 long-balls and 1.114 OPS over 179 at-bats against righties is beyond juicy and he draws a marginal right-hander tonight. Homer Bailey has allowed five round-trippers over his last four starts.
Trea Turner ($4,700)
The speedster and contact hitter has been terrific for the Washington Nationals. Trea Turner has tallied five multi-hit games over 10 contests this month, stealing two of his 31 bases in the process. Even better, he has logged multi-hit games in 13 of hit last 22 starts.
The power and speed threat certainly plays well against righties with 12 homers and 24 stolen bases coming against that handedness. Opposing pitcher Kyle Gibson has allowed a hefty 20 hits and two long-balls over his last two outings (10 1/3 innings). Opponents have tagged Gibson for a 48.6 percent hard hit rate over the two outings, making Turner a likely candidate to cash in on the struggling arm.
Corey Seager ($4,500)
Corey Seager's power surge can't possibly be over yet. The lefty has swatted three homers and driven in eight runs over his last three games. Seager's low strikeout rate of 15.0 percent and high ISO of .230 against right-handed arms plays well today.
Seager's OPS jumps from .715 to .833 when facing right-handers this season. Dylan Bundy will toe the rubber after allowing eight runs over his last 12 innings against the Kansas City Royals and Texas Rangers. Bundy allowed three jacks and has allowed a .347 ISO and .441 wOBA off his fastball this year, a pitch that he features 41.65 percent of the time against southpaws. Seager should have a productive day against a poor righty.
In addition to the Deposit Bonus, New Users are also eligible to get their first sportsbook bet matched bet up to $200 on DraftKings! Learn more!
Value Hitters
Marcus Semien ($4,100)
The only reason that Marcus Semien is so cheap is because he is facing Justin Verlander today. This may scare some away from taking the Oakland Athletics shortstop, but Semien has been the best shortstop in daily fantasy over the last week.
Semien is 13 for his last 28, clobbering two homers and swiping three bases while also tallying nine runs and six RBI in that span. He's been filling out the stat book and has three multi-hit contests over his last four games. Surprisingly, Semien has fared well against Verlander over his career going 8-for-28 with a long-ball. When you're hot, you're hot, plain and simple. Semien has great value here and will be virtually unowned.
Nick Solak ($4,100)
Another top fantasy performer over the last week, Nick Solak has made quite an impression on the Texas Rangers. Solak is hitting .347 on the season over 72 at-bats and has gone 11 for his last 26 (seven games) with two round-trippers and eight RBI and seven runs.
Solak's .320 ISO and .440 wOBA against southpaws should be a factor against Brendan McKay of the Tampa Bay Rays. Solak's 1.101 ISO against lefties is pretty impressive despite the small sample size. He is cheap and raking the baseball. It's time we started taking him more seriously.
Top Stack
Atlanta Braves
The Atlanta Braves come into their contest against the Philadelphia Phillies repping the fourth-best ERA in the NL against lefties this year. Their homer every 21.3 at-bats is tied for the third-most in the NL. The Braves everyday lineup features seven hitters that have a high ISO (above .185) and eight bats with a high hard-hit rate (above 36 percent).
Read why Josh Donaldson is an elite hitting option on tonight's MLB DFS slate! 
Ronald Acuna Jr. ($5,500), Freddie Freeman ($5,300), Josh Donaldson ($5,200), Ozzie Albies ($4,600) are expensive, but are appealing in a matchup against Drew Smyly. The Philadelphia Phillies starter has allowed a shocking 29 homers over 101 2/3 innings this season. Smyly's 5.50 XFIP and 48.4 percent hard hit rate paints the picture of his 2019. The Braves pounce on southpaws and the Philadelphia bullpen will do Smyly no favors after he departs.
RotoQL's MLB Model assigns player grades for everyone on the entire slate. Find out where your favorite plays stand! 
Note: Advanced and batted ball statistics were found on publicly-available dashboards on FanGraphs. The advice and picks given are the writer's opinions only and do not represent the stance or interest of BetQL or RotoQL in any way.