MLB
DraftKings MLB DFS Contrarian Picks (9/20/19)
Some off-the-board options for your Friday lineups
By Brandon Barbour - Sep 20, 2019, 12:52pm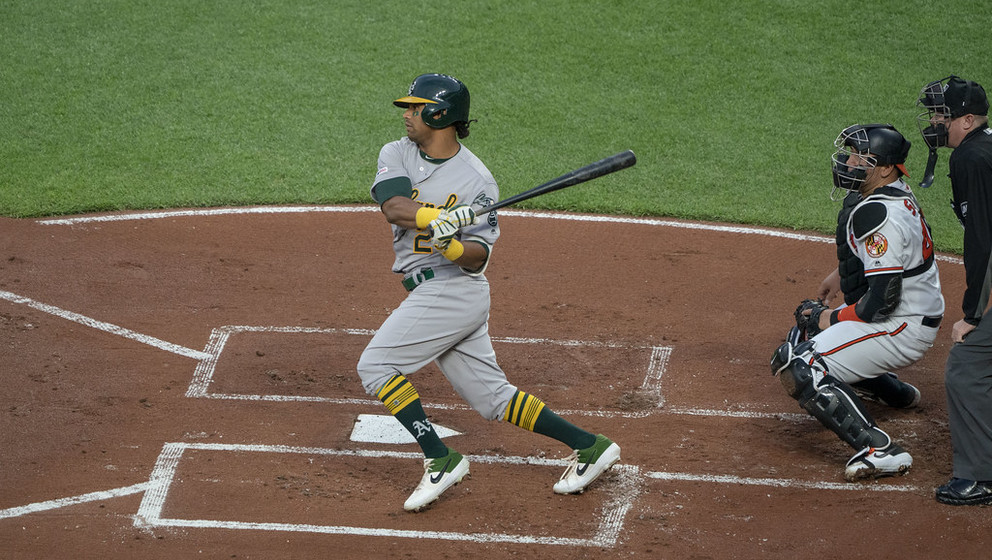 Merrill Kelly ($8,700) won and struck out nine Padres in early-September. He faces them again tonight.
Khris Davis ($3,300) is insanely cheap and has an .889 OPS and 10 homers against lefties this season (121 at-bats).
Opposing hitters have smacked 10 homers off Clayton Kershaw over his last five starts. Colorado Rockies hitters are discounted and have upside.
Merrill Kelly ($8,700)
Ranking 11th in salary amongst pitchers on Friday, Merrill Kelly is quite a steal. The Arizona Diamondbacks starter has posted a 1.35 ERA and 0.95 WHIP over his last three starts. His 55.3 percent ground ball rate and 19 strikeouts over 20 innings (25.3 percent rate) are enticing, and so is his opponent.
Lock in your favorite MLB plays and optimize your lineups using the powerful tools on RotoQL!
Kelly faced the San Diego Padres three outings ago and dominated. He tossed seven shutout innings and struck out nine. The Padres continue to strikeout at an alarming rate and Kelly has earned two wins over his last three contests. Expect Merrill to have a nice time against an offense that has scored a miserable five runs over their last four games.
Khris Davis ($3,300)
We are all aware of the struggles Khris Davis endured this season, but he's starting to build up steam. The designated hitter has collected at least one hit in eight of his last 11 games, racking up three long-balls and 11 RBI. Maybe he has one last burst in him.
View today's Best Bets from BetQL's MLB Model!
Davis draws Texas Rangers starter Mike Minor. The southpaw has struggled lately, compiling a 5.23 ERA over his last five starts. His most recent blow-up was against the Oakland A's, as he allowed seven runs over five innings. Davis thrives off lefties, accumulating a .281 average and .889 OPS with 10 homers over 121 at-bats. Davis is 3-for-10 with a round-tripper over his career against Minor.
Colorado Rockies (Stack)
Charlie Blackmon ($4,600), Trevor Story ($4,600), and Nolan Arenado ($4,500) are all much cheaper than they normally are, all in thanks to the fact that they're facing Los Angeles Dodgers ace Clayton Kershaw.
The usually-dominant southpaw has looked very mortal of late and looks a bit concerning. He owns a 5.08 ERA and 6.60 FIP over his last five starts. Kershaw's walk rate of 9.3 percent over the span is a hefty increase for his standards and the 10 homers that opponents have launched off him is mind-blowing (28 1/3 innings). Further, 21.7 percent of batted balls off Kershaw have been line drives over his last five outings.
The Rockies stack is a contrarian option with plenty of upside at a discounted price tonight.
Note: The advice above is the writer's opinion only and does not represent the stance or interest of BetQL or RotoQL in any way.