MLB
Breaking Down The Tight NL MVP Race
Yelich and Bellinger are neck-in-neck at the moment
By Brandon Barbour - Aug 12, 2019, 3:39am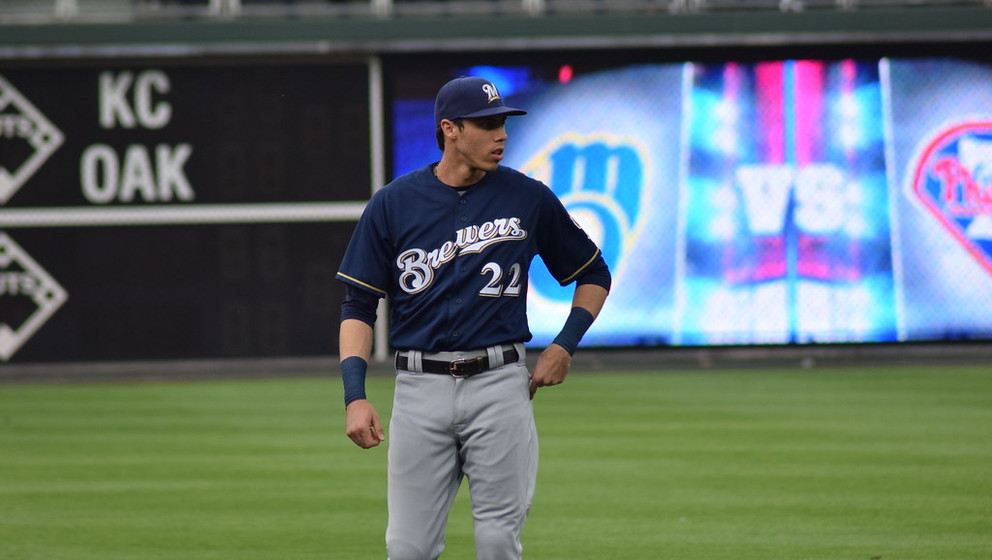 Right now, Cody Bellinger (-134) is the slight favorite over Christian Yelich (+110) to win the NL MVP, but a lot can change down the stretch.
Bellinger's Breakout Campaign
Everyone was expecting the power stroke to remain a factor for 23-year-old Cody Bellinger in 2019, but not many saw this production coming after a bit of a sophomore slump. Bellinger's smaller frame generates an enormous amount of torque and he has clobbered 37 homers this season, two shy of his career high.
What's fascinating is Bellinger's ability to hit for average (.321), despite having so many moving parts in his swing. His stroke is incredibly powerful, but he has a nice two-strike adjustment, with opposing pitchers striking him out just 78 times over 479 plate appearances. His strikeout rate of 16.3 percent is second-best in his own starting lineup. His .343 ISO and .434 wOBA are daunting and lead the Los Angeles Dodgers lineup (minimum 75 plate appearances).
Check out today's MLB public betting data HERE!
Bellinger ranks third in the NL in runs scored (90) and ranks fourth in the NL in RBI (88). However, his stolen base attempts have been ditched since the end of April. Bellinger has successfully swiped nine bases, but has been caught five times. He has just two stolen bags since the start of June.
The hard-hitting lefty has spent the majority of the season in right field for the Dodgers, but has been incredibly valuable by being able to play first base and center field when necessary. He has made two errors in total this season, but his fantastic arm has thrown out nine baserunners from right field this season. He's truly an all-around beast.
Yelich Is Defending His Title
The defending NL MVP has picked up right where he left off and hasn't missed a beat. Christian Yelich has already topped his career high in round-trippers. Last season, he walloped 36 and has added 39 more in 2019. He leads the NL in OPS and has improved pretty drastically from 1.000 last season to 1.133 in 2019. Yelich is a late-bloomer when it comes to his power, with his mechanics being sound as he gets every ounce of power out of his smaller physique.
Yelich's average of .336 is impressive, especially when you consider the lack of protection in the Milwaukee Brewers lineup, compared to the Dodgers top NL offense. The Brewers outfielder owns a 20 percent strikeout rate, but a better ISO (.369) and wOBA (.450) than the Dodgers star.
The defending NL MVP has an edge on the base paths, swiping 23 bases out of 25 attempts this season. He draws a ton of attention on the bases, but he's still incredibly successful at taking the extra base. It's a rare luxury this season, with just nine players stealing 20 bases or more this season.
CLICK HERE for today's MLB Sharp Picks!
Yelich also spends the majority of his time in right field, but can occasionally pick up an inning in center or left field. He has committed three errors this season and has seven assists. Baserunners have held up from attempting to take another bag on Yelich 46.9 percent of the time. However, baserunners have been held 53.2 percent of the time by Bellinger. These two have clearly traded blows in the stat book, but things aren't perfectly clear yet.
The Teams
The Los Angeles Dodgers own the best record in the NL. They have a very comfortable lead in their division and should coast to the playoffs. If you're worried about MVP voters backing out of supporting a player that isn't on a playoff team, then this isn't at all a concern when it comes to Bellinger and the Dodgers.
On the other side of things, the Milwaukee Brewers are in second place in the NL Central and have a very thin lead for a Wildcard spot. It's clear that the Dodgers are far superior to the Brewers as a team, and there's a legitimate chance that the Brewers miss out this season. If Bellinger can keep this close, then voters may support the player on the playoff team.
There's much more pressure on Yelich to get his club to the postseason. This can play in or out of his favor with voters. If he can manage to get his squad to the postseason, then it might be a wrap in Yelich's favor. The weight of the success of the organization is much heavier on his shoulders than it is on Bellinger's. This could be the largest factor in the difference between their money line values right now.
So… Who Prospers?
The Yeli-Belli race has been one of the most intriguing all season. The two have been neck-and-neck and they rank near the top in most offensive categories. Yelich has a 180 wRC+ and Bellinger has a 173 wRC+. Bellinger has been more superior defensively, but Yelich leads in power and speed. Yelich owns a stellar 6.1 WAR, but Bellinger owns a 7.3 WAR. Bellinger has a 183 OPS+, while Yelich has a .190 OPS+.
This will likely be a photo finish, but the favorite has to be Bellinger. 
Check out today's MLB Value Bets HERE!
The uncertainty of Yelich and the Brewers making the playoffs really puts a damper on this. However, making the postseason doesn't necessarily hinge on earning the award (just ask Mike Trout). Considering that the Dodgers have such a stranglehold on the NL West, it's very possible that they could take some at-bats out of Bellinger's hands down the stretch to preserve his health for the postseason. On the flip-side, Yelich will be required to dominate down the stretch and play often with the Brewers struggling to keep their heads above water.
Either player is worthy at this particular point, but it's fair to point out that the young Bellinger hit .263 with four long-balls in September and October to end the regular season last year, while Yelich hit .370 with 10 homers and seven stolen bases. It's common knowledge that Yelich has so much less to work with on his squad and if he can put the Brewers on his back and lead them to the postseason, then it's a wrap.
As of now, Bellinger should be considered the favorite, though. 
Note: All advanced and batted ball statistics were found on FanGraphs. The advice above represents the writer's personal view and does not reflect or represent BetQL's stance or interest in any way.