BOS
Red Sox
Today, 6:05 PM
BAL
Orioles
BAL -110 --
TB
Rays
Today, 6:05 PM
MIN
Twins
MIN -120 --
NYY
Yankees
Today, 6:05 PM
PHI
Phillies
NYY -130 --
TOR
Blue Jays
Today, 6:05 PM
DET
Tigers
TOR -130 --
ATL
Braves
Today, 6:05 PM
PIT
Pirates
ATL -130 --
WAS
Nationals
Today, 6:10 PM
NYM
Mets
NYM -130 --
CHW
White Sox
Today, 8:05 PM
SF
Giants
SF -115 --
SD
Padres
Today, 8:05 PM
TEX
Rangers
SD -130 --
COL
Rockies
Today, 8:10 PM
SEA
Mariners
SEA -125 --
CLE
Indians
Today, 8:10 PM
MIL
Brewers
MIL -125 --
LAA
Angels
Today, 8:10 PM
ARI
Diamondbacks
ARI -115 --
STL
Cardinals
Today, 11:05 PM
HOU
Astros
HOU -125 --
CHC
Cubs
Tomorrow, 1:05 AM
LAD
Dodgers
LAD -170 --
KC
Royals
Tomorrow, 1:05 AM
CIN
Reds
CIN -125 --
MLB
Don't Ignore The Upside Of This 2020 Rhys Hoskins Prop
The Phillies first baseman had a disappointing 2019 season, but is primed for a major bounce back
By Dan Karpuc - Mar 30, 2020, 8:11pm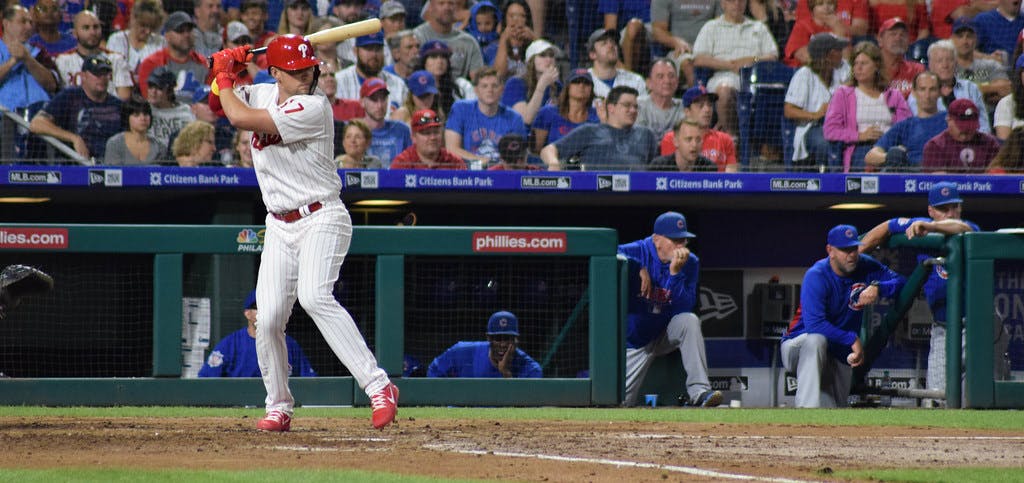 Rhys Hoskins To Hit The Most Home Runs
(+4000, BET NOW ON MGM!)
Philadelphia Phillies first baseman Rhys Hoskins was heralded as one of the top prospects when he burst onto the scene in 2017 as a 24 year old, breaking an MLB record with 18 home runs in his first 34 career games. In his first full Major League season the following year, he belted 34 home runs, drove in 96 runs and in doing so, emerged as one of the game's top young power hitters. Last season, he took a small step back in terms of home runs (29) and RBIs (85), but it's important to realize why that was the case. You know the term "professional hitter" that analysts throw around? That's what Hoskins became last season, despite his .226 batting average. Hear me out. In 160 games, seven more than in 2018, he drew a National League-high 116 walks, compared to 87 the year before. His on-base percentage was a respectable .364, compared to .354 the previous year. I know you're probably wondering why this matters, and here's why it does: Hoskins' plate approach was the main reason for his slight drop-off in power numbers last year and his peripherals suggest he's in for a huge 2020 campaign if and when baseball resumes. 
Hoskins was insanely unlucky last year. In fact, his .267 BABIP ranked 119th among qualified players, which means that when he made contact with the ball, he rarely found holes or open areas of the field. He was especially unlucky against righties, managing a .260 BABIP along with the following statistics: 517 PA, 20 HR, 58 RBI, .215/.335/.428. Against lefties, he was more successful in fewer plate appearances: 188 PA, 9 HR, 27 RBI, .261/.444/.536. But, overall it was a humbling experience for the youngster, who struggled mightily in the second half of the season, especially down the stretch.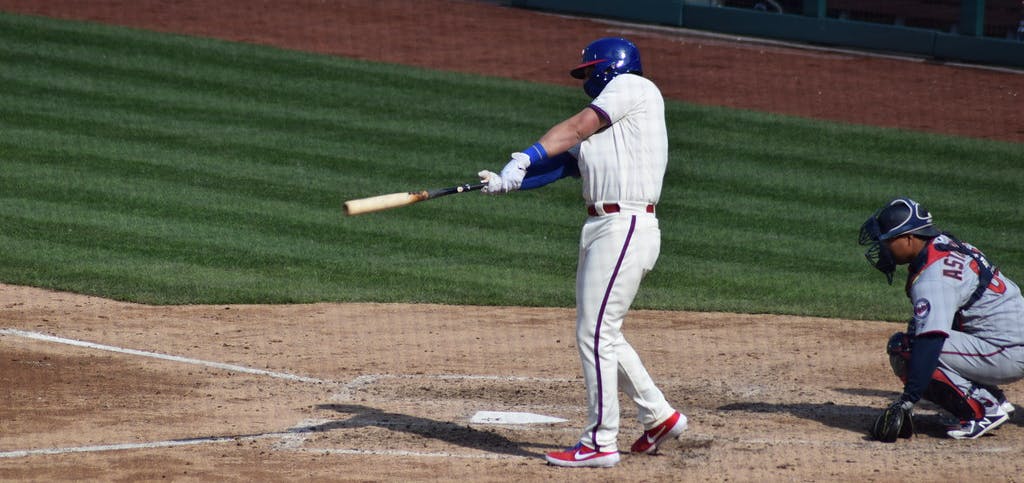 Power hitting is all about launch angles. Hoskins' swing has a noticeable uppercut. The Phillies first baseman had a 50.4% fly ball rate, which was the highest mark among qualified MLB hitters. While his BABIP numbers suggest that he was unlucky as a whole, Hoskins' ability to get the ball in the air certainly played a role, as did his conservative approach at the plate. In fact, he swung at the first pitch just 18.3% of the time last season, the lowest rate among 69 National League players who also logged 500-plus plate appearances. He also hit just two home runs on the first pitch. Since Hoskins began to see more sliders and off-speed pitches last year compared to the start of his career, it could bode well for him if he makes the mental adjustment and begins to look for first-pitch fastballs in the zone. Pitchers want to get ahead in the count, and while MLB-quality hurlers don't just pump fastballs down the middle of the plate, the first pitch is often times the best pitch to hit in an entire at-bat.
In Spring Training, Hoskins debuted a new stance, attacked the first pitch more often and was more aggressive overall. While it's important not to project an entire season or larger set of games based on a few spring appearances, it's very clear that Hoskins and the coaching staff were honing in on those areas of improvement.
Since he's slated to bat behind Bryce Harper within a talented and powerful offense again, Hoskins should see a fair share of hittable pitches since he will have protection around him in the lineup.  
Per Scott Lauber of the Philadelphia Inquirer, Hoskins has devoted much of the offseason into the mental side of the game. "He studied video, consulted past and present teammates, talked with new manager Joe Girardi, and had a series of conversations with newly hired hitting coach Joe Dillon," Lauber reported. "… Hoskins returned to the batting cage during Thanksgiving week — two weeks earlier than usual — and adjusted his setup at the plate. Specifically, he lowered his hands, relaxed his shoulders and arms, and slightly opened his stance to generate more movement through his hips…" 
Hoskins experimented with changes mid-season as he struggled to find success and narrowed his stance and shortened his stride, closing up his front side. Hitting coach John Mallee was fired mid-season as well, which didn't help. 
"When you look at the total body of work, there was some extreme pull-side results there. He kind of lost some of the ability to use the whole field," Dillon said. "I think that, in conjunction with maybe getting pitched a certain way and getting certain things exposed, it had a compound effect on him. … But he had a great approach and had a game plan going into the offseason, and I was able to come on and help him implement it. The main thing is the setup, giving him a more relaxed, athletic position and create some space for him to move and create some energy a little bit more efficiently. Trying to make changes like that during the season are next to impossible."
At +4000, there's plenty of upside here if you believe Hoskins could make the adjustments necessary and get a little luckier in 2020. We've seen players like him take the next step and he's clearly not settling for complacency in any fashion. 
MGM Offer Details And Example
To claim MGM's risk-free bet promotion you need to make a minimum deposit of $10 and use code "BETQL". If your very first best loses, MGM will refund that loss - up to $500 - across ten site credits within 24 hours. A $300 loss will be refunded in ten $30 credits. $100 loss turns into ten $10 credits. These credits can only be used once and are not stackable (cannot be used together). Credits cannot be withdrawn and are not included in winnings. Credits must be used within seven days.
Example: You deposit $75. On your very first bet, you wager $50 and lose. MGM will add ten $5 credits to your site within 24 hours. Your account will now have $50 in site credit (across ten credits) and $25 in cash. For a $10 bet, you must use the cash in your account -- you cannot combine two of your $5 credits. For a $5 bet (to win $10) you can use either cash or one of your $5 site credits. If you use a credit and hit, you will be left with nine $5 credits (ten minus one) and $30 cash ($25 + $5).
CLICK BELOW AND BET NOW!
Note: the betting advice above are my personal views and do not necessarily reflect the view(s) of BetQL.