MLB
A Look Back At Mike Trout's Astounding 2019 Campaign
His season was cut short, but what he accomplished in 2019 was incredible
By Brandon Barbour - Sep 18, 2019, 10:03pm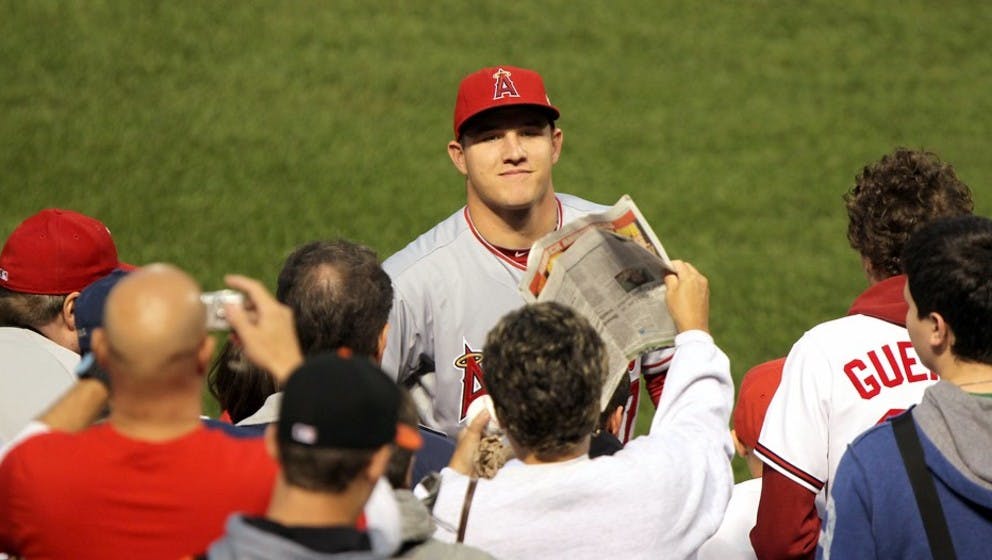 Los Angeles Angels star Mike Trout launched a career high 45 homers and hit one roughly every 10 AB.
With a WAR of 8.6, Trout leads all MLB hitters.
Trout's .353 ISO was the best mark of his career.
Even if you're not a huge fan of the sport, you definitely know the greatness that surrounds his name. The $430 million man that calls Los Angeles home during the season, Mike Trout, thrashed MLB pitching yet again this season. With two MVP Awards under his belt and placing second on four occasions, the 27-year old may have had his best season ever in 2019. He's so incredibly talented and plays the game the right way. It's hard to not admire his ways.
Season Summary
The Los Angeles Angels were a mess for a lot of the season as guys like Justin Upton, Shohei Ohtani, Tommy La Stella, Andrelton Simmons, and Zack Cozart all missed significant time with injuries. That placed a ton of pressure on Trout to carry the load with little protection or talent around him in the lineup, which wasn't an issue for him.
The AL MVP candidate's season was cut short due to a foot injury, as the team elected to err on the side of caution due to their position in the standings and the fact that they invested so much money in him. 
Trout finished the year with a triple slash line of .291/.438/.645. His OPS of 1.083 was his second-best ever (1.088 in 2018) and his .645 slugging percentage goes down as his best ever. His 120:110 K:BB ratio was insane for any player, let alone one that hits for such power.
The Angels' star crushed a career-high 45 homers over just 470 at-bats, putting his average at one long-ball every 10.44 at-bats. Trout's 104 RBI is very impressive for someone who primarily hit out of the two-spot and it marks the third time he has gone over 100 RBI in a season. The 110 runs that he scored ranks as his highest total since 2016.
Love DFS and want to give betting a try? Get a 50% deposit bonus up to $500 with your next deposit on DraftKings Sportsbook. Learn more! 
Trout contributed on the base paths as well. He took less chances, as the team wanted to maintain his health, but he still managed 11 steals on an 84.6 percent success rate. His range in the outfield was still terrific, as he started 121 games in center field and accounted for five assists. 
Every stat across the board was impressive, as was his consistency. His power stroke wasn't jammed into a month or two. From April to August, Trout posted six, seven, nine, 13, and eight round-trippers respectively. He tallied a ridiculous 1.032 OPS line or better in each month. Trout was simply a monster in all facets of the game.
Advanced Stats
It's hard to believe that Trout keeps getting better, but it's still happening. The slugger compiled his best ever ISO rating of .353. You're considered above average if your ISO sits above .180. Trout's 43.8 percent hard-hit rate was his second-best mark over a season and his massive 26.6 percent line-drive rate was the best of his career.
Trout's improved 22.2 launch angle has adjusted his ground ball rate down to a low 24.3 percent, enabling him to smack a career-high in homers. Pitchers struggled to get him to chase pitches out of the strike zone, and Trout's 20.5 percent chase rate was his second-best mark in that category. It's a wonder why teams didn't intentionally walk him more. Maybe Trout will be given the Barry Bonds treatment sooner than later.
League Rankings
When Trout went down with an injury in early-September, he was looking like a shoe-in as AL MVP and could still win the award. The superstar led the league with his 45 homers at the time of his injury. He ranked fourth in runs scored despite playing on such an underachieving offense overall. Trout ranked 11th in RBIs behind a bunch of three and four hitters. 
Lock in your favorite DFS plays and optimize your lineups using the powerful tools on RotoQL!
It's hard to top those numbers, but we'll keep going. Trout's .353 ISO ranked No. 1 in the MLB (.007 above Christian Yelich) and his 8.6 WAR led all offensive players, leading Yelich by a full point. He also led the AL in OPS in 2019. The all-around talent is the face of the game for a reason and he proved it again with this ludicrous year.
Injury And Recovery
Trout was diagnosed with something called Morton's neuroma, a condition that causes pain in the ball of the foot, specifically between the third and fourth toes. The outfielder claimed that it had been hurting him for about a month and got progressively worse in September. He is expected to heal fast over about four weeks, thus not affecting his offseason routine.
The Angels squandered another amazing season of Trout's prime, but maybe his prime will last longer than most. The face of the game put together arguably his most impressive season of at-bats ever and needs to be playing in the postseason for the world to see on the big stage. The fact that this man has played in one playoff series over his entire career is just sad.
Mike Trout is still the biggest fish this game has to offer and his 2019 campaign proves it.