MLB
A Look Back at Christian Yelich's Incredible Season
A fractured kneecap ended his historically-dominant campaign
By Roberto Arguello - Sep 19, 2019, 1:18am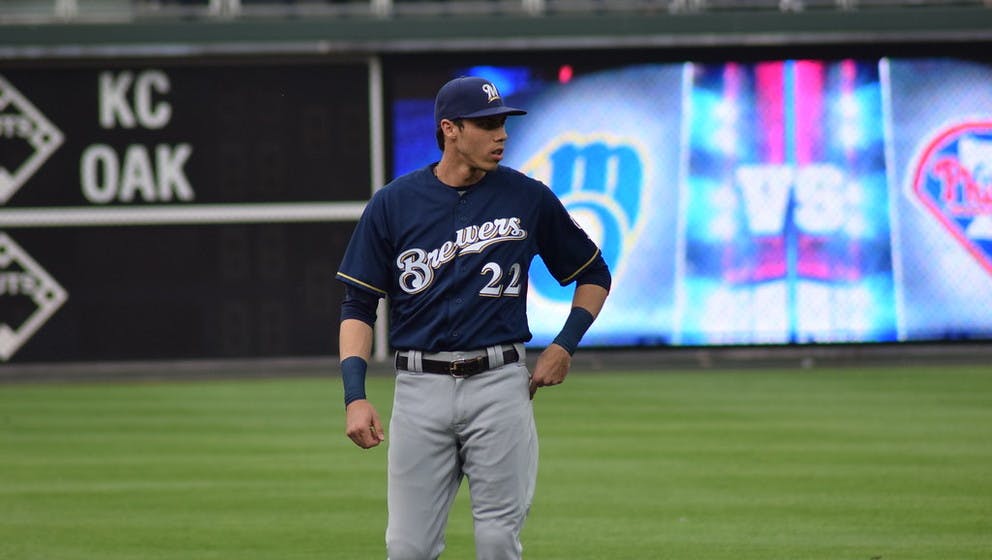 2018 NL MVP Christian Yelich suffered a fractured kneecap which ended his incredible 2019 season early.
Yelich slashed .328/.429/.671 this year with 44 home runs and 97 RBIs before suffering the injury.
Yelich's 1.100 OPS and 7.1 Win Probability Added led all MLB hitters and are the highest in the last four MLB seasons. 
His .6708 slugging percentage led the majors in 2019 and is the highest mark since Albert Pujols slugged .6710 in 2006.
Advanced Statistics
Christian Yelich followed up his 2018 NL MVP campaign with another historic year in 2019 which was cut short by a right knee injury sustained on September 10th. Here is where he stood in some major advanced statistics across all of Major League Baseball at the time of his injury:
1st in Win Probability Added (7.1)
1st in Situational Wins Added (6.3)
1st in Offensive Win Percentage (.828)
2nd in Offensive WAR (7.3)
2nd in Adjusted Batting Runs (60) 
2nd in Adjusted Batting Wins (5.6)
2nd in Adjusted OPS+ (178)
2nd in Power/Speed Number (35.7)
4th in WAR among position players (7.1)
These statistics show that Yelich was incredibly valuable to the Brewers this season. He is undoubtedly one of the best hitters in the Majors, but he may also be the most clutch. Yelich is just the 25th player since 1925 who recorded seven or more home runs in the ninth inning (only four have hit more than seven).
Further, In 35 ninth-inning at-bats, Yelich had a .543 batting average, .579 on-base percentage and a 1.400 slugging percentage. His ridiculous slugging percentage was boosted by 15 of his 19 hits going for extra bases (seven doubles, one triple and seven home runs). For those that may not be familiar with the statistic, Win Probability Added (given average teams) is the change in probability caused by a batter during the game. A change of +/- 1 would indicate one win added or lost. Yelich's 7.09 WPA is the 83rd best among all MLB players ever (according to Baseball Reference) and the best since Anthony Rizzo's 7.36 WPA in 2015. 
Lock in your favorite DFS plays and optimize your lineups using the powerful tools on RotoQL!
League Rankings 
Last year, Yelich led the Brewers to within one game of reaching the World Series as Milwaukee lost Game 7 of the NLCS to the Dodgers. Not only are Yelich's advanced statistics impressive, but at the time of his injury, he was at or near the top of several major statistical categories at the plate: 
1st in Slugging Percentage (.671)
1st in On-Base Plus Slugging (1.100)
1st in Runs Created (150)
2nd in On-Base Percentage (.429)
2nd in At Bats Per Home Run (11.1)
3rd in Batting Average (.329)
3rd in Intentional Walks (16)
Yelich's unique combination of power and speed is also noteworthy. He not only stole 30 bases, but he did so in just 32 attempts (94% success rate). He is just the 10th player in history to hit 40 or more home runs and steal 30 or more bases in a season. His .6708 slugging percentage not only led the majors, but it is also the 63rd highest mark of all time. The last player to slug this high was Albert Pujols (.6710) in 2006. His 1.100 OPS is the second highest slugging percentage in the last 10 seasons -- only Bryce Harper's 1.109 mark in 2015 was higher. Yelich's MLB-leading slugging percentage (.671) and OPS (1.100) are both Milwaukee franchise records. 
He will hopefully be ready to go for the start of the 2020 campaign.
Note: All advanced statistics used above were found on Baseball-Reference.com and FanGraphs, both of which are publicly-accessible databases.