MLB
4 Reasons Why The Nationals Are Legitimate World Series Contenders
At +1800 on DraftKings, Washington has tremendous upside
By Brandon Barbour - Sep 27, 2019, 2:33pm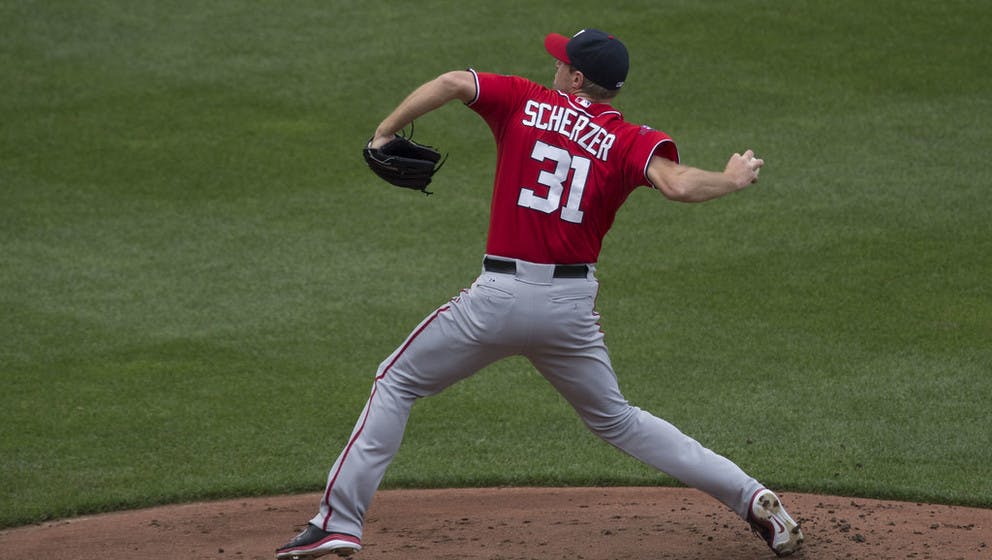 Washington's three aces (Max Scherzer, Stephen Strasburg and Patrick Corbin) are elite and might be the best three-man postseason rotation.
Anthony Rendon is a legitimate MVP candidate. 
Juan Soto replaced Bryce Harper with ease. 
Sean Doolittle is channelling his 2018 magic.
1. If They Get Past The Wild Card Play-In Game, The Nats Will Have The Best Postseason Rotation.
Max Scherzer is working out the kinks from his month-long IL stint in an effort to be ready to roll for his team's upcoming Wild Card game. Still one of the best pitchers that the game has to offer, Scherzer's reliability is special and he's clearly still elite. The 35-year-old is showing no signs of slowing down and the Washington Nationals need him to be his normal self to contend for their first World Series title.
The postseason experience is enormous for Scherzer, as the righty has appeared in 16 playoff games (started 13) and owns a 3.73 ERA. Scherzer is in the conversation as the best arm in baseball for quite some time, and he's vital to Washington's success.
Stephen Strasburg has just three postseason outings under his belt over his career, but the big righty has been dominant. In three playoff starts, Strasburg owns a spectacular 0.47 ERA and 0.94 WHIP.  Not many teams have a one-two punch like Scherzer and Strasburg, making them a sneaky pick to make noise in the postseason.
On top of the dynamic duo of Scherzer and Strasburg, the Nationals dumped a lot of money on a special southpaw last offseason. Patrick Corbin has been a gem for Washington. He was a tremendous addition after losing Bryce Harper to free agency and he hasn't disappointed. The lefty finished last season in fifth-place for NL Cy Young Award voting.
View today's Best Bets from BetQL's MLB Model!
The Nationals are absolutely stacked in the starting pitching department. Pitching tends to win championships, and Washington three stars are better than any other top three starting arms in the NL. The Los Angeles Dodgers are in the conversation with Clayton Kershaw, Hyun-Jin Ryu, and Walker Buehler, but the experience and past postseason performance trumps Los Angeles' three. The Nationals have a starting rotation that can compete with the Houston Astros as well (Justin Verlander, Gerrit Cole, and Zach Greinke).
Against the Atlanta Braves and Los Angeles Dodgers this season, Corbin owns a 1.96 ERA (four starts), Scherzer owns a 3.00 ERA (three starts), and Strasburg owns a 3.38 ERA (six starts). Don't sleep on Washington's dynamic starting staff. No team wants to square off with this bunch.
2. Anthony Rendon Is Having A Career Year.
After finishing 11th and then sixth over the past two seasons in NL MVP voting, third baseman Anthony Rendon is sure to top that mark for his brilliant 2019 season. The 29-year-old third baseman is having his best season ever and it's really not close, posting career highs in batting average, OPS, homers, and RBI. There's simply nothing that the All-Star can't do.
Collectively, Rendon owns a .309 average over his career against the Atlanta Braves starting rotation (34-for-110). He has never faced Walker Buehler of the Dodgers, but he owns a .266 average against Kershaw and Ryu over his career (8-for-30) with a long-ball off Ryu. Rendon has never faced Verlander, but he's batting .351 against Cole, Greinke, and Miley over his career (13-for-37). Therefore, if the Nats can get by the play-in game, there's a solid chance they'll see production from Rendon, regardless of the opposition. 
Rendon has carried the Washington offense all season long. He had a masterful season overall and has stellar numbers against some of the most daunting potential postseason opponents. Rendon's ability to drive in runs will be vital in Washington's quest for a title.
3. Juan Soto Has Made Everyone Forget About Bryce Harper.
The Nationals' offense has hardly taken a hit since losing Harper to the division-rival Philadelphia Phillies. In fact, they've produced more runs. A major reason that Washington was unwilling to overpay to retain Harper was because they had a younger superstar to turn to. Enter Juan Soto.
Lock in your favorite MLB plays and optimize your lineups using the powerful tools on RotoQL!
The 20-year-old Soto has been a monster for Washington's offense. The man-child topped Harper's batting average and RBI total from 2018. After finishing in second-place for AL Rookie Of The Year in 2018, Soto burst onto the scene and proved that he's one of the best young bats that this game has to offer. He's a major reason why the Nationals' offense has yet to take a step back and Washington must be glad that they saved some money and put more into their starting rotation (Corbin) versus keeping Harper around.
Soto's ability to protect Rendon and drive in runs makes Washington's offense no joke. The lefty's ability to hit southpaws makes him well-rounded, too.
4. Sean Doolittle Has Stabilized The Bullpen.
Sean Doolittle has been tweaking his mechanics in an effort to get back to a pristine level before the postseason. According to reports, he looks and feels great. The lefty reliever has been dominant in Washington's bullpen over the past few years, but 2019 as a whole hasn't been filled with consistency. However, Doolittle appears to have regained some of his 2018 magic.
The Washington bullpen isn't great as a whole, but with their starting arms being so dominant, it may not be such a major blow. The starters may be asked to throw deeper into games than normal, but it's nice to have a dependable closer at the end of the bridge to finish the job.
Doolittle's 3.00 ERA over 11 career postseason appearances is solid, and Washington will need him to make it to the promised land. If he is, in fact, back to his 2018 All-Star ways, then he will be as effective as any closer in the postseason. In 2018, Doolittle posted a spectacular 1.60 ERA and 0.60 WHIP over 45.0 innings. That magic is exactly what this dismal bullpen needs to have an impact late in games, and it appears that they won't be lacking that next week.
With the Nationals listed at +1800 (DraftKings) to capture a World Series title, there's plenty of upside to gamble on this club with ridiculous starting pitching. Pitching wins championships, and Washington's bevy of aces gives them every opportunity to do so in 2019. 
Note: The advice above reflects the writer's view and does not represent the stance or interest of BetQL or RotoQL in any way.