SF
Giants
Today, 5:05 PM
PHI
Phillies
PHI -125 O/U 8
BAL
Orioles
Today, 5:10 PM
MIA
Marlins
MIA -165 O/U 7.5
HOU
Astros
Today, 7:10 PM
COL
Rockies
HOU -150 O/U 10.5
MIN
Twins
Today, 7:37 PM
OAK
Athletics
OAK -105 O/U 8
STL
Cardinals
Today, 8:05 PM
WAS
Nationals
WAS -165 O/U 8
TEX
Rangers
Today, 8:07 PM
LAA
Angels
LAA -180 O/U 8.5
MIL
Brewers
Today, 8:10 PM
SD
Padres
SD -210 O/U 7.5
CHW
White Sox
Today, 10:10 PM
CLE
Indians
-- --
ATL
Braves
Today, 10:35 PM
NYY
Yankees
NYY -125 O/U 9
PIT
Pirates
Postponed
DET
Tigers
DET -120 O/U 8
ARI
Diamondbacks
Today, 10:40 PM
CIN
Reds
CIN -185 O/U 8.5
TOR
Blue Jays
Today, 11:10 PM
BOS
Red Sox
-- --
NYM
Mets
Today, 11:40 PM
CHC
Cubs
NYM -140 --
TB
Rays
Tomorrow, 12:10 AM
KC
Royals
-- --
PIT
Pirates
Tomorrow, 2:00 AM
DET
Tigers
-- --
PIT
Pirates
Tomorrow, 2:00 AM
DET
Tigers
-- --
MLB
2021 MLB Futures: Best Bets to Win the World Series
Best bets, values, and longshots to win the 2021 World Series
By Sloan Piva - Mar 31, 2021, 2:56pm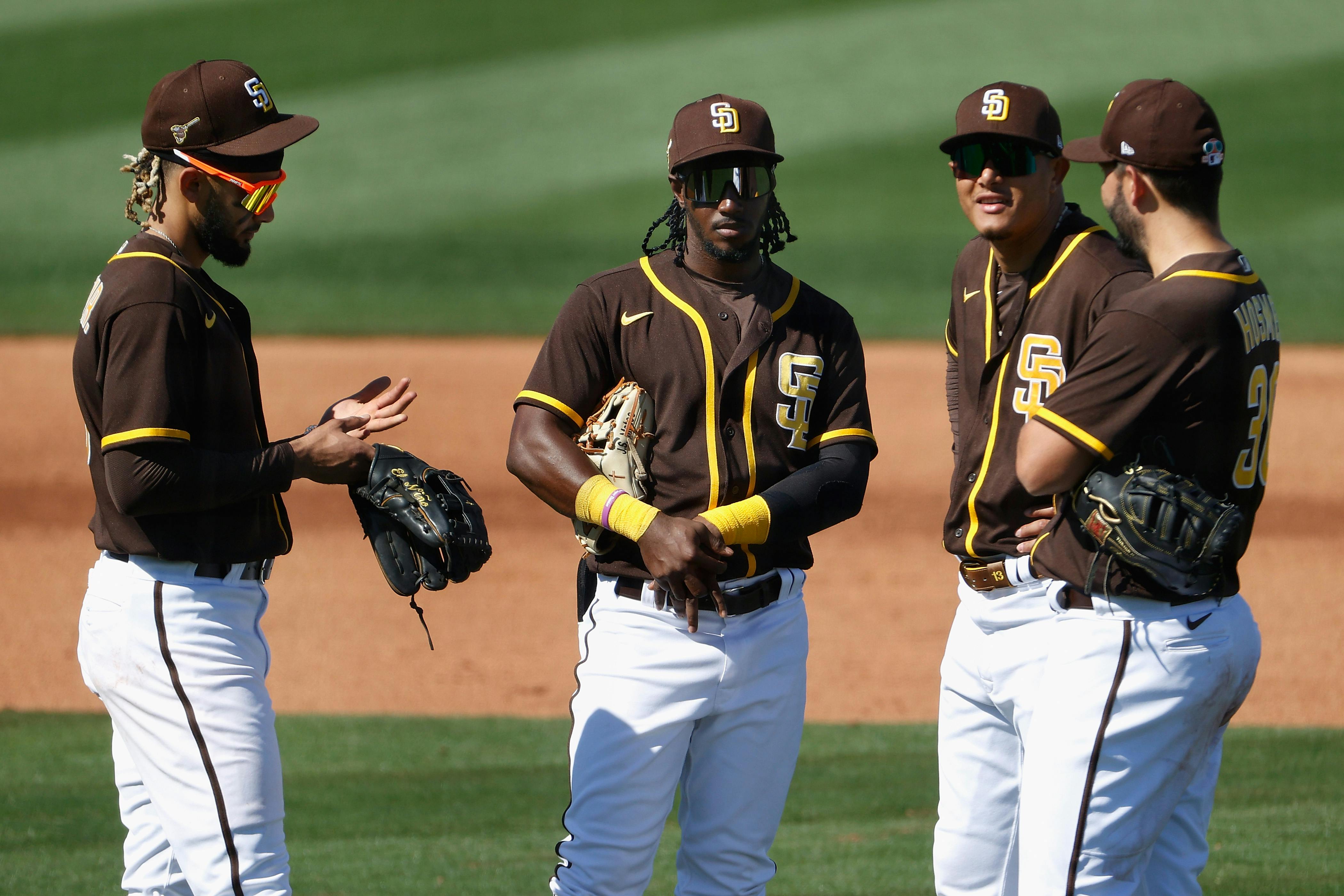 One calendar day remains until Opening Day of the 2021 MLB season, and there's still a few more futures bets for us to analyze. Most importantly, we must discuss odds to win the World Series.
In this article, I will touch on my best bet, my favorite value pick, and the best longshot to win it all this season. I will also showcase a few of my favorite picks for the season lead in various statistical categories (the ones we haven't already covered in this series).
Watch for my Opening Day Best Bets article Thursday. And best of luck with your futures investments!
All statistical data compiled from Baseball Reference or MLB.com. All futures odds via DraftKings. 
Get all of BetQL's best bets! Dating back a full calendar year, our five-star (max-value) bets have won 61% of the time!
Best Bet
San Diego Padres (+800)
No offense to the defending-champion Dodgers, but +350 on a team winning a second-straight World Series yields no value. Sure, they look as dominant as ever, but too much has to go right across a 162-game season and multi-round postseason to bet the favorite. Give me the Padres, who have been inching closer to World Series contention and have all the pieces in place to take over baseball.
With an incredible skill set, five-tooled shortstop Fernando Tatis, Jr. looks primed to become the face of baseball. Would anybody be surprised if he goes 40-20 with 105 RBI and a .300 average? In 2020, nobody in the MLB had a higher average exit velocity (95.9 MPH), hard-hit percentage (62.2%), hard-hit swing percentage (22.1%), barreled ball per plate appearance rate (12.5%), or total hard-hit balls (102) than Tatis, Jr. His bat strikes fear in the hearts of opposing pitchers, and his presence atop the Padres' lineup makes everyone around him better.
Speaking of the players around him, third baseman Manny Machado finished the abbreviated 2020 season third in MVP voting. The 10-year veteran hit .304, mashed 16 homers, and drove in 47 RBI in 60 games. Machado leads a stable of veterans that includes perennial 20-20 threat Wil Myers, career .278 hitter Eric Hosmer, and the always-underrated Tommy Pham.  
But Padres GM AJ Preller has put together more than just a shiny batting order. San Diego now flaunts 2020 NL Cy Young runner-up Yu Darvish atop its rotation, and 2018 AL Cy Young winner Blake Snell might be the best No. 2 pitcher in the business (Snell's Cactus League stats: 14.1 IP, 0.00 ERA, 0.63 WHIP, 13 SO). Joe Musgrove, Chris Paddack, and Dinelson Lamet round out a solid rotation, and veteran reliever Emilio Pagan should be very reliable when it comes to closing out games.
The Padres have speed, power, pitching, fielding, and flair. They are a fantastic bet at +800 to win the World Series pennant.
Play DFS? Be sure to get a 3-day free trial on RotoQL to check out our projections!
Best Value Bet
Washington Nationals (+3300)
Like the Padres, the Nationals have a lineup that blends speed and power. They also have an MVP candidate and five-tool superstar in his early 20s in Juan Soto. Shortstop Trea Turner can easily go 30-30 with a .290 average, and outfielder Victor Robles could finally be ready to break out (three HR, seven RBI, five SB, .296 AVG, .574 SLG, .945 OPS in Spring Training). If Josh Bell, Kyle Schwarber, and Starlin Castro see some positive regression after down years, this Washington lineup has a good chance to make some noise this season.
Beyond three-time Cy Young Award winner Max Scherzer (always locked in), the Nats need some bounce-back campaigns from their pitching rotation. Patrick Corbin, who received Cy Young votes in both 2018 and 2019, led the MLB in hits allowed last season. Stephen Strasburg and Jon Lester have battled injuries and aging for years now. Joe Ross has seen his ERA rise in each of the past three seasons. But if these five guys can stay healthy 80 percent of the regular season, and peak in September and October, Washington could be a force to be reckoned with once again.
Best Longshot
Miami Marlins (+7500)
This bet would be more like a $10 lottery ticket (to win $750), but just imagine if everything worked out for the Marlins and they served as the Cinderella special of the season. Miami has the young guns in its rotation—you probably recognize Sandy Alcantara, Pablo Lopez, Elieser Hernandez, Trevor Rogers, and Sixto Sanchez from being drafted in your fantasy baseball drafts. That's a core group of studs who could shock the world if they get enough run support.
Of course, that's a big if, especially considering the pitching Miami sees most regularly (deGrom, Scherzer, Nola, Fried, and Anderson come to mind). Can Starling Marte and Jesus Aguilar be the 3-4 hitters for a contender? Will Jazz Chisholm break out as a speedster? Can Corey Dickerson, Adam Duvall and Brian Anderson go back to being difference-makers? That's a lot of questions, but if they all get answered relatively positively, and your $10 investment wins you hundreds, you'll be toasting lots of champagne.
And now, on to the remaining Player Prop Futures for Season Leaders. We'll treat this as a "Quick Hitter" of sorts.
Season Stolen Base Leader
Best Bet: Trea Turner, SS, Washington Nationals (+470) – I don't doubt Adalberto Mondesi is faster, I just doubt he can get on base enough to win this again. Turner gets on base—he had an MLB-leading 78 hits last season—and he can burn (NL-leading 43 SB in 2018).
Best Value: Myles Straw, OF, Houston Astros (+2200) – A popular breakout candidate, Straw stole six bases in eight chances last season despite playing just 33 games.
Best Longshot: Victor Robles, OF, Washington Nationals (+3300) – Where's the aforementioned Jazz Chisholm of the Marlins!? He's nowhere to be found on these odds boards. Thus, I'll take Robles, who like I mentioned earlier has been blazing through the basepaths this spring.
Season Wins Leader
Best Bet: Gerrit Cole, New York Yankees (+900) – He's the favorite for a reason—he's the most dominant starting pitcher of all the true contenders (sorry, Mets). Cole has lights-out command and one of the best lineups in baseball to provide him the run support he needs. 
Best Value: Max Fried, Atlanta Braves (+2500) – Excuse me while I underline value for this one. Fried went 7-0 with a 2.25 ERA and 1.089 WHIP last season in 11 games, and he's only 27 years old. He's got a great team around him, and he's the best pitcher in the rotation (sorry, Ian Anderson).
Best Longshot: Kenta Maeda, Minnesota Twins (+4000) – Maeda went 6-1 in the shortened 2020 season, while sporting a 2.70 ERA and MLB-leading 0.750 WHIP. He finished as the runner-up for the AL Cy Young. Crazier things have happened.
Season Strikeout Leader
Best Bet: Jacob deGrom, New York Mets (+425) – As we mentioned in the Cy Young article, there's no pitcher more dominant than deGrom right now. He may not win the most games, but he'll fan the most batters if he stays healthy.
Best Value: Luis Castillo, Cincinnati Reds (+2200) – Castillo has been an absolute flamethrower for years now, but he's flown under the radar a bit. He may still be entering his prime, and he no longer has to live in 2020 NL Cy Young winner Trevor Bauer's shadow.
Best Longshot: Blake Snell, San Diego Padres (+4400) – As I mentioned earlier, Snell might be the best No. 2 pitcher in baseball. Yu Darvish (+1200) might be starting Opening Day, but Snell will finish 2021 ahead of him (and maybe everyone) in strikeouts.
Season RBI Leader
Best Bet: Marcell Ozuna, OF, Atlanta Braves (+1200) – When talent meets opportunity (or spot in a loaded batting order), you get results. Ozuna has been one of the most criminally-underrated hitters in baseball for years now, and he just seems to keep getting better. I have him finishing slightly ahead of Manny Machado (+1500) for most runs batted in. 
Best Value: Rafael Devers, 3B, Boston Red Sox (+2500) – Shortstop Xander Bogaerts gets all the attention in Boston, but Devers seems like the one poised for a humongous breakout. He's a gifted hitter who could easily lead the Majors in multiple categories if everything clicks.
Best Longshot: Franmil Reyes, OF, Cleveland Indians (+5000) – I have this guy pegged for a huge breakout season this year, and the risk-reward factor seems pretty appealing with these odds. Take a look at Reyes' exit velocity and launch rates and tell me you aren't at least a little interested in dropping $10 on the kid (side note: Reyes narrowly beat out my guy Matt Olson for this one—Olson is also listed +5000).
Season Hits Leader
Best Bet: DJ LeMahieu, 2B, New York Yankees (+800) – He's just a master of his craft, and he was made to play in Yankee Stadium. If hits is the category, LeMahieu's the best bet.
Best Value: Fernando Tatis, Jr., SS, San Diego Padres (+2200) – I've already mentioned how hard he hits the ball, how often he hits fastballs, and how well he gets the meat of the barrel onto the ball. At the top of one of the best lineups in baseball, I like Tatis, Jr.'s chances to lead the MLB in hits.
Best Longshot: Nick Madrigal, 2B, Chicago White Sox (+3300) – Talk about a dark horse. Madrigal isn't a household name just yet, but he will be soon. He's an extremely efficient hitter on a very good young team.
Season Saves Leader
Best Bet: Josh Hader, Milwaukee Brewers (+800) – Liam Hendriks of the White Sox curiously tops this list, but I missed the memo that stated Hader had been passed by as the best closer in baseball. The Brewers already announced that he would be predominantly used in just the ninth inning—not so much in multi-inning outings—and with the emergence of Devin Williams, that seems believable. Barring injury, Hader will be the saves leader again.
Best Value: Ryan Pressly, Houston Astros (+1200) – Pressly has great stuff. He might be above +1000 simply because he never appeared in a Spring Training inning. I like the value here as insurance for Hader.
Best Longshot: Brad Hand, Washington Nationals (+2500) – Tough to pass up Atlanta's Will Smith +3300 here, but I just like Hand a bit more. He led the Majors in saves last season, so I'm not quite sure why he's so far down this list.