SEV
Sevilla FC
Sat 10/31, 3:00 PM
ATH
Athletic Bilbao
SEV +165 O/U 2
ATL
Atletico Madrid
Sat 10/31, 5:30 PM
OSA
Osasuna
ATL -130 O/U 2 & 2.5
BAR
Barcelona
Sat 10/31, 8:00 PM
ALV
Alavés
BAR -207 O/U 3
RSO
Real Sociedad
Sun 11/1, 3:00 PM
CEL
Celta Vigo
RSO +151 O/U 2 & 2.5
LEV
Levante
Sun 11/1, 5:30 PM
GCF
Granada
LEV +240 O/U 2 & 2.5
GET
Getafe
Sun 11/1, 8:00 PM
VAL
Valencia
GET +150 O/U 2
VALL
Real Valladolid
Mon 11/2, 8:00 PM
VILL
Villarreal
VILL -169 O/U 2.5
La Liga
Looking Back At The Top 3 Betting Trends From The La Liga Season
Following these trends proved to be very profitable
By Anthony Rotz - Sep 8, 2020, 12:44pm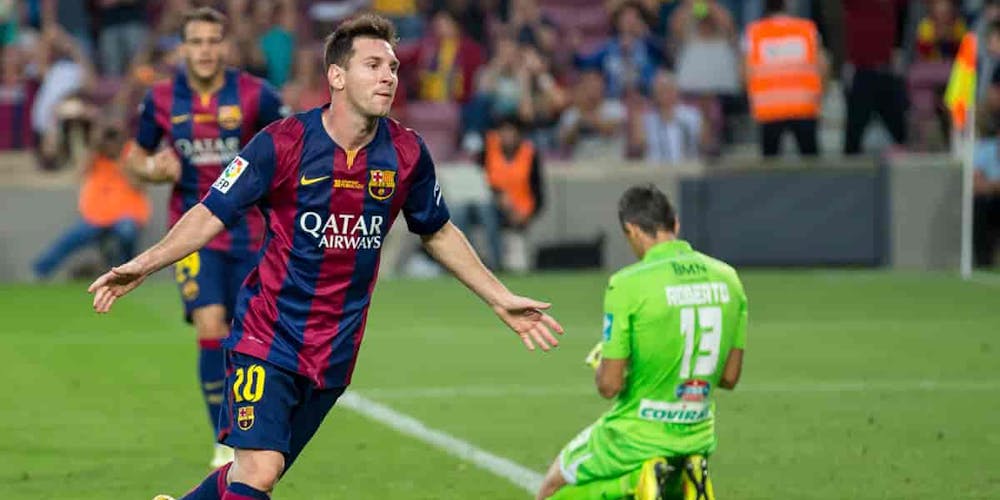 Quick-Hitters
Real Madrid returned to the top in an unexpected way in the 2019-20 La Liga campaign.
For the seventh-consecutive year, Lionel Messi claimed a scoring title.
Sevilla emerged from the restart posting excellent results for themselves and the under.
Get all of BetQL's best bets for the upcoming La Liga season! Dating back a full calendar year, our five-star (max-value) bets have won 61% of the time!
Real Madrid Returns To The Top
Coming off a second-consecutive third-place finish, Real Madrid entered the 2019-20 campaign with the second-best odds (+145) to conquer La Liga, just behind bitter rivals Barcelona. Los Blancos outpaced their primary competition through consistent results as Zinedine Zidane's men ground out matches to secure points. Ultimately, their efforts proved to not be in vain, as finishing the season 26-9-3 for 86 points was enough to secure Real their first title in two years.
Real's championship wasn't a result of overwhelming attacking prowess, but staunch defending. La Liga's best defense conceded only 25 goals all season, a defensive achievement not even reached during Jose Mourinho's tenure and the club's best in 37 years. By only conceding .65 goals a game, it's no surprise that Real also kept a clean sheet in 19 of 38 matches.
Heading into the upcoming campaign, the 2020-21 Madrid squad will continue to feature critical pieces of this spectacular defense such as Sergio Ramos, Dani Carvajal, Frederico Valverde, Casemiro, Ferland Mendy, Raphael Varane, and goalkeeper Thibaut Courtois.
If you play DFS, be sure to get a 3-day free trial on RotoQL to check out our projections for NFL, NBA, MLB, NHL, and Golf!
Magnificent Messi
For the fourth-consecutive year, Lionel Messi led La Liga in scoring en route to his seventh Pichichi Trophy. In this season, the Argentine paced the league with 25 goals, his lowest total while leading the league and his least amount of goals scored since the 2008-09 campaign. The dynamic forward also experienced his longest goal drought in six years, going four games without a score.
Only a year ago, the 33-year-old hit the back of the net 36 times. With the apparent decline in scoring, it's easy to chalk up the slide simply to age-related reasons. The 2019-20 season was anything but simple for Messi and the Catalonian club. Barcelona experienced two managers who struggled to instill their tactics while glaring personnel needs became apparent.
With Messi entering 2020-21 under tumultuous circumstances and a new manager, extending the streak to five years won't be an easy feat.
A Club On The Rise?
Sevilla finished the 2019-20 season as hot as any team in Spain. The Sevillan club claimed points in their final 11 La Liga fixtures after the restart, going 6-5-0. Julen Lopetegui's defense ranked only behind Madrid clubs, Real and Atletico Madrid, giving up 34 goals, including just seven post restart.
Sevilla's defensive prowess made them a prime under target, as under 2.5 goals hit 24-of-38 matches. That's a record only bested by Diego Simeone's Atletico, which boasted the same under 27 times. Sevilla ended the season claiming more under victories then Atletico, eight to seven.