MAIN
Mainz
Fri 3/5, 7:30 PM
SCHA
Schalke 04
MAIN +111 O/U 2.5
STU
Stuttgart
Sat 3/6, 2:30 PM
EINF
Eintracht Frankfurt
EINF -119 O/U 3
LEV
Bayer Leverkusen
Sat 3/6, 2:30 PM
MON
Borussia Monchengladbach
LEV +167 O/U 2.5 & 3
LEI
RB Leipzig
Sat 3/6, 2:30 PM
FREI
SC Freiburg
LEI -145 O/U 2.5 & 3
WOLF
VfL Wolfsburg
Sat 3/6, 2:30 PM
HOF
TSG Hoffenheim
WOLF +137 O/U 2.5 & 3
AUG
FC Augsburg
Sat 3/6, 2:30 PM
HERT
Hertha Berlin
AUG +278 O/U 2.5
DOR
Borussia Dortmund
Sat 3/6, 5:30 PM
MUN
Bayern Munich
MUN -151 O/U 3.5
WER
Werder Bremen
Sun 3/7, 2:30 PM
COL
FC Koln
WER +170 O/U 2.5
FCUB
Union Berlin
Sun 3/7, 5:00 PM
DSC
Arminia Bielefeld
FCUB +106 O/U 2 & 2.5
Bundesliga
Bundesliga Betting Guide
How to bet on the Bundesliga
By BetQL - May 22, 2020, 1:19am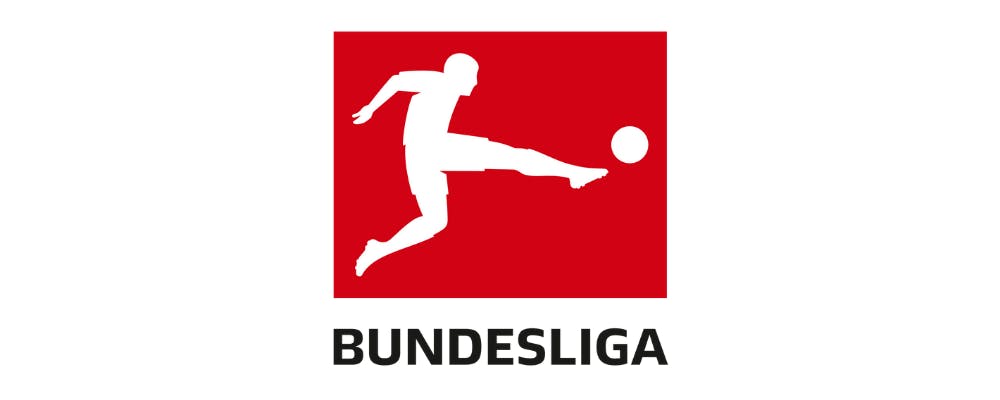 In this Bundesliga betting guide, you will find out how to use BetQL to place the most informed bets possible.
Bundesliga Best Bets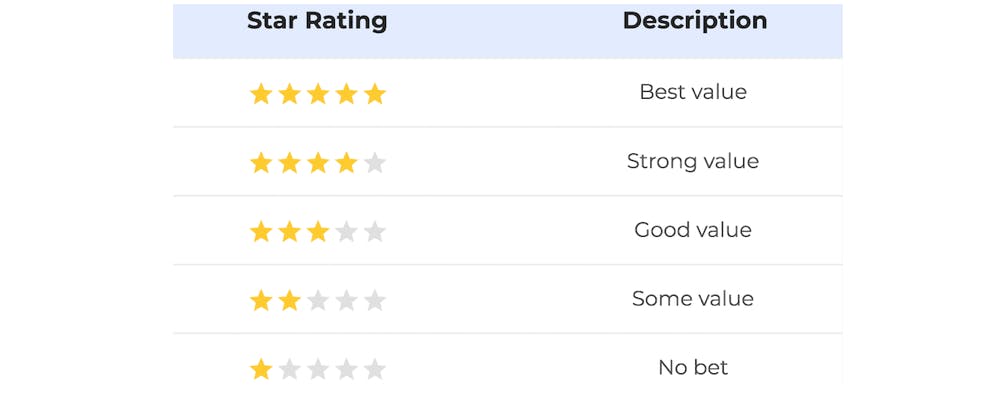 Our proprietary models assign a 1-5 star rating to every spread, moneyline and over/under bet. Our best bets are determined by the difference between our projection and the consensus odds.
Five-star bets are the most valuable bets, followed by four-star bets and so on. The goal of the star ratings model is to make betting as straightforward as possible. The 5-star bets are the best bets because our model indicates a significantly different outcome relative to the current sportsbook line. Conversely, 1-star bets indicate a projected line that is very similar to the sportsbook line — typically a losing proposition for a bettor in the long run. 
Check out our Bundesliga Best Bets Dashboard.
Bundesliga Public Data

Public data tells you which side the general public is betting on. It measures the number of bet slips on both sides of a wager. On BetQL, this is signified by "Ticket %."
In the example above, if Monchengladbach (+141) have attracted 50% of the tickets, Leverkusen (+176) has attracted 46% and the Draw has attracted 4%, that means that 50% of total public bets are backing Monchengladbach as the favorites while 46% are backing Leverkusen while 4% are backing the Draw. To be clear, this should not be confused with total money or handle, but rather the percentage of total bets wagered on a particular outcome. Therefore, in the example above, if 100 bets were placed (of any dollar amount), 50 of them backed Monchengladbach, 46 of them backed Leverkusen and four backed the Draw.
View BetQL's Bundesliga Public Betting Dashboard.
Let's take a look at all of the ways you can get action on the German soccer league.
Bundesliga Single-Game Bet Types 
Betting Bundesliga Moneylines

When betting the moneyline, you are betting on the side to win the game, regardless of the final score or margin.  A negative moneyline denotes the favored side. A positive moneyline denotes the underdog. In soccer, a "draw" outcome can also be bet on in addition to Team A or Team B. You may calculate your potential return before placing a moneyline bet by using the following guidelines:
Favorites: The amount of money you must bet in order to return $100 on a successful bet.  Example: Borussia Dortmund -135: a $135 bet will return $100 if Borussia Dortmund wins.
Underdogs: The amount of money you will win if your $100 bet is successful.  Example: Draw +291: a $100 bet will return $291 if the game ends in a tie.
Visit BetQL's Bundesliga Moneylines Dashboard for more information.
Betting Bundesliga Spreads

In spread bets, a team must cover the listed margin.  Negative numbers indicate the favored team. For example, if the spread is listed as Hertha -0.5, they must win the game by a goal in order to cover the spread. If it was -1.5, they'd have to win the game by two goals to cover the spread. Conversely, if the line is listed as FC Union Berlin +1.5, they must lose by 1 goal, or win the game outright, in order to cover the spread.
Visit BetQL's Bundesliga Spreads Dashboard for more information. 
Betting Bundesliga Totals

Total bets are won and lost depending on the total number of goals scored by the two teams combined. An Under bet is successful when the two teams combine to score fewer than the listed number of goals and an Over bet is successful when the two teams combine to score more than the listed number of goals.
Example: Eintracht Frankfurt vs. Bayern Munchen O/U 3.5
The Under is successful if the two teams score 3 or fewer combined goals.
The Over is successful if the two teams score 4 or more combined goals.
If the O/U is a whole number, the bet is a push if the two teams score exactly that amount.
Visit BetQL's Bundesliga Over/Unders Dashboard for more information.
Betting Single Half Lines
Single half bets may be offered as spread, moneyline or total bets.  Single half bet definitions are identical to their full-game counterparts, with the caveat that single half bets are graded after one half of action. If the Lions are leading the game at halftime in the example above, they'd win the bet.
Visit BetQL's Bundesliga First Half Moneylines Dashboard for more information.
Bundesliga Multiple-Game Bet Types
Parlays
Using parlays, you can combine multiple individual bets in order to increase your potential return.  In order for a parlay bet to be successful, each individual bet must hit. If any single component is unsuccessful, the entire parlay will be graded as a loss. This style of betting appeals to bettors who eye exponentially-larger payouts, but have much lower odds of winning. 
Teasers
A teaser is a type of parlay that has a line that is more favorable to the bettor, at the cost of a lower potential payout when the bet is successful.
Other Bundesliga Bet Types 
Futures
A futures bet refers to any bet that will be settled in the future.
Examples: team accolades (championship winners, etc), player accolades (top goal scorer, etc) and over/unders (team win totals, player statistics, etc). 
Prop Bets
A prop, or "proposition", is a bet made regarding the occurrence or non-occurrence of a given event during a game. Sportsbooks attach moneyline odds to these bets and they can be settled before the game goes final.
Example: a given player to score a goal
Live Betting
Live betting takes place after the game has started and features in-game props and other bet types. This style of betting features the quickest payouts in the industry and puts bettors right in the action. 
Offers
To get risk-free Bundesliga bets, visit BetQL's Exclusive Sportsbook Offers Page. Not only do we give you instant access to free money, but we also review all of the books and sift through the fine print so you're fully educated before creating an account.
About BetQL 
Want to learn more about BetQL? Check out the resources below: 
Best Bets: Find out how our model's star ratings can help you make the most informed spread, moneyline and O/U bets.
Public Data: Find out why it's always important to know what bets are popular.
Web Tutorial: Find out how to use our platform on a web browser.