DOR
Borussia Dortmund
Today, 4:00 PM
MAIN
Mainz
DOR -249 O/U 3.5
WOLF
VfL Wolfsburg
Today, 6:30 PM
LEI
RB Leipzig
WOLF +256 O/U 2.5
MON
Borussia Monchengladbach
Sat 5/22, 1:30 PM
WER
Werder Bremen
-- --
SCHA
Schalke 04
Sat 5/22, 1:30 PM
COL
FC Koln
-- --
DSC
Arminia Bielefeld
Sat 5/22, 1:30 PM
STU
Stuttgart
-- --
MAIN
Mainz
Sat 5/22, 1:30 PM
WOLF
VfL Wolfsburg
-- --
LEV
Bayer Leverkusen
Sat 5/22, 1:30 PM
DOR
Borussia Dortmund
-- --
HERT
Hertha Berlin
Sat 5/22, 1:30 PM
HOF
TSG Hoffenheim
-- --
FREI
SC Freiburg
Sat 5/22, 1:30 PM
EINF
Eintracht Frankfurt
-- --
AUG
FC Augsburg
Sat 5/22, 1:30 PM
MUN
Bayern Munich
-- --
LEI
RB Leipzig
Sat 5/22, 1:30 PM
FCUB
Union Berlin
-- --
Bundesliga
Bundesliga Preview and Pick: Mainz vs. Hertha Berlin
Breakdown and Best Bet for Mainz-Hertha Berlin
By Bryan Zarpentine - Apr 30, 2021, 2:58am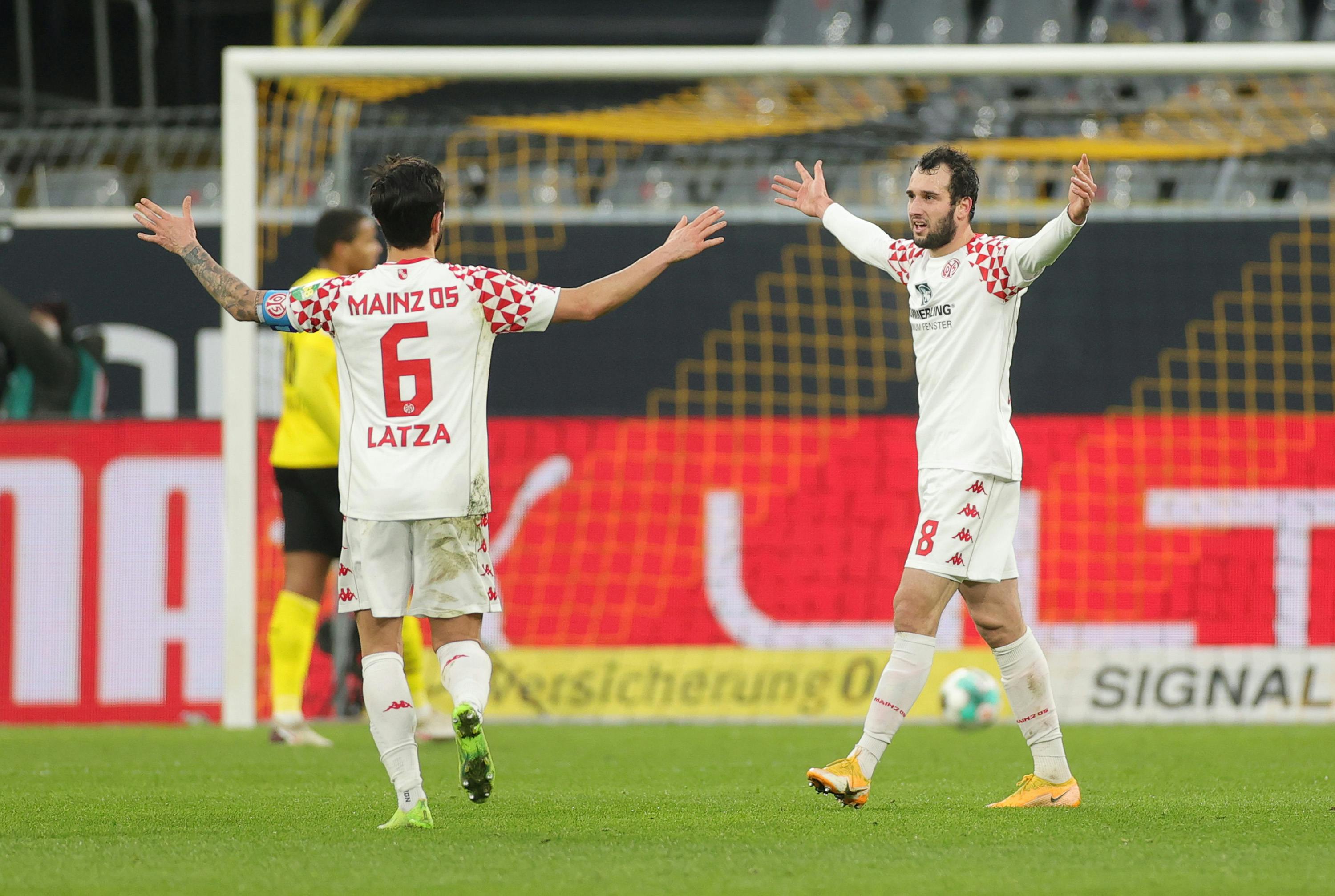 The bottom of the Bundesliga table will be the focus for this weekend's clash between Hertha Berlin and Mainz. At home, Mainz is a slight favorite with a moneyline of +141 while Hertha Berlin is listed at +198. This game also comes with an over/under of 2.5 goals.
Get all of BetQL's best bets! Dating back a full calendar year, our five-star (max-value) bets have won 61% of the time!
Mainz Preview
Mainz is riding high these days after a massive win over Bayern Munich last week when Munich had an opportunity to clinch another Bundesliga title. Those three points have brought Bo Svensson's team five points clear of a relegation playoff spot. If the 05ers can get a result this weekend, it should be enough to keep Mainz free from relegation. That would be a huge accomplishment based on where the club was a couple of months ago. Mainz is unbeaten in seven straight matches since the start of March, winning five of those games, making them one of the hottest teams in Germany right now.
In their last five games, Mainz has put nine balls in the back of the net. While they still have a modest 33 goals in 30 Bundesliga games, which ranks 14th out of 18th in the league, their recent goal-scoring form is a reason to be excited. Even with leading scorer Jean-Philippe Mateta going on loan to Crystal Palace in January, Mainz has found a way to manufacture goals from multiple sources despite lacking a consistent scoring threat on the frontline.
On the other side of the field, Mainz is also showing improvement late in the season despite allowing the 12th-most goals in the 18-team Bundesliga this season. They even managed a clean sheet against Werder Bremen earlier this month after keeping two clean sheets in March. In fact, Mainz has conceded just five goals in their last seven games. After enduring a desperate onslaught from Bayern Munich last week, giving their opponents 72% of the possession but not conceding a goal until the 94h minute, Mainz should be ready for anything the rest of the Bundesliga can throw at them.
Play DFS? Be sure to get a 3-day free trial on RotoQL to check out our projections!
Hertha Berlin Preview
For Hertha Berlin, it's desperation time. Pál Dárdai's team currently occupies one of the Bundesliga's relegation spots and is four points from safety. The good news is they have six games left to play while most teams have three or four games following multiple postponements because of a COVID outbreak within the team. Monday's game against Mainz will be Hertha's first action since April 10 and will begin a run of six games in 20 days that will determine the club's relegation fate.
Before the shutdown, Hertha Berlin had been in decent form with two wins, two draws, and one loss since the start of March. They had scored eight goals during that stretch and have scored more goals than most would expect given their position in the table. When Hertha resumes play, it's vital that their star players are able to shine. Co-leading scorer Matheus Cunha has scored just once since returning in late March after nearly a month away. On the bright side, the club's other co-leading scorer Jhon Cordoba scored twice in three games before the shutdown. The sooner those two get back on the scoresheet, the better.
Of course, Hertha Berlin can't count on playing on the front foot, so they need to shore things up defensively. Despite a lack of clean sheets this season, there were some positive takeaways in that department before their recent hiatus. Hertha did beat Bayer Leverkusen 3-0 in late March despite Leverkusen having over 70% of the possession. However, allowing six goals in five games is a lot for a team that's managed to remain unbeaten during that stretch. To some extent, the Hertha defense has played with fire late in the season.
The Pick
There's no doubt that Hertha Berlin is the more desperate team, which could work in their favor. But after more than three weeks without playing a game and limited training time during that break, it's hard to believe that Hertha will come back from a COVID break playing at a high level. Plus, they happen to be facing one of the hottest teams in Germany and a team that will be eager to get another three points that can all but guarantee them safety. That makes Mainz at home the best bet for Monday's Bundesliga showdown.
Pick: Mainz +141